What Is Kim Kardashian's Zodiac Sign?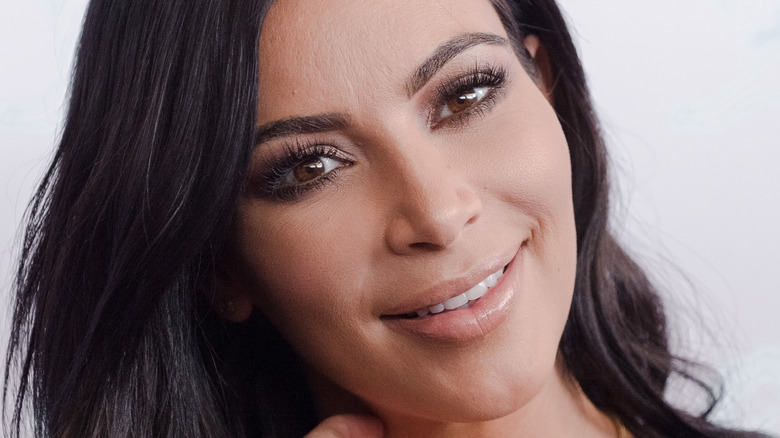 Francois G. Durand/Getty Images
Since her early days as a reality TV star, Kim Kardashian has expanded her brand to include many other businesses, per Glamour. Most recently, she launched a beauty line and her own brand of shapewear, called Skims. She's also well-known for her love life, as she dated football player Reggie Bush, TV personality Nick Cannon, and even married NBA player Kris Humphries (via Us Weekly). Kardashian later divorced Humphries and married rapper Kanye West, whom she shares four children with. After splitting with West, Kardashian made headlines for her romance with "Saturday Night Live" comedian Pete Davidson.
Over the years, Kardashian has opened up about her success, and has even admitted that she was always hungry for fame and fortune. "Money was always the goal but I was obsessed with fame, like, embarrassingly obsessed," Kardashian told Vogue Arabia in 2019. "I do agree that fame can be addictive. But now, my focus has shifted," she added.
Was Kim Kardashian's fame always written in the stars? Her zodiac sign and birth chart reveal that the pop culture icon was destined for success in her life.
Kim's sun sign is Libra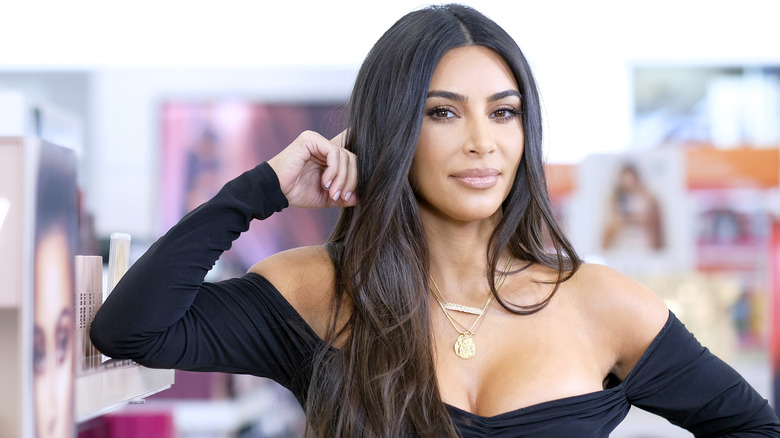 Dimitrios Kambouris/Getty Images
Kim Kardashian was born on October 21, 1980, which makes her zodiac sun sign Libra (via Astro Charts). The "Keeping Up With The Kardashians" star is an air sign that is represented by scales, and is known for their love for balance, harmony, and justice. Libra women are said to love happiness, positivity, joy, and are big on beauty and aesthetically pleasing things (via Astrology.com). Female Libras are said to shy away from people whose energy feels too heavy or dark for them, as they are also known for their easygoing personalities.
According to E! Online, Kardashian has exhibited major Libra behavior multiple times. One of the ways she's shown her Libra energy is by taking a stand in the law and crime community, becoming a lawyer and helping to exonerate prisoners she believed were unfairly imprisoned. She's also made it clear that her family is her life, and that she's not willing to let anything get in the way of that.
Libras are known for their strong loyalty, and she's proven that her brood are the ones she's most loyal to. Kardashian also has a great sense of balance in her work and personal life. Since Libras are all about balance, the Skims founder knows how to work hard and play hard, while ensuring that she does plenty of both. Of course, Kardashian is more than just her Libra sun sign, though, and her birth chart reveals that she pulls other traits from her moon and rising signs as well.
Kim's moon is in Pisces, but her rising sign is Sagittarius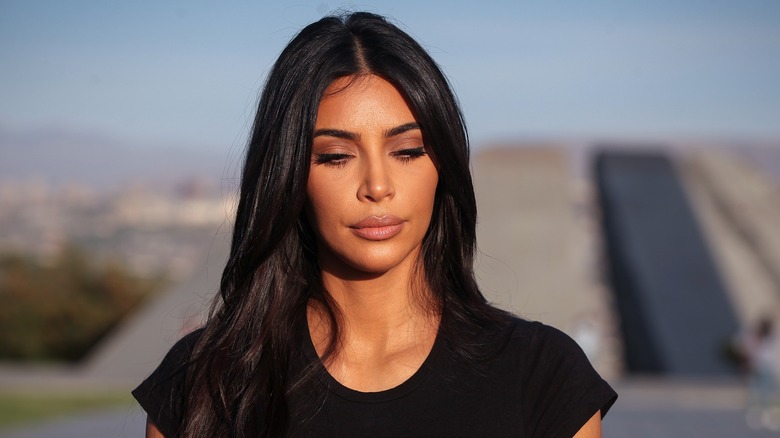 Wirestock Creators/Shutterstock
Kim Kardashian's moon is in Pisces (via Astro Charts). A moon sign represents emotions and moods. According to Your Tango, those with Pisces moons have a reputation for being empaths who take on the emotions of others. However, they're not always grounded in reality and sometimes have to use their intuition to make big decisions. Pisces moons take their careers seriously and tend to gravitate towards jobs that they are very passionate about, which often tends to be something that fulfills their creative side.
Kardashian is also a Sagittarius rising (via The U.S. Sun). These people are said to be full of energy and ideas. However, they may have a hard time feeling satisfied in life, and believe that there is always something better on the horizon. According to Hello Astrology, the rest of Kardashian's birth chart shows traits that point to a lot of creativity and success in her life, which is something that the reality star has seemingly been working towards for years.
It's no surprise that with all of the astrological elements making up her birth chart, that Kim Kardashian is one of the most famous people in the world and has become a icon for her success in television, fashion, beauty, and her persistence to pass the law examine (via CNN) to become a lawyer in the state of California.