How Much Money Do Administrative Assistants Make?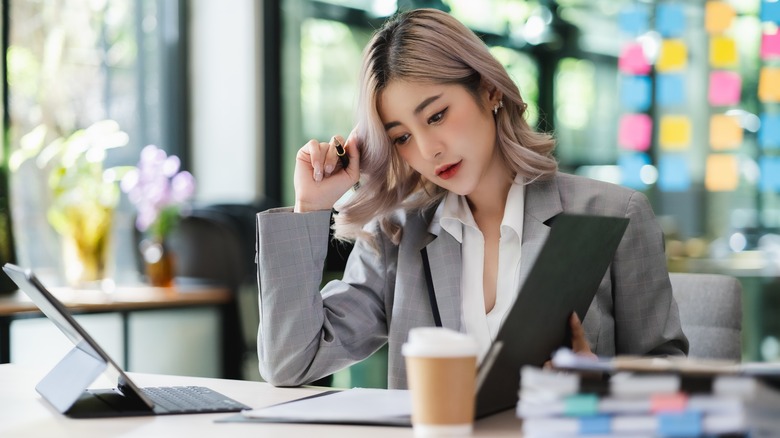 one photo/Shutterstock
Because so many of their duties revolve around basic office tasks like organization and management, administrative assistants play an essential role in a productive office environment (per Nesco Resource). According to The Balance Careers, the specific responsibilities of an administrative assistant can vary depending on their particular industry, but typically include managing paperwork and files, scheduling appointments and meetings, and handling office calls and emails.
This position is present in almost every industry, but the U.S. Bureau of Labor Statistics estimates that — out of the country's 3,363,900 administrative assistant positions in 2020 — roughly half were employed in education, healthcare, or professional/technical services. As mentioned, the industry an administrative assistant works in can influence their specific responsibilities, as some jobs may require things like handling sensitive medical information (per Nurse) or making travel arrangements for executives.
Although this position is similar to a secretary, they typically have more responsibilities and therefore a higher salary (per Indeed). Some workers may begin as secretaries but progress to the role of administrative assistants over time, and both jobs usually offer opportunities for additional career advancements. 
The median annual income for an administrative assistant is about $40,000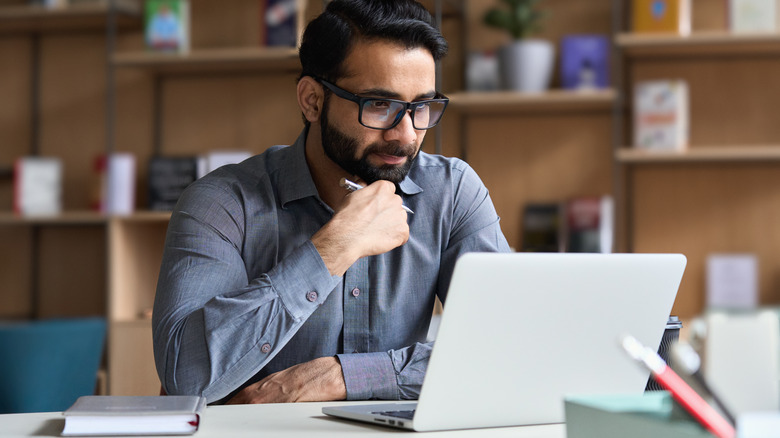 Ground Picture/Shutterstock
The Balance Careers lists $40,990 as the median annual income for an administrative assistant. In the U.S., the average annual income is $54,132 (per The Balance Careers), so this career pays roughly 24.3% less than the country's middle ground.
Individual pay is impacted by experience, education, location, and industry, with the highest-paid administrative assistants earning more than $67,510 annually and the lowest-paid earning less than $26,880. When deciding if this is the right career for you, it's helpful to consider these different factors.
Like some other professional positions, employees with an associate's degree or higher are likely to earn more. Indeed also mentions that certifications, such as "Certified Administrative Professional" or "Microsoft Office Specialist," can give your resume or CV a boost.
Experience plays a similarly important role in income, as a survey of 55,918 administrative assistants found that employees with a year or less of experience averaged an hourly income of $14.44 compared to the hourly average of $16.16 for individuals with five to nine years of experience (via Chron).
Becoming an administrative assistant requires a variety of skills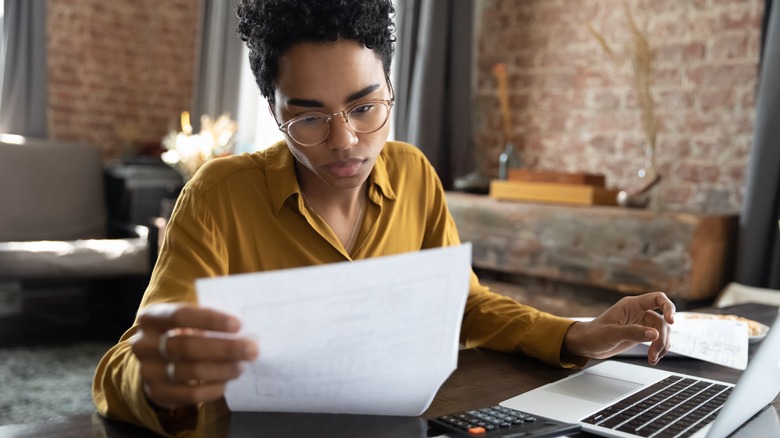 fizkes/Shutterstock
If you're looking into administrative assistant positions, you might wonder what the necessary skills are to earn that median annual income. In general, administrative skills are a must-have for this job, which includes things like organization, communication, and planning (The Balance Careers).
Workable mentions responsibilities like contact list maintenance, filing system management, and appointment scheduling, all of which require organizational skills. Communication is necessary for drafting emails, handling office phone calls, and serving as a contact point for other employees. Many administrative assistants are also tasked with planning events like meeting creation and travel arrangements. Computer literacy is equally important, as these employees often use Microsoft applications, email platforms, and any company-specific programs (per The Balance Careers).
If you need any help refining your administrative skills, you can always consider pursuing online education, which isn't as bad as it might seem, or certification courses (per Indeed).