Twitter Post Reveals What General Hospital Fans Really Thought About Nelle's Big Comeback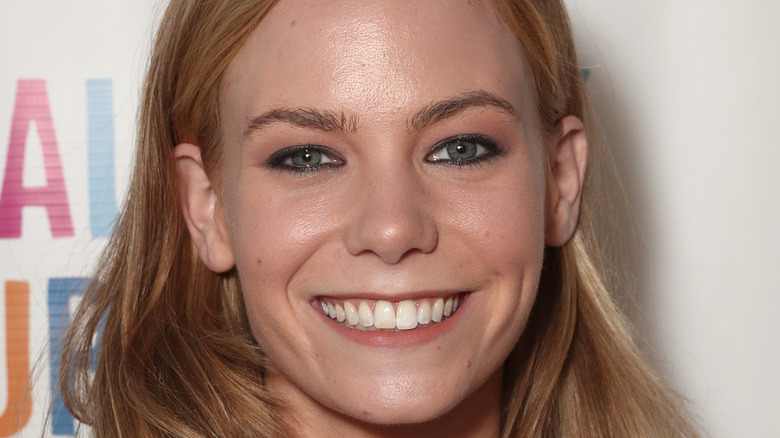 Todd Williamson/Getty Images
Nelle Benson wreaked havoc on the lives of several characters on "General Hospital." Carly Corinthos (Laura Wright) became wise to Nelle's schemes and when the two fought, Nelle slipped off of a precipice, hanging on for dear life. Carly attempted to save her, ultimately failing, and Nelle dropped into the chasm, seemingly gone for good. Nelle's reign of terror on the city of Port Charles was finally over, per Soaps in Depth. After the skirmish, Carly and Jasper "Jax" Jacks (Ingo Rademacher) discovered Nelle was actually the daughter of Nina Reeves (Cynthia Watros) — who was completely unaware of this fact. Jax and Carly covered up Nelle's death and connection with Nina. Eventually, the truth came out (per Soap Hub).
As Soap Central reported, Nina recently visited Nelle's grave on the anniversary of her death. She saw a vision of Nelle, and the two spoke about how life would have been different if Nina had raised her. Things soon turned dark as Nelle suddenly changed her demeanor, telling Nina how wonderful it would have been if the two of them had been able to take revenge on Carly and everyone who seemingly wronged them. Willow arrived, witnessing Nina talking to herself, crying. The two started arguing and then Carly showed up, joining Willow in verbally assaulting Nina who felt the two women were overly self-righteous. Nina was left to sob by herself (via Soaps Spoilers).
Fans, of course, sounded off on social media about Nelle's brief return.  
Is Nelle really back from the dead?
The "General Hospital" official Twitter page posted a pic of actresses Laura Wright, Katelyn MacMullen, Chloe Lanier, and Cynthia Watros. They were on the set of Nelle Benson's grave, where some powerful scenes between Nina and a vision of Nelle — as well as a confrontation between Nina, Willow, and Carly — happened. The post stated, "Nelle can't help herself... not even from beyond the grave. Will Wiley's family ever find common ground?" One fan answered the question saying, "Probably not anytime soon, maybe down the road..."
Nelle's return — even if as a figment of Nina's imagination — has won some fans over with one posting, "I am more so #TeamNina after seeing the way sanctimonious Saint Willow and 'Grandma Carly' treated Nina at NELLE's grave on today's episode. I can not wait until they have to go crawling to Nina for help!"  Other Nelle fans posted such responses as, "It's too bad Nelle can't be on more somehow. I love her evilness," and, "I WAS SO HAPPY WHEN NELLE APPEARED I MISSED HER SO MUCH!! We. Need. Her. BACK."
While the majority of responses liked the photo and were happy Nelle was back briefly, non-Nelle supporters were also responding. "Do not bring Nell back on 'GH,'" said one, while another posted, "Love Chloe, but Nelle can go back to hell!"
Although Lanier's return was brief, it has given fans quite a bit to discuss and speculate about.