Bethenny Frankel Won't Be Easing Up On Meghan Markle Anytime Soon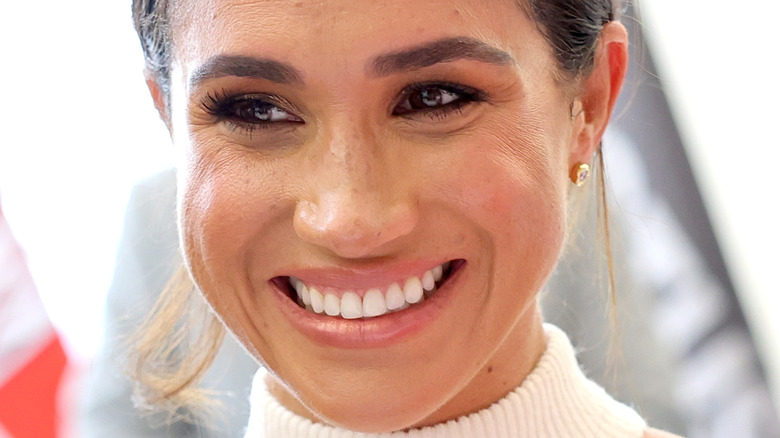 Chris Jackson/Getty Images
The former "Real Housewives of New York City" star Bethenny Frankel has plenty to say about Meghan Markle once again. On the Sept. 1 episode of her podcast "Just B With Bethenny Frankel" the Bravolebrity blasted Markle, saying, "She's very much like a Housewife in that she can't stop talking about the very thing that she wants to be irrelevant." Per US Weekly, the OG housewife didn't stop there, adding, "When you leave the royal family, leave the royal family. You learned something, you said it, we heard you ... Let it go, Elsa. Move forward."
In 2021, the "RHONY" alum previously called out the Duchess of Sussex ahead of her infamous sit-down with Oprah Winfrey, tweeting at the time, "Cry me a river...the plight of being a game show host, fairly unknown actress, to suffering in a palace, w tiaras & 7 figure weddings for TWO WHOLE YEARS to being a household name w @Oprah on speed dial, fetching 7 m for interviews, hundreds of millions in media deals."
Although the Skinny Girl founder received backlash for her 2021 tweets about the Duchess, it appears Frankel won't be easing up on Markle anytime soon.
Bethenny Frankel claims Meghan Markle is a terrible businessperson
In a recent social media post, Bethenny Frankel described Meghan Markle as a "terrible businessperson." As Page Six reported, the reality star took to TikTok to criticize the Duchess of Sussex, this time accusing Markle of "painting herself into a corner." Frankel continued, "She is a terrible, terrible businessperson, strategist — she's playing checkers, not chess — because she is overplaying her hand, and she is painting herself into a corner, becoming a woman without a country."
In addition to Frankel's Twitter and TikTok shade thrown Markle's way, she's also recently been calling out the Kardashians on social media. OK! reported that the former "RHONY" star accused the reality TV family of making moms feel bad about themselves. Frankel said, "Moms feel insecure ... They don't have time to do all this [Photoshop], nor they even know how to [with] the technology ... the average woman can't compete." The Skinny Girl founder continued, "It's not inspirational, it's not aspirational. It creates eating disorders, insecurity, depression. It's a serious thing."