Royal Expert Dishes On The Drama At Balmoral Before The Queen's Death - Exclusive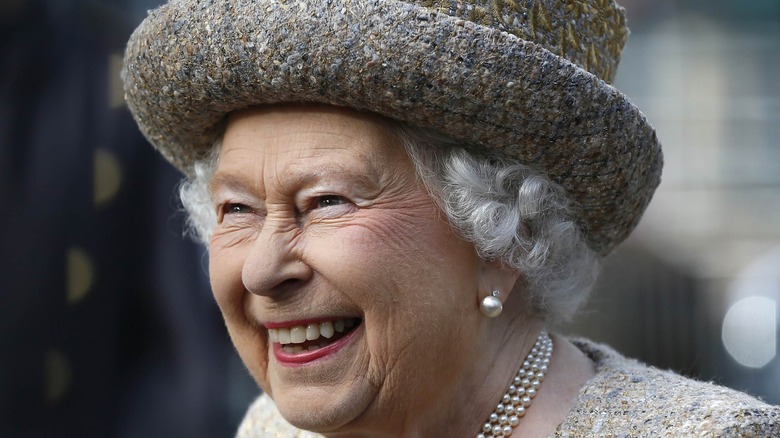 Wpa Pool/Getty Images
Queen Elizabeth II, England's longest-serving monarch, has passed away at the age of 96. The royal family had set plans for when their monarch dies, and Operation London Bridge immediately went into effect following the death of Her Majesty (via The New York Times). Operation London Bridge is a highly detailed plan that organizes what the 10 days following the queen's passing will look like. There are ceremonial moments included in the plans — like having the queen's body rest in a specific room at Buckingham Palace — but they also help usher Charles in as king.
However, there was a bit of a setback to Operation London Bridge given one specific circumstance: The queen passed away at her Scotland home, Balmoral Castle, and plans had to be shifted accordingly (via Page Six). As such, Operation London Bridge changed to Operation Unicorn. The dent in the ceremonial plans was not the only complication on the day the queen passed away, though.
Since Her Majesty wasn't at Buckingham Palace, not every member of the royal family was able to make it to her bedside before she died. In the midst of trying to be there for one another, drama unfolded. We spoke with a royal expert who gave us an inside look at what might really be going on behind the scenes for the royals as they mourn Queen Elizabeth II.
Is there a chance specific royals will not be invited to attend the queen's funeral?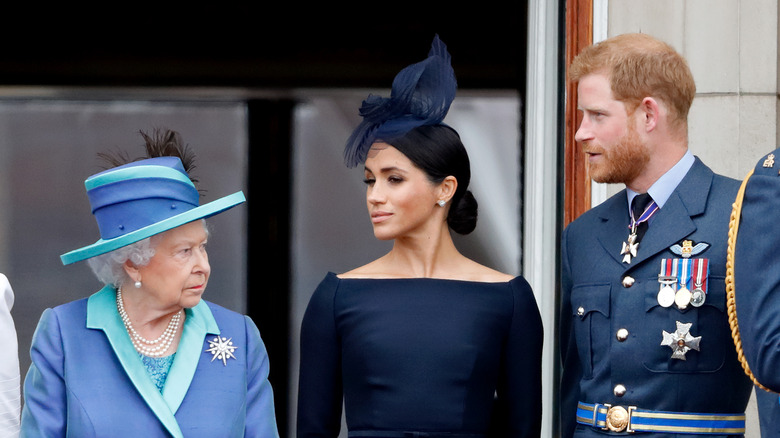 Max Mumby/indigo/Getty Images
When it comes to royal family drama, Meghan Markle, the Duchess of Sussex, is almost always caught up in the conversation. The relationship between Meghan and Queen Elizabeth II seemed to be tense, according to some accounts (via Mint). Since the Duke and Duchess of Sussex chose to step away from their royal duties, their relationships with select members of the family have reportedly been strained. This is where royal commentator Kinsey Schofield of To Di For Daily comes in to explain what will unfold now that the queen has passed away. One of the primary questions on everyone's mind is: Will Meghan attend the funeral?
Schofield told us we should expect to see Meghan at the funeral, even though she was absent from the Scotland castle during the queen's final hours. "I think Meghan Markle will attend the Queen's funeral. I suspect that her absence from Balmoral had more to do with not wanting to be the only 'wife' there," she shared. "Catherine stayed back to collect the children from their first stay of school so Meghan might have felt out of place. I think it would mean a lot to Prince Charles for her to attend the funeral and he was there to walk her down the aisle at her wedding."
Could Meghan have been told to not go to Scotland with Harry?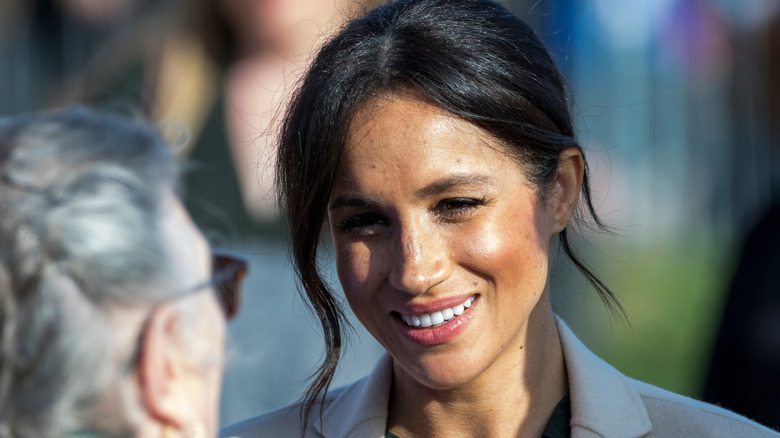 Alan Fraser Images/Shutterstock
Kinsey Schofield of To Di For Daily exclusively told The List that she believes Meghan Markle was absent from Balmoral Castle because she was following suit with Kate Middleton, who had to stay back with her children in Windsor as they were returning from their first day at school. However, some may be wondering if the royal family told Prince Harry that the Duchess of Sussex was not welcome in Scotland during such a difficult time. Schofield told us if that were the case, it may have stemmed from past drama.
"There are rumors that Charles or the Queen invited the Sussexes to stay with them earlier in the week at Balmoral and their invitation was declined," she told us. The Duke and Duchess of Sussex were originally in the United Kingdom for a charity event. "If she was asked not to attend, perhaps someone's feelings were hurt by the rejection." The royal commentator said this was likely not the case, though. "However, I suspect that Harry would not make the trip if someone had insulted his wife. He's very protective of her."