The Harsh Reality Prince Harry Now Has To Accept About Queen Consort Camilla
Chris Jackson/Getty Images
It's not exactly news that Prince Harry isn't a huge fan of his Queen Consort Camilla, even though his brother's relationship with their stepmother appears to be stronger than ever. But royal expert and author Tina Brown claims that Harry, Duke of Sussex, has no love left in his heart for his father's wife. 
While promoting her book "The Palace Papers: Inside the House of Windsor — The Truth and the Turmoil," Brown delivered blunt insights about the pair, claiming he simply "can't stand" her. As she told the Telegraph, "he doesn't want Camilla to be queen, he's very angry that it's happening. He has not made his peace with it and he probably never will."
Brown went even further (and darker) into the reasons for Harry's feelings about his stepmother. "The scorched earth left by Diana still smolders," Brown told the Daily Beast. "For the first ten years after her death, the royals were still destabilized by the catastrophes surrounding Diana — from her divorce, the damage to Charles, the car crash, the effect on the boys." Brown also noted that the upcoming season of "The Crown," which deals with Diana's death and the aftermath, combined with the negative headlines about the royal family instigated by Harry and Meghan, may spell disaster for Camilla and Charles. But there's a harsh reality Harry has to accept now that Camilla is the Queen Consort, and there's really no way around it.
Prince Harry will have to bow to Queen Consort Camilla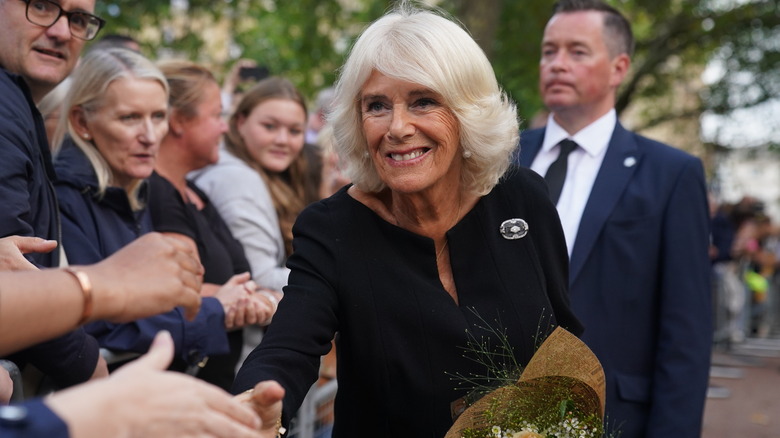 Wpa Pool/Getty Images
Despite all of the alleged tensions between the pair, Harry, Duke of Sussex, will now be forced to respect his stepmother in a very big way. As one source revealed to Page Six, "The family will now have to bow or curtsy to King Charles and Queen [Consort] Camilla." Harry likely had to bow when he arrived at Balmoral after the heartbreaking death of Queen Elizabeth II on September 8. The source added that "protocol changes" such as these "roll into action almost immediately." 
In June, Page Six dropped a bombshell report about Harry's feelings about Camilla. A senior royal source told the outlet that Prince William had "grown used to Camilla" but that "Harry will never fully accept her." The source told added that Harry hasn't forgotten that Princess Diana was supposed to be queen had Charles and Camilla's affair not robbed his mother of the opportunity. The insider also said the 37-year-old prince hasn't forgotten Diana's famous quote from her Panorama interview: "There were three of us in this marriage, so it was a bit crowded."
Camilla reportedly dreads Prince Harry's memoir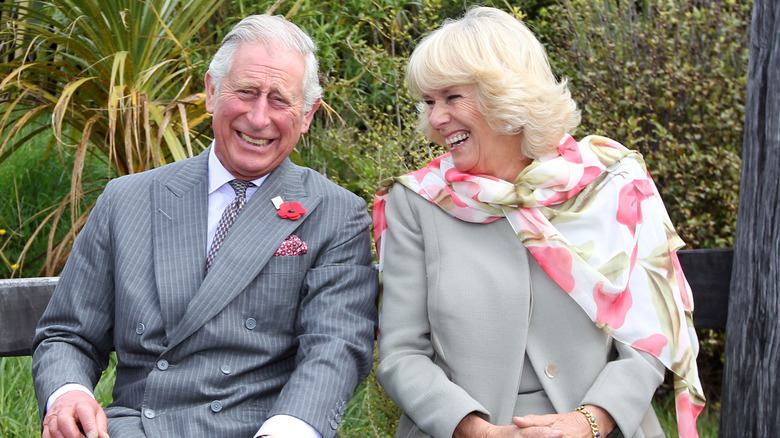 Rob Jefferies/Getty Images
The comeback campaign of Camilla, the Queen Consort, has been in place since her 2005 royal wedding to King Charles III. According to Express, the PR campaign named "Operation PB" was launched to rehabilitate Camilla's public image as Charles' former mistress right after the wedding and ramped up the closer Charles got to the throne. However, some royal experts have been speculating that Prince Harry's upcoming memoir may put a wrench in the years-long plan. In fact, recent reports have claimed that the new king and queen consort are nervous about what might be revealed.
An inside source told The Sun that Charles worries about the damage Harry's book may cause to Camilla's reputation. "Harry is fiercely loyal and protective of his late mother and her legacy, and didn't approve of Camilla sweeping in as the great love of his father's life," the insider said, adding, "Understandably he found those early years incredibly difficult, and he might publicly blame Camilla for much of what he believes went wrong in his childhood, and the trauma the whole situation caused."
Despite the lengthy PR campaign, some people haven't forgotten the way Charles and Camilla's love story unfolded. Twitter never forgets. On September 9, one user tweeted: "Don't let anyone tell you a side piece can't be queen. To Camilla." One British subject tweeted: "We missed out on #QueenDiana for a shameless side piece. What is a Camilla, anyhow? Charles should just hand his title over to William and save himself the disgrace." Ouch.