How Much Does It Cost To Hire A Wedding Planner?
Pixel-Shot/Shutterstock
Planning a wedding is hard work. While from the outside, it may seem like a fun time, once you get down to it, it can actually be quite stressful and overwhelming, even for the most organized brides. Luckily, you don't have to do it all alone. Wedding planners can help you from the very start of your planning to the moment you say "I Do." According to Brides, they help you choose vendors and attend vendor meetings, create day-of timelines, seating charts, and floor plans, brainstorm style ideas and help you envision your big day, coordinate hotel stays, menus, and just about everything in between.
So why doesn't every bride hire a wedding planner? It mainly comes down to the cost. If you are in the midst of planning, or have planned a wedding already, you know how quickly everything adds up. In fact, according to Zola, the average wedding budget in 2022 is between $10,000 and $20,000 from your wedding makeup to florals and the venue. So is a wedding planner in your budget? Here's how much you can expect to spend if you choose to hire one for your big day.
Wedding planners do not come cheap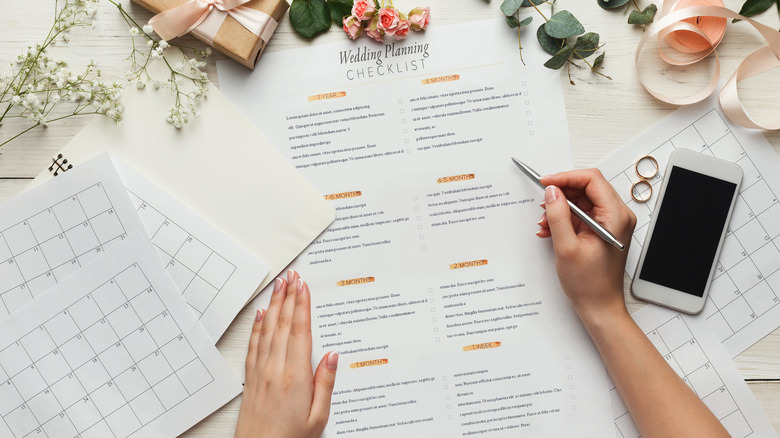 Prostock-studio/Shutterstock
While there are a lot of different factors that you must consider when figuring out how much a planner charges, the average cost will likely fall around $1,800 (via Shutterfly). But, this number is simply an average. Depending on who you hire and the services they offer, you may be looking at close to $4,000 and up for a wedding planner.
As planners often work for themselves, they can choose the way they want to charge for their services. According to Brides, there are three common ways they charge: a flat fee, a blended percentage, or an all-inclusive rate. Some planners give package options, allowing brides and grooms to choose how much help they need and pay for that accordingly. If you feel you need help from the start, you should look for a planner who offers full-service planning, but if you just need someone to help you organize and tie up loose ends as you near the wedding day, consider a month-of or partial planning package.
What to consider when hiring a wedding planner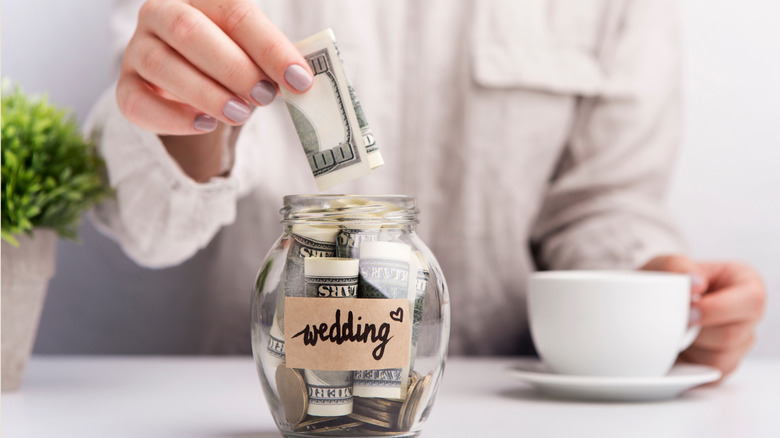 Prostock-studio/Shutterstock
According to Wedding Wire, couples hire wedding planners for their weddings for a variety of reasons, but the main reason is to eliminate stress. Wedding Wire asked recently married couples their reasons for enlisting a planner. They spoke about the positives of having someone else put out fires, having a sense of security that things were taken care of, and being able to be fully present on the day.
Having a wedding planner is likely something most couples would love to have for their big day, but before you jump on the bandwagon, you need to consider a few things. As Brides notes, couples should look at hiring a wedding planner if they can afford it, first and foremost. But you should also consider it if you have a high-stress job and little free time, have a short amount of time to plan the wedding, are not very organized, are planning a destination wedding, or throwing the event in a location that is not typically used to hosting weddings. Whether you have a planner by your side or not, your day is sure to be just as magical as you always imagined. Happy planning!