How Much Does It Cost To Rent The Perfect Wedding Venue?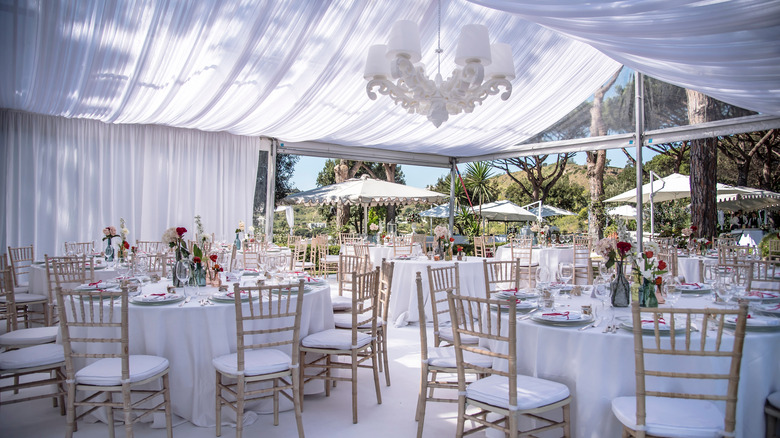 Irene Rios Photography/Shutterstock
Before you can order the flowers, determine a DJ or a band, or send out your save-the-dates, you'll need to figure out the location of your nuptials. Where you choose to get married plays a lot into the overall vibe of your day. According to Minted, while budget and availability are the most important factors in finding a venue, you also need to pay attention to things like your personal style, the amount of people you are having, the likelihood of snow, rain, or extreme heat or cold on your wedding day, and what, if any, nearby accommodations there are for out-of-town guests.
According to Brides, you'll also want to look at things like guest experience. Just because a venue says they can fit 100 guests doesn't necessarily mean they can fit 100 guests comfortably. If you are hoping for a dance party, be sure to inquire about a dance floor or the option to add your own. You also want to inquire with the venue about what they include. Some venues are full-service, meaning they provide everything you may need from cutlery and chairs to the food and the cake, while others simply give you a big open space and leave the rest up to you. But, before you can decide on any of this, you'll need to understand your budget and how a venue factors into it.
The perfect wedding venue will cost you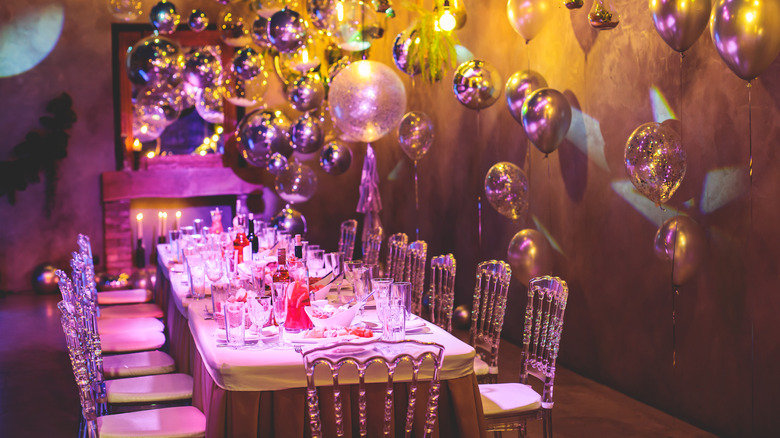 Tsuguliev/Shutterstock
Your big day is full of happiness, love, and yes, dollar signs. You may feel yourself experiencing sticker shock over and over again as you search for vendors and coordinators for your big day, but one of the biggest shocks will likely come from your venue. The cost of a wedding venue varies greatly as there are so many options when it comes to your chosen location. For example, getting married in your backyard is obviously going to cost you way less than getting married in a fancy hotel by the beach. Still, though, according to Wedding Wire, the average overall cost for a wedding venue is $6,000. At the low end of the average, couples are spending about $3,000 for their venue, while the higher end costs couples about $11,000.
But, take this number with a grain of salt. This number can quickly skyrocket depending on your locale of choice, your guest count, and even your wedding date. You'll also need to factor in on-site costs and what is and is not included when you book your venue. But, there's more. According to Brides, couples also need to factor in parking fees, event insurance, rentals for things like chairs and tables (if they aren't included), taxes, tips, service charges, and even fees for storing wedding items and late pickup fees.
Things to consider when choosing a wedding venue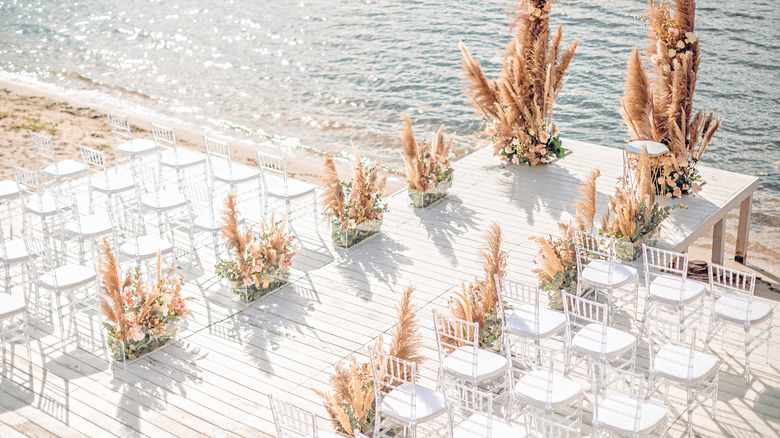 Mr.Music/Shutterstock
You may have narrowed down location and guest count, but there are a ton of other things you need to consider before signing on the dotted line for a wedding venue. If you are going to see sites in-person, or contacting venues via email or phone, you'll want to make sure you get the full picture before booking. According to Brides, you should always ask about their deposit, their cancellation policy (you never know), and any extra fees they may charge on the back end (things like gratuity or a breakdown fee).
You also want to inquire about the payment. The cost of a venue is large, and many places will offer payment schedules to couples who don't want to shell out thousands of dollars in one day. Ask your options for this and make sure that what they offer works for you and your finances.
While all of this may have you reaching for your wedding-themed stress ball, booking a venue is a super exciting moment. Choosing the venue is a huge check mark off your list and is possibly the biggest decision you will make — now, the real fun begins.