Mourners Are Being Asked To Stop Leaving These Unusual Items In Honor Of The Queen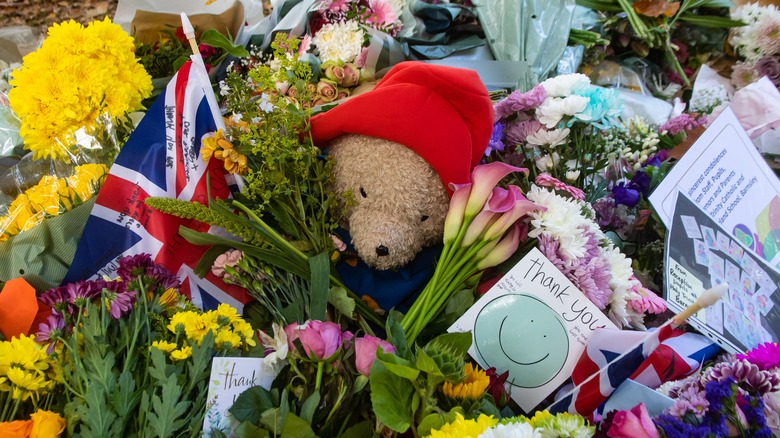 Michael Tubi/Shutterstock
After the heartbreaking death of Queen Elizabeth II on September 8, 2022, people all around the world have been paying tribute to Britain's longest-reigning monarch. Leaders such as Barack Obama have honored the queen in heartfelt social media posts and emotional speeches.
Mourners in London are flocking to public green spaces to leave flowers in memory of the queen, along with some more unusual items: Paddington Bear dolls and marmalade sandwiches marked "For later" (per Daily Mail). In a funny sketch filmed for Queen Elizabeth's Platinum Jubilee celebrations earlier this year, Paddington Bear — the beloved children's book character created by Michael Bond — visited Buckingham Palace to share tea and marmalade sandwiches with the queen. With a twinkle in her eye, the nonagenarian pulled a sandwich out of her handbag. "I keep mine in here," she said. "For later."
Staff in charge of The Royal Parks are now requesting that visitors leave only unwrapped flowers in memory of the queen, and only in the Green Park Floral Tribute Garden. These organic materials will eventually be composted one to two weeks after Queen Elizabeth's state funeral on September 19. Park staff are asking visitors not to bring items that cannot be composted, such as balloons and stuffed animals, and are also requesting that members of the public refrain from lighting candles.
Paddington Bear left his own heartfelt tribute to the queen on social media. On September 8, he tweeted: "Thank you, Ma'am, for everything."