The Earrings Princess Anne Wore During The Queen's Final Departure Have A Hidden Sentimental Meaning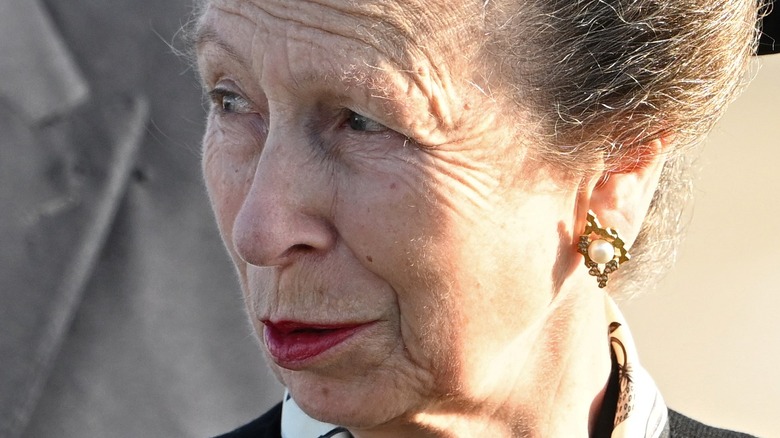 Wpa Pool/Getty Images
Queen Elizabeth II died on September 8. Her death was confirmed in a statement from the palace that was shared on Instagram around 6:30 p.m. London time. "The Queen died peacefully at Balmoral this afternoon," the statement read, in part. In the days that have followed, the queen's casket has left Balmoral, arrived at the royal Palace of Holyroodhouse in Edinburgh, Scotland, been transported the St. Giles Cathedral, and has since been flown to London and is expected to arrive at Buckingham Palace on Tuesday evening, according to NBC News.
Princess Anne and her husband Timothy Laurence are on the flight and will accompany the casket when it arrives at Queen Elizabeth's longtime home, NBC News confirmed. On Wednesday, September 14, the casket will be taken to Westminster Abbey where the queen will lie in state until her funeral service on Monday, September 19. 
Princess Anne has been following strict protocol since her mother's death. For example, the Princess Royal curtsied when the casket approached her on its way inside Holyroodhouse, according to People magazine. When the casket left St. Giles Cathedral on its way to the Edinburgh airport on Tuesday, Princess Anne was seen wearing an all-black ensemble and a pair of pearl earrings that hold very special meaning. The Daily Mail reports that the earrings were a gift from her parents on her wedding day. She has worn the earrings, created by jeweler Andrew Grima, on multiple occasions besides her wedding, including at the funeral for her father, Prince Philip, who died in April 2021.