The Only Two Pieces Of Jewelry The Queen Will Likely Be Buried With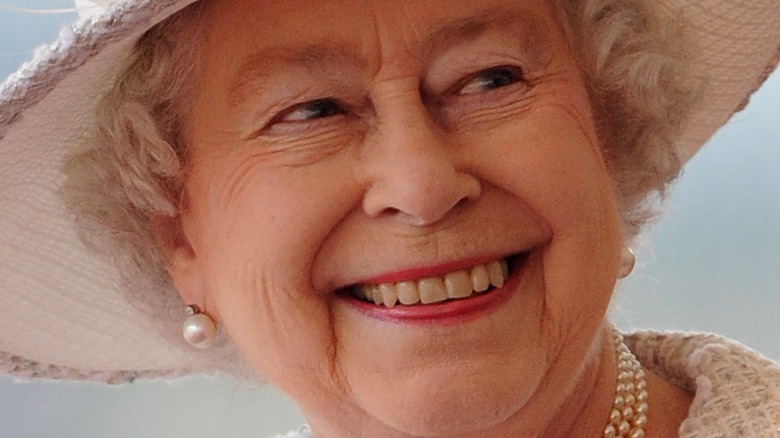 Wpa Pool/Getty Images
Queen Elizabeth II's death was confirmed by the palace on September 8. In a statement shared on Instagram, the royal family confirmed that the queen died "peacefully" at her home at Balmoral in Scotland, where she had been spending part of her summer holiday. Three days after her death, the queen's casket began its journey to Westminster Abbey, making a few stops along the way, according to BBC News. Onlookers have lined the streets to pay their respects to the queen, whose casket is covered in the Scottish royal standard and adorned with a wreath of flowers, according to People magazine. The casket has been transported via a Mercedes E-Class hearse, its wagon surrounded by glass so that the casket is visible on its travels.
Upon arriving at Westminster Abbey on September 14, Queen Elizabeth will lie in state until her funeral, which is scheduled to take place on Monday, September 19. Following the funeral, the queen will be buried alongside her husband, Prince Philip, at St. George's Chapel at Windsor Castle, according to People magazine. The queen is expected to be buried with two pieces of jewelry, a royal expert told the Metro UK. "Her Majesty is an incredibly humble woman at heart who is unlikely to be dressed in anything but her simple Welsh gold wedding band to rest and a pair of pearl earrings," Lisa Levinson, head of communications at the Natural Diamond Council, told the outlet. 
Meanwhile, Levinson believes that the queen's engagement ring will be left to her only daughter, Princess Anne.
Queen Elizabeth had an extensive private jewelry collection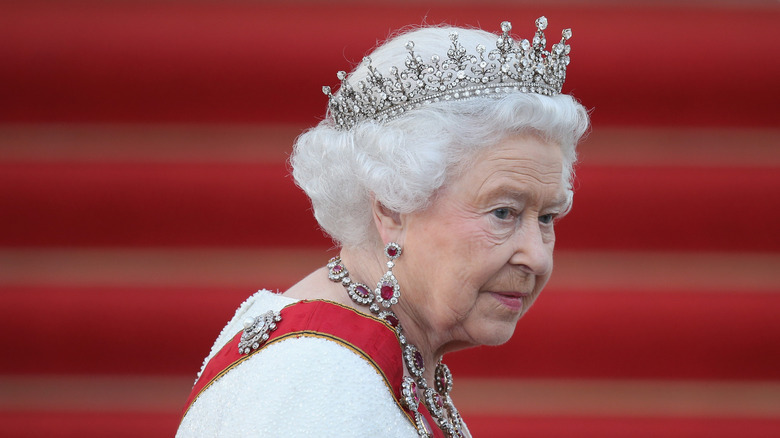 Sean Gallup/Getty Images
While Queen Elizabeth II will only be buried with her wedding band and a simple pair of pearl earrings, she had an extensive jewelry collection throughout her lifetime. As noted by the Daily Mail, the late monarch owned about 300 pieces herself, the collection comprising of 34 pairs of earrings, 15 rings, and 98 brooches. When she wasn't wearing a particular piece, Queen Elizabeth II's jewelry was stored in the Queen's Gallery at Buckingham Palace.
The late Queen Elizabeth was also known to use jewelry to mark special occasions or symbolize her unspoken opinion on a matter. For example, as noted by Bustle, the queen was spotted in her Grima Ruby Brooch on her platinum wedding anniversary in 2017. The brooch was originally gifted to her by her late husband, Prince Philip, and was said to be a particular favorite of hers. Another brooch, the queen's True Lover's Knot Brooch, was seen on her person at both Princess Margaret's wedding and Prince William's wedding to Catherine Middleton, Princess of Wales. While she may only be buried with two simple pieces of jewelry, Queen Elizabeth II was known for making a statement, and an often symbolic nod, with her choices. 
Queen Elizabeth's jewelry legacy lives on in Catherine Middleton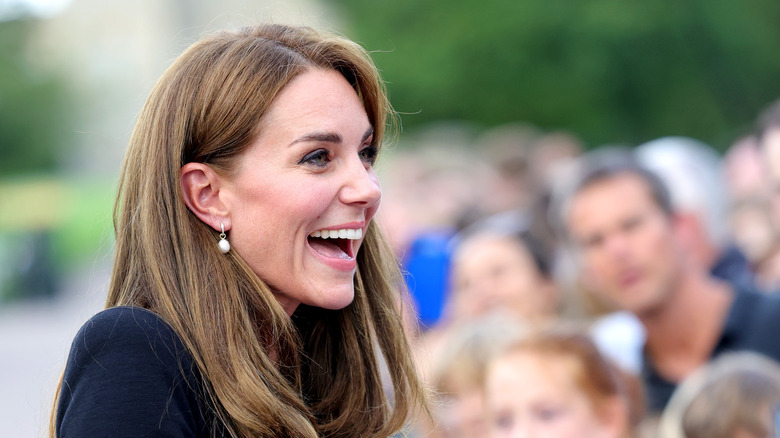 Chris Jackson/Getty Images
Though the world is currently mourning the death of Queen Elizabeth II, her legacy of dedication and service will live on in her son, King Charles III, and her grandson, Prince William, Prince of Wales. As now the direct heir to the throne, William is surely to have an even larger profile in the royal family than he previously did — as such, his wife Catherine, Princess of Wales, is one of the most senior female members of the royal family and a public favorite among supporters. As for the late monarch's jewelry, we will likely see Catherine pay tribute to Queen Elizabeth II through her jewelry choices, as she has been known to wear pieces from the queen's collection on a regular basis. 
For example, while attending an event amid the queen's Platinum Jubilee, the newly-named Duchess of Cornwall wore a pair of Queen Elizabeth's pearl drop earrings, Us Weekly noted at the time. The subtle nod to the monarch — who did not attend due to "some discomfort" — was a lovely tribute to the queen, who was celebrating 70 years on the throne.