How Days Of Our Lives' Bo And Hope Can Thank Queen Elizabeth For Their Wedding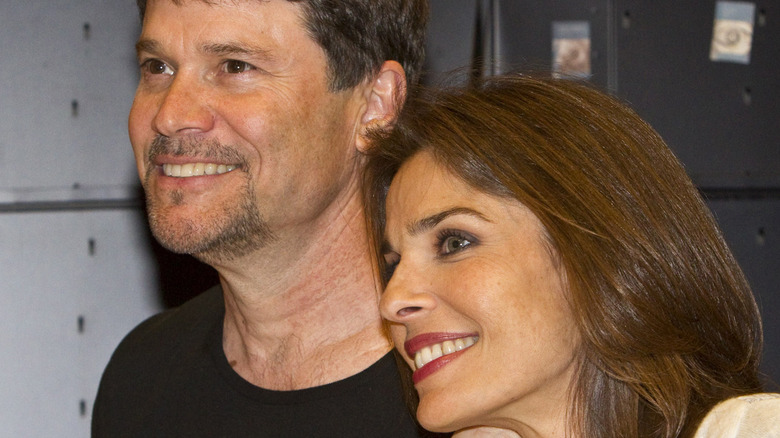 Skip Bolen/Getty Images
"Days of Our Lives" viewers have watched so many amazing super couples fall in love and endure drama over the years. The long-running soap opera has offered fans some of the greatest romantic moments in daytime television history during its 57-year run, and it's almost impossible for viewers to choose their favorite Salem couple.
Through the decades there have been couples who formed in the early years of the show and provided a backbone for all the pairings that came after them. Couples such as Tom and Alice Horton, Mickey and Maggie Horton, and Doug and Julie Williams have always been looked at as couples who stood the test of time (via Live About). However, these couples' children and grandchildren have also been part of many super couples themselves.
Pairs such as Jennifer Horton and Jack Deveraux, Marlena Evans and John Black, Chad DiMera and Abigail Deveraux, Sami Brady and EJ DiMera, Ciara Brady and Ben Weston, Will Horton and Sonny Kiriakis, and so many more have formed memorable and iconic duos in Salem over the years (via Fame 10). However, one couple, in particular, Bo and Hope Brady, has always been beloved by viewers.
Bo and Hope Brady are one of the most iconic soap opera couples of all time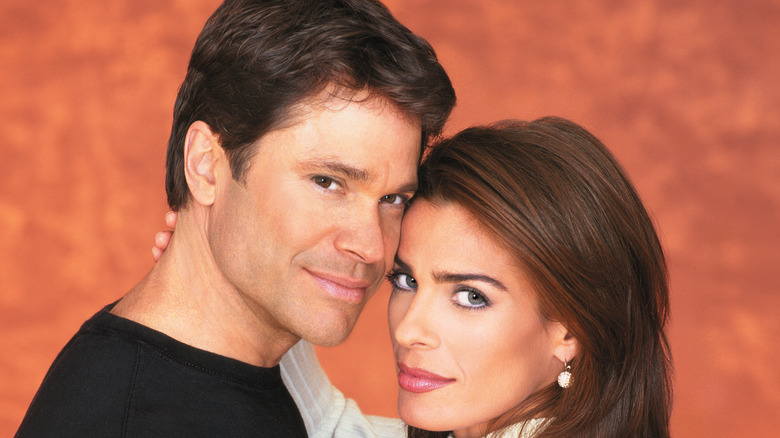 Getty Images/Getty Images
"Days of Our Lives" viewers first saw Bo Brady (Peter Reckell) and Hope Williams (Kristian Alfonso) meet in 1983. The couple instantly drew the attention of fans who loved the tension and sparks between the young couple, per Soap Hub. Over the years, Bo and Hope took fans on a wild ride filled with so much action, drama, excitement, heartbreak, and love.
Fans watched as Bo and Hope endured situations like kidnapping, brainwashing, and even death as they also celebrated moments such as starting a family together, sailing around the world, working together on the Salem police force, and so much more (via Soaps in Depth). The super couple was a huge part of "Days of Our Lives" storylines until Bo shockingly died in Hope's arms in 2015 due to complications from a brain tumor, per Soaps.
However, fans got to relieve many of Bo and Hope's best moments when the two reunited for Season 2 of the soap opera's spin-off series "Beyond Salem," per Michael Fairman TV. Many of the couple's most beloved memories were shown during the opening credits, including their iconic royal wedding that actually involved Queen Elizabeth herself.
Queen Elizabeth hosted Bo and Hope's epic first wedding
In 1985, "Days of Our Lives" aired one of the most lavish soap opera weddings ever when Bo and Hope Brady said their vows during a ceremony fit for royalty. It all started when the couple was charged with stopping a criminal known as The Dragon, who had been plotting to kill members of the royal family, per Soap Opera Digest. Being the iconic team that they were, the pair stopped the killer and helped to save the lives of many members of the British royal family. The royals were so thankful that Queen Elizabeth held a wedding ceremony for Bo and Hope to show her appreciation (via Soaps).
Bo and Hope's closest friends and family members then flew to England to attend the couple's royal-like wedding, which was filmed on location in England, per Glamour. Hope wore an exquisite wedding gown that was said to cost more than $30,000 and included an elaborate headpiece, and fans watched the pair tie the knot for the first time in one of the most memorable weddings to ever be held on the sudser.
The couple's royal wedding was a moment that many viewers haven't forgotten and solidified Bo and Hope as one of the most iconic couples to ever appear on "Days of Our Lives."