The Young And The Restless' Courtney Hope Opens Up With A Crucial Life-Saving Message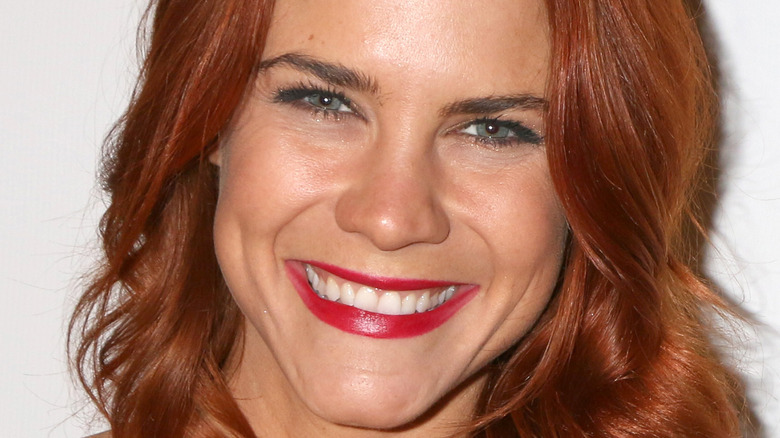 Kathy Hutchins/Shutterstock
"The Young and the Restless" star Courtney Hope is someone who always likes to stay inspired. She told Soap Opera Digest back in 2021 that she often struggled with maintaining a balanced diet and exercise routine. She said, "I wasn't really eating and for a short time, I had bulimia. Then one day I went, 'What am I doing? This is not who I am.'"
Hope also admitted to having anxiety and dealing with mental health issues soon after her brother had passed away. She told Maurice Benard's YouTube series, "State of Mind," "I did a movie in Bulgaria and I got a parasite, and it slowly started to get worse and worse and worse, where I couldn't eat literally anything, and I started to get really, really thin. I had anxiety; I was on anxiety medication. There was a lot of stuff that I felt like I couldn't control and that was one thing, I was like, 'Well, at least I can look good.'"
And while Hope has been very open about her own personal struggles, she has also taken on another important cause: suicide prevention and awareness.
Courtney Hope is speaking up during Suicide Prevention Month
Courtney Hope wants everyone's voices to be heard. The soap star, who is an ambassador for the Breaking The Chains Foundation, recently took to her Instagram account to share a very important message for Suicide Prevention Month. She said, "Having dealt with anxiety and depression myself in life and having gone through extreme moments of feeling helpless and worthless, I know that everything in life changes. The tides come and go, and sometimes in those moments, it's hard to see that. Just remember there's always help."
This wasn't the first time that Hope has taken to her social media accounts to bring up the importance of suicide prevention and awareness. Back in November 2020, she tweeted, "Suicide figures are up 200% since lockdown. Could 2 friends please copy and re-post this tweet? We're trying to demonstrate that someone is always listening."
Thankfully, the soap star is in a much better place these days as back in June, she wrote on Instagram, "In moments of distress, it's hopeful to see the beautiful blessings and potential all around us." Amen to that, sister.
If you or anyone you know is having suicidal thoughts, please call the National Suicide Prevention Lifeline by dialing 988 or by calling 1-800-273-TALK (8255)​.