The Heartbreaking Reason You Won't See Meghan And Harry's Kids At The Queen's Funeral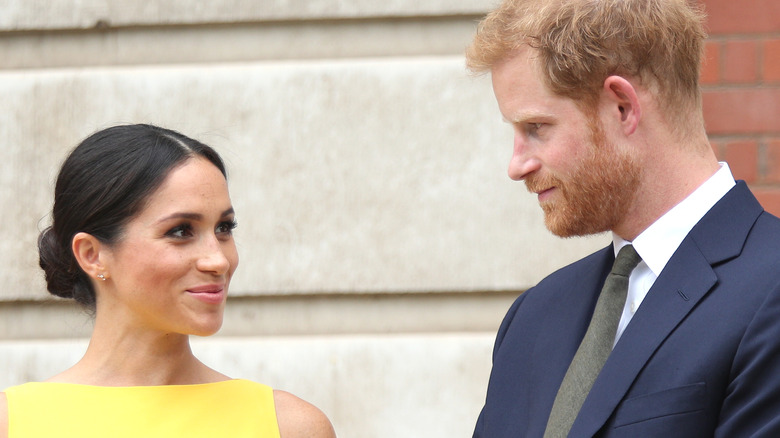 Wpa Pool/Getty Images
Queen Elizabeth II's funeral, scheduled for Monday, September 19, is expected to be a massive gathering of royal families, politicians, and other prominent figures from around the globe. According to The Times, heads of state from the Commonwealth will be in attendance, including Canadian Prime Minister Justin Trudeau, Australian Prime Minister Anthony Albanese, New Zealand Prime Minister Jacinda Ardern, and Jamaican Governor-General Sir Patrick Allen.
Other world leaders have announced that they'll make the trip across the pond to pay their respects, including U.S. President Joe Biden, Turkish President Recep Tayyip Erdogan, and Brazilian President Jair Bolsonaro, per The New York Times. As for royal guests, People reports that aside from the British royal family, Prince Albert II and Princess Charlene of Monaco, King Felipe and Queen Letizia of Spain, and King Philippe and Queen Mathilde of Belgium will travel to the U.K. for the service. King Carl XVI Gustaf and Queen Silvia of Sweden, Emperor Naruhito of Japan, King Willem-Alexander and Queen Maxima of the Netherlands will also be in attendance.
With nearly everyone making their way to England for the queen's funeral, people can't help but wonder if Prince Harry and Meghan Markle's children, Archie and Lilibet, will be in attendance. Apparently, they won't be there for a heartbreaking reason.
Prince Harry reportedly wants to 'shield' his children from 'painful experiences'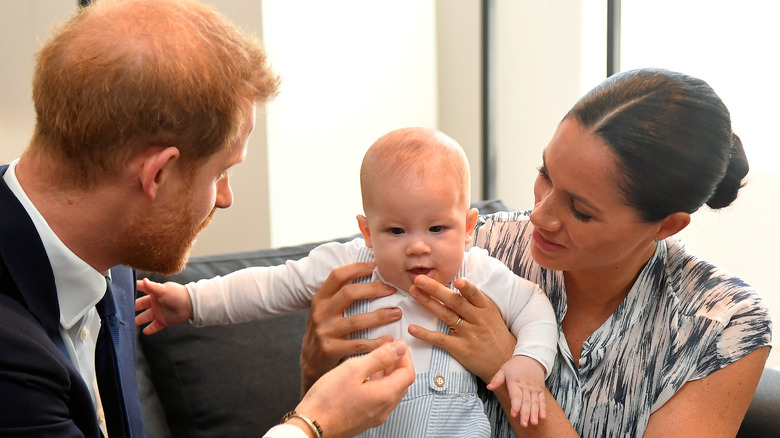 Pool/Getty Images
After the announcement of Queen Elizabeth II's death, both Prince William, Prince of Wales, and Prince Harry, Duke of Sussex, returned to their families following their time at Balmoral. The Guardian notes that Harry and his wife, Meghan Markle, Duchess of Sussex, are expected to stay in the U.K. until the queen's funeral, but their children will not be joining them.
Despite rumors swirling that both Archie and Lilibet will fly to London with their grandmother, Doria Ragland, a royal expert asserts that it's "unlikely" to happen. It's thought that Harry wants to protect his children from partaking in experiences like funerals at such a young age. In an article for The Telegraph, Bryony Gordon wrote, "The Duke is keen to shield them from the painful experiences he had as a child, the most agonizing of which involved having to walk behind his mother's coffin at age 12."
Prince Harry has repeatedly discussed his struggle to cope with Princess Diana's death in the past. Five years prior, he told Gordon that he didn't know how to deal with the emotions he was feeling at the time, especially since he was so young. "I can safely say that losing my mum at the age of 12, and therefore shutting down all my emotions for the last 20 years, has had a quite serious effect on not only my personal life but my work as well," he said (via Express).
Prince Harry had a tough time dealing with Princess Diana's death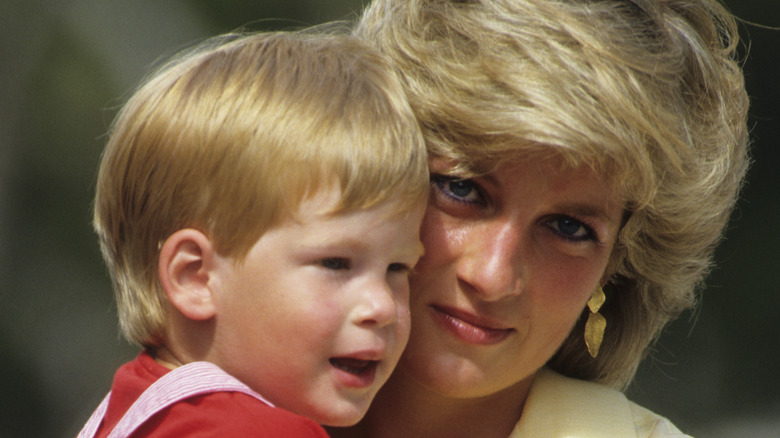 Georges De Keerle/Getty Images
Over the years, Prince Harry, Duke of Sussex, has opened up about the hardships he faced following Princess Diana's death. In his new AppleTV+ docuseries "The Me You Can't See," he explained in detail how it was challenging for him emotionally. "It was like I was outside of my body. I'm just walking along and doing what was expected of me, showing one-tenth of the emotion that everybody else was showing. This was my mum, you never even met her," he explained (via People).
He added that he resorted to using substances to drown out his feelings. "I was willing to drink, I was willing to take drugs, I was willing to try and do the things that made me feel less like I was feeling," he admitted, adding that no one else in the family "was talking about it."
Harry seems to still be processing his grief over his mother's death, and most now balance that with this new loss. In the statement he released following Queen Elizabeth's death, he noted that he's grateful for the time they spent together, including when the queen met his kids. "Granny, while this final parting brings us great sadness, I am forever grateful for all of our first meetings — from my earliest childhood memories with you, to meeting you for the first time as my Commander-in-Chief, to the first moment you met my darling wife and hugged your beloved great-grandchildren," he wrote.