Andrew's Position In The Cortege Procession Speaks Volumes About How The Family Views Him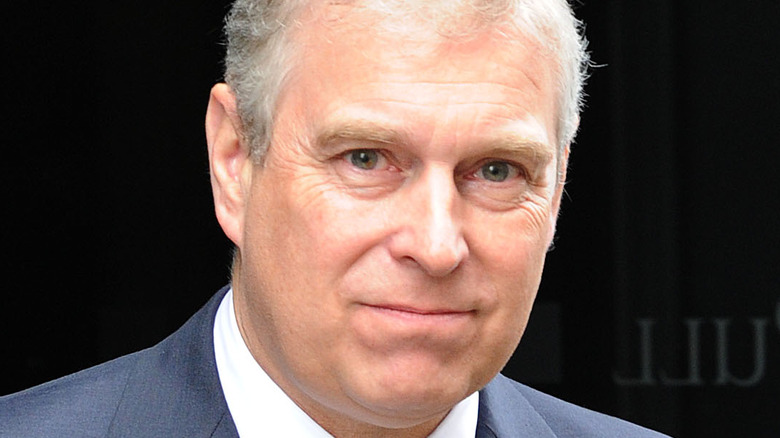 Eamonn M. Mccormack/Getty Images
The royal family is in mourning over the passing of Queen Elizabeth II, but the drama surrounding Prince Andrew remains the same. Earlier this year, he settled a lawsuit brought against him by Virginia Giuffre, who accused the prince of raping her when she was a teenager (via The New York Times). Since the highly publicized scandal, Andrew has largely stayed out of the public eye.
He has returned to the spotlight following his mother's death, though, which has stirred up plenty of controversy. Earlier this week, as all four of Elizabeth's children walked behind her coffin during the funeral cortege along the Royal Mile to St. Giles' Cathedral in Edinburgh, a protestor shouted at Andrew, "You're a sick old man." Later, authorities reported that they had arrested the 22-year-old man. In addition, a clip of Andrew consoling his daughter Eugenie caused outrage among social media users, with some believing he had touched her inappropriately. 
Despite their brother's negative press, sources say Andrew's siblings — including King Charles III — never considered excluding him from any of the events, per the Daily Mail. Yet they seemed to make their feelings about Andrew crystal clear while the queen's coffin was being moved from Buckingham Palace to Westminster Hall.
Prince Andrew walked further apart from his siblings during the procession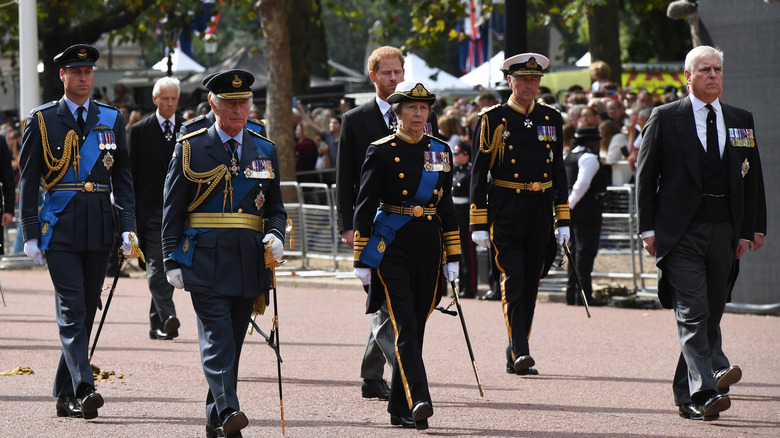 Chris J Ratcliffe/Getty Images
While Prince Andrew is expected to take a "central role," in the funeral services of his mother, Queen Elizabeth II (via the Daily Mail), his family is showing that they haven't forgotten about his past behavior. During the funeral cortege that accompanied the queen's coffin from Buckingham Palace to Westminster Hall, many noticed that Andrew often stood far apart from his siblings – King Charles III; Anne, Princess Royal; Prince Andrew, Duke of York; and Prince Edward, Earl of Wessex — during the procession.
Unlike his siblings who wore their military uniforms, Andrew was required to wear a morning suit since he is no longer a working royal. However, he has been given special permission to don a military uniform at the final vigil as a sign of respect towards his mother, per People. "This is the first state funeral of a monarch since 1952," Roya Nikkhah told CBS News. "This is massive. And so [King Charles] wants to get everything absolutely technically right, and it's only technically right that only working members of the royal family wear a military uniform."
Prince Andrew is not likely to return to royal duties after the queen's funeral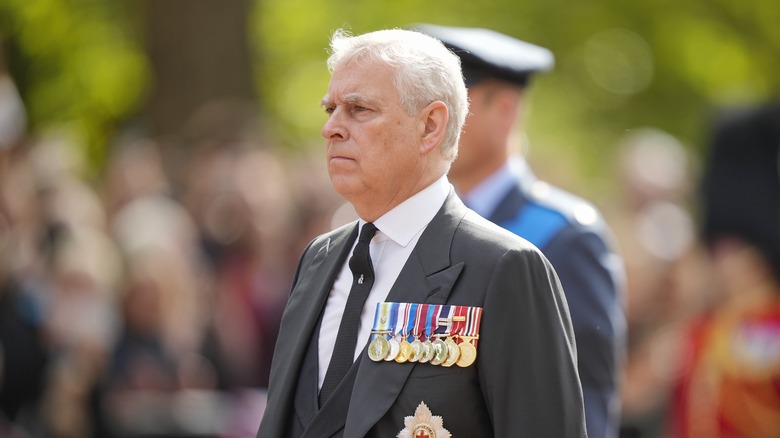 Wpa Pool/Getty Images
Although he is participating in all of the funeral services for his mother, Queen Elizabeth II, it is unlikely that Prince Andrew will ever return to royal life. "Once it is all over, he will be expected to retreat back to a life lived well under the royal radar," a source told The Telegraph.
Before her passing, Andrew had reportedly been pressuring the queen to reinstate his royal status, including returning as Colonel of the Grenadier Guards and getting his daughters — Princess Beatrice and Princess Eugenie — working royal statuses, per the Independent. But sources said King Charles III and his heir, William, Prince of Wales, blocked any chance of a comeback and even made sure Andrew was banned from participating in the Knights of the Garter ceremony in June, per Metro. With Elizabeth gone, all hope for Andrew is now essentially lost.
"I think that he will remain very much in the background. There is no way he is going to resume royal duties. So, you could say his retirement continues," Joe Little, the managing editor of Majesty magazine, told The Guardian. "There is no hope, I would suggest, of him returning to the working royal-fold anytime soon."