The Important Accessory Kate Middleton And Meghan Markle Will Wear At The Queen's Funeral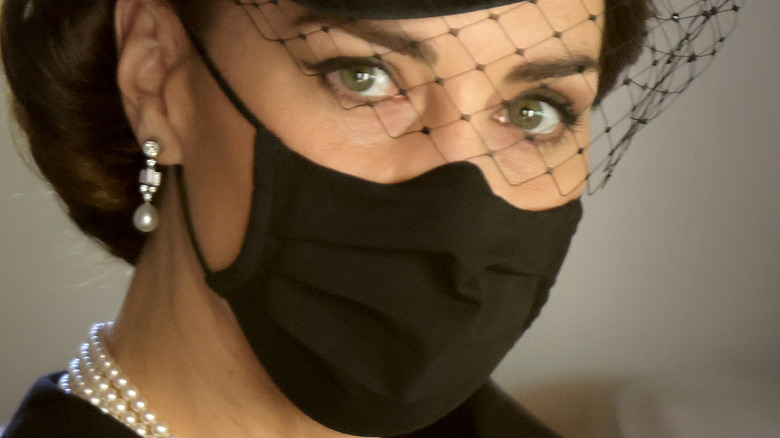 Chris Jackson/Getty Images
Queen Elizabeth II died "peacefully" at her home at Balmoral Castle on September 8, according to a statement from the palace. The queen's coffin arrived at Buckingham Palace on Tuesday, September 13, and she will lie in state at Westminster Hall for the next four days, according to the Washington Post. During this time, members of the public will be able to file past the casket to pay their respects to the longest reigning monarch in history.
The royal family, including Kate Middleton and Meghan Markle, will be attending the queen's funeral on Monday, September 19. The sisters-in-law will both be wearing an important accessory at Queen Elizabeth's funeral; a mourning veil. According to Express UK, these black veils are part of tradition and all women in the royal family — working or otherwise — will be seen wearing the black partial face coverings. The veil is meant to represent someone in mourning, but it also serves a functional purpose. According to Express, it provides a bit of privacy in the event that someone wearing one were to get emotional. 
After the funeral, the coffin will be transported to St. George's Chapel on the grounds of Windsor Castle where the queen will be buried with her husband, Prince Philip, who died in April 2021, according to CNN. Philip's casket is currently located in the Royal Vault at the chapel but will be moved to King George VI Memorial Chapel.