Body Language Expert Reveals Why Meghan Always Has To Hold Harry's Hand - Exclusive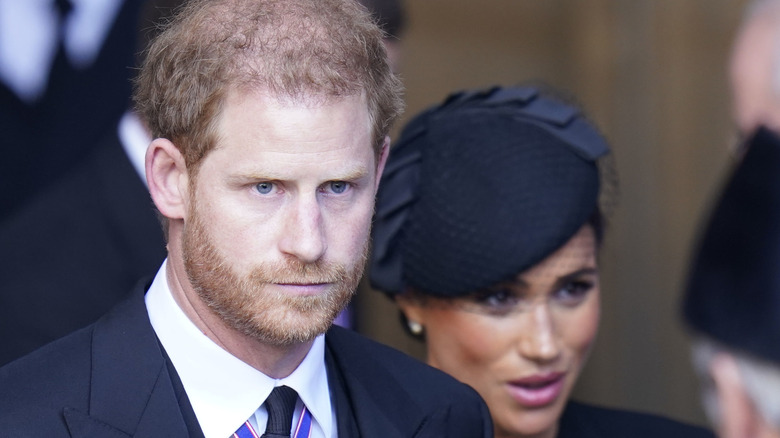 Wpa Pool/Getty Images
Funerals are always difficult to get through, but even more so when the event follows a period of estrangement from your family. This is especially true for Queen Elizabeth II's funeral proceedings, which have presumably been stressful for Prince Harry and Meghan Markle, whose plans recently changed following Her Majesty's death on September 8. The Duke and Duchess of Sussex are not only reuniting with the rest of the family for extended bouts of time in an emotionally charged atmosphere, but they have to do it with the entire world scrutinizing their every move. This added pressure may explain why Harry, Duke of Sussex, and Meghan, Duchess of Sussex, are often seen engaging in public displays of affection that are generally uncommon for the royal family, such as holding hands. 
They were the only royal couple to hold hands during the procession on September 14, and were previously seen linking fingers during their walkabout outside of Windsor Castle on September 10. Jess Ponce III — body language expert, media coach, and author of
 "A.W.E.S.O.M.E." — tells The List, "Harry and Meghan are there to undoubtedly support his family. Yet, during this process all eyes are on Meghan, scrutinizing her every move. This is stressful to say the least." Ponce suggests that, since they've been out of the royal spotlight for a while, the Duke and Duchess of Sussex may be relying on each other a bit more than the rest of the Windsor clan at the moment.
Meghan and Harry may be holding hands for support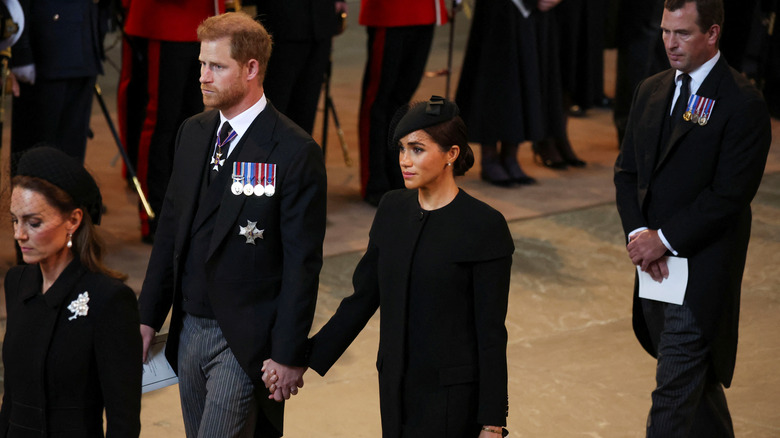 Wpa Pool/Getty Images
According to body language expert Jess Ponce III, "Holding hands is a sign of connection, intimacy, and security." This is why parents often hold children's hands when taking them to school, for instance, and why couples tend to hold hands when they walk. "Married couples hold hands for intimacy, but more so for emotional intimacy and connection," Ponce explains. "It's a means of support."
For Prince Harry, Duke of Sussex, and Meghan Markle, Duchess of Sussex, they could both seemingly use the additional support in the wake of Queen Elizabeth II's heartbreaking death. "When faced with a challenging situation, such as a family death, holding hands provides all three — connection, intimacy and security. It is a way to support one another," says Ponce. "This is the case with Harry and Meghan." He points out, "There is also another factor at play — the stress of being under the microscope." Harry has talked about holding his wife's hand when she needed support before. In a video interview circulating on social media recently, Prince Harry describes "squeezing each other's hands" at a public event after Meghan had experienced a mental health crisis. 
As Ponce further explained, given the levels of difficulty surrounding their current situation, "it seems natural that they are relying on one another for support and connection, especially her." 
If you or someone you know needs help with mental health, please contact the Crisis Text Line by texting HOME to 741741, call the National Alliance on Mental Illness helpline at 1-800-950-NAMI (6264), or visit the National Institute of Mental Health website.
Public displays of affection are usually uncommon for the royal family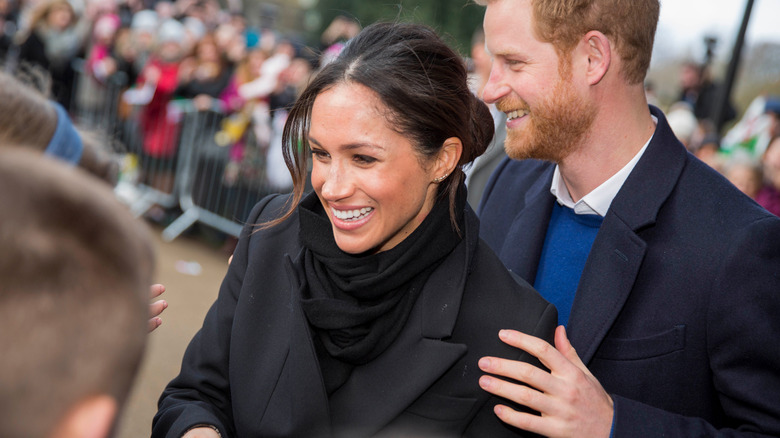 ComposedPix/Shutterstock
While Meghan Markle and Prince Harry are no strangers to public displays of affection, their behavior — though seemingly normal — is actually seen as relatively uncommon among the British royal family. According to Darren Stanton, "You don't usually see this kind of intimacy from a royal couple and it's clear to see the connection between the pair," (via Hello!). Stanton went on to say that the only other royal couple in recent history who also display signs of affection for one another is Prince William, Prince of Wales, and Catherine Middleton, Princess of Wales. Although William and Kate are more subdued in their actions, there have been numerous occasions over the years where the duo has been spotted getting cozy.
Though rarer than the Sussex's interactions, the Prince and Princess of Wales are sometimes seen holding hands and touching each other's backs while completing their public engagements. In 2013, William and Kate were snapped holding hands following the Christmas services in Sandringham (via Insider), and were even photographed as recently as July 2022 sharing a kiss following Prince William's polo match (per People). The main difference between Prince William, Prince of Wales, and Prince Harry, Duke of Sussex, showing public displays of affection for their wives seems to be that Harry's actions often end up in the headlines.