Why Royal Fans Are Suddenly Talking About Peter Phillips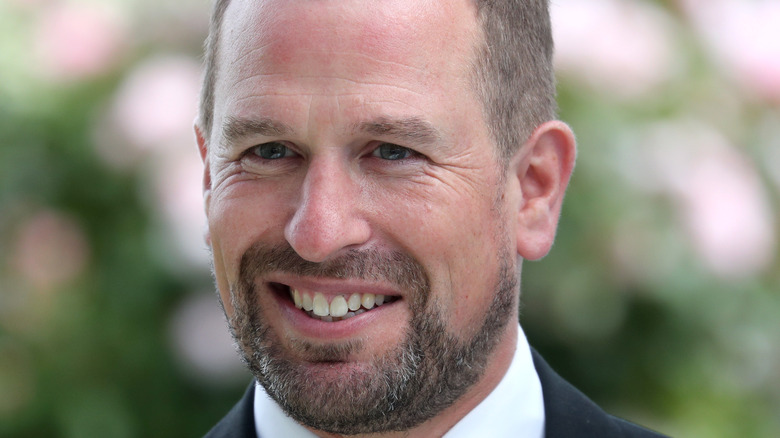 Chris Jackson/Getty Images
Fans have followed the royal family's every move since the heartbreaking death of Queen Elizabeth II on September 8. From Prince William, Prince of Wales, and Prince Harry, Duke of Sussex's long-awaited reunion to the transfer of power to King Charles III, an array of landmark moments have occurred. However, for the queen's procession, which was held on September 14, royal enthusiasts momentarily shifted their attention to another royal family member. Before the event occurred, a chart was released on social media, showcasing the arrangement of the walk to Westminster Hall.
While it was expected for William, Prince of Wales, and Harry, Duke of Sussex, to walk side by side, some were shocked to discover that Peter Phillips would be walking alongside the high-profile brothers. For those unaware, Phillips is the first child of Princess Anne, Princess Royal, and Queen Elizabeth II's eldest grandchild. One person tweeted: "Is that Peter Phillips with Harry and William? Is he there as the next oldest royal male?" Another fan tweeted: "Glad to see Peter Phillips there — as the eldest grandchild, he doesn't see to be involved very much — it's all William and Harry." 
While fans seemed to welcome Phillips' inclusion, others have theorized why he was placed next to Prince William and Prince Harry.
Can Peter mend Prince William and Prince Harry's relationship?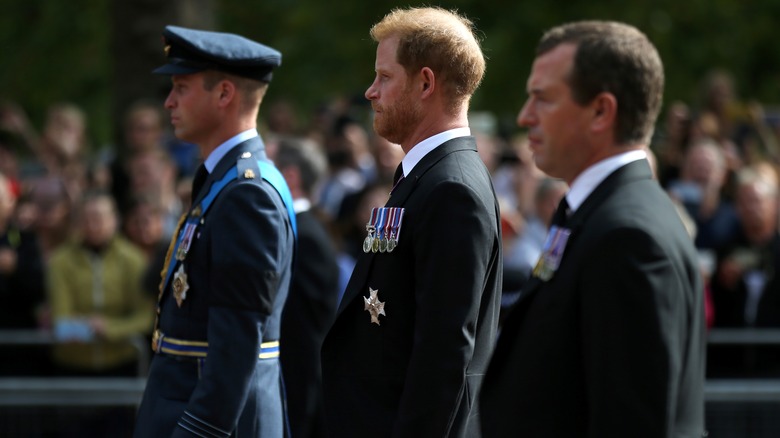 Wpa Pool/Getty Images
On September 14, Queen Elizabeth II's procession from Buckingham Palace to Westminster Hall took place and featured several appearances from the royal family. However, one member that caught the eyes of royal fans was Peter Phillips. Known as the first and only son of Princess Anne, Princess Royal, the businessman was placed next to Prince William, Prince of Wales, and Prince Harry, Duke of Sussex, as they walked behind their grandmother's coffin. While some were excited about Phillips' inclusion, others have speculated that his placement during the procession was meant to mend the tense relationship between William and his brother Harry.
"Peter is used to acting as a bit of a buffer," an insider explained to The Telegraph. "He may play that role again in a bid to pull them along together." Phillips had previously acted as a buffer during Prince Phillip, Duke of Edinburgh's funeral procession in 2021. Since 2020, Prince William and Prince Harry have reportedly been at odds due to the latter's controversial departure from his royal duties. In the years following, the two have hinted at their strenuous relationships in various statements. 
"As I've said before, I love William to bits. He's my brother. We've been to hell together. But we're on different paths," Harry told Oprah in 2021 (per Cosmopolitan). As for Prince William, a friend of the public figure revealed to The Mail+ that he goes "between grieving for what he has lost and feeling angry" over his brother's actions.
Peter lives a life out of the royal spotlight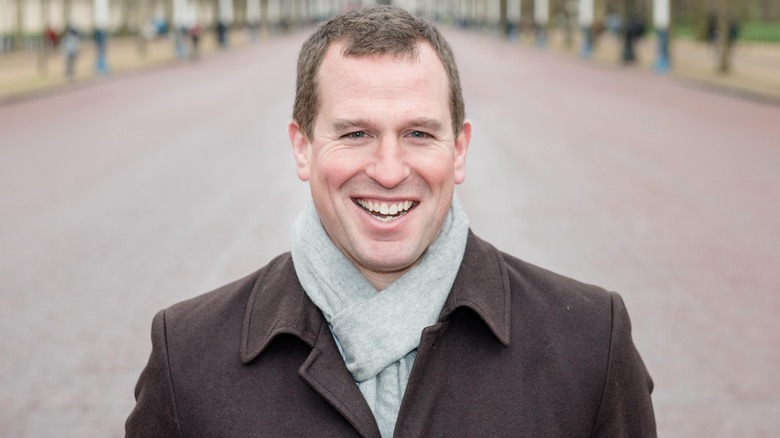 Wpa Pool/Getty Images
Before her heartbreaking death, Queen Elizabeth II fostered and created an expansive royal family. Between the late 1940s and early 1960s, the late monarch gave birth to her four children, King Charles III, Princess Anne, Princess Royal, Prince Andrew, Duke of York, and Prince Edward, Earl of Wessex. Over time, the four descendants welcomed their own kids. However, while most of the queen's grandchildren went into the family business with their own royal titles, Anne, Princess Royal, went in another direction with her kids. "I think it was probably easier for them, and I think most people would argue that there are downsides to having titles," she told Vanity Fair.
With their life somewhat out of the spotlight, Phillips and his sister, Zara Tindall, have gone on to live relatively quiet yet posh lives. During his college years at the University of Exeter, Phillips studied sports science and played rugby — which resulted in him working for Jaguar, Williams F1 racing team, and SEL U.K. (per People). Although he has established a life outside the limelight, the sport's executive still maintains a close relationship with his working royal family members — which previously included the late queen. "I've always been very close to my grandmother, and we speak often," he told The Telegraph in 2016. "She has been an inspirational person throughout my life."