Kate Middleton's Outfit For The Queen's Procession Contained Hidden Messages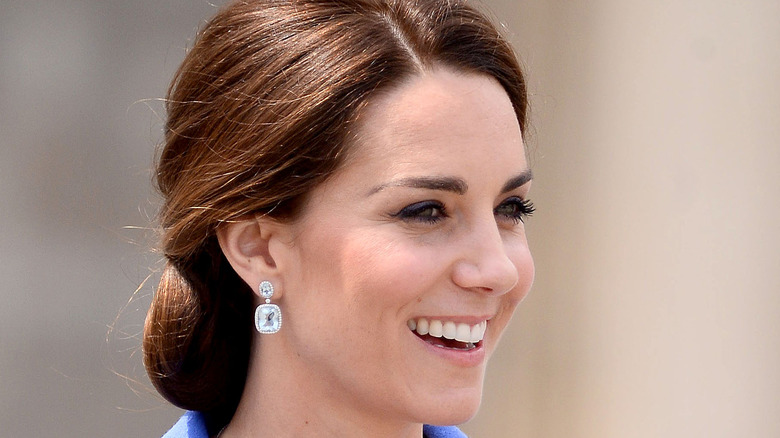 Isaaack/Shutterstock
Kate Middleton has long been known as a fashionista, as evidenced by her impeccable taste in clothes — but, from time to time, her sartorial choices contain subliminal messages. There have been multiple instances in the past where the Princess of Wales has chosen to communicate something to the public with her clothing, whether it's a tribute to the country she's visiting or to show her support for a certain cause.
In March 2022, Kate donned a blue ensemble when she attended the Commonwealth Day Service in London, which fans assumed was her way of sending a message of support for Ukraine. The blue she wore happened to be similar to the shade of blue found on the Ukrainian flag, and she reportedly sported a sapphire and diamond jewelry set from Princess Diana's collection as well. She wore these same jewels during Ukrainian president Volodymyr Zelensky's visit to Buckingham Palace in 2020, per The Evening Standard. In May, during her visit to the Royal College of Midwives, and the Royal College of Obstetricians and Gynecologists, the Princess of Wales wore a dress that featured a pineapple logo. According to The Mirror, the fruit is considered a symbol of hope for people struggling with infertility.
It's clear that Kate has mastered the art of incorporating secret messages in her clothing, so it's not surprising that she did the same thing at Queen Elizabeth II's procession on September 14.
Kate Middleton wore Queen Elizabeth's brooch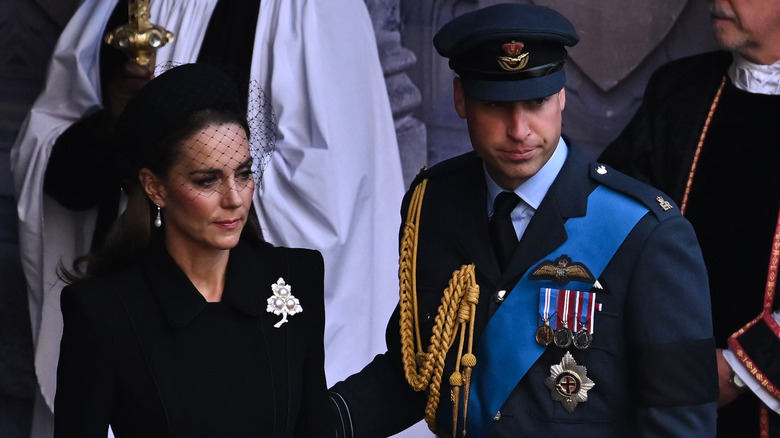 Wpa Pool/Getty Images
Kate Middleton honored Queen Elizabeth II at Her Majesty's coffin procession from Buckingham Palace to Westminster Hall in the best way Kate knew how: through her clothes. While the Princess of Wales still followed the royal protocol of wearing an all-black ensemble, she paired it with stunning accessories, including drop pearl earrings that once belonged to Princess Diana, per People. She also sported a brooch previously owned by Queen Elizabeth, which the late monarch wore on a visit to Seoul in 1999, per The Court Jeweller.
Other members of the royal family paid tribute to the queen through accessories as well. Queen Camilla wore a brooch that was gifted to her by Her Majesty at the cathedral service in Edinburgh. The late monarch made it known that she was in support of Camilla Parker Bowles becoming queen consort when Charles became king. "When, in the fullness of time, my son Charles becomes King, I know you will give him and his wife Camilla the same support that you have given me; and it is my sincere wish that, when that time comes, Camilla will be known as Queen Consort as she continues her own loyal service," she said in her Platinum Jubilee message. Meanwhile, Meghan Markle sported pearl and diamond earrings that were also given to her by the queen. 
Kate Middleton has honored the queen on numerous occasions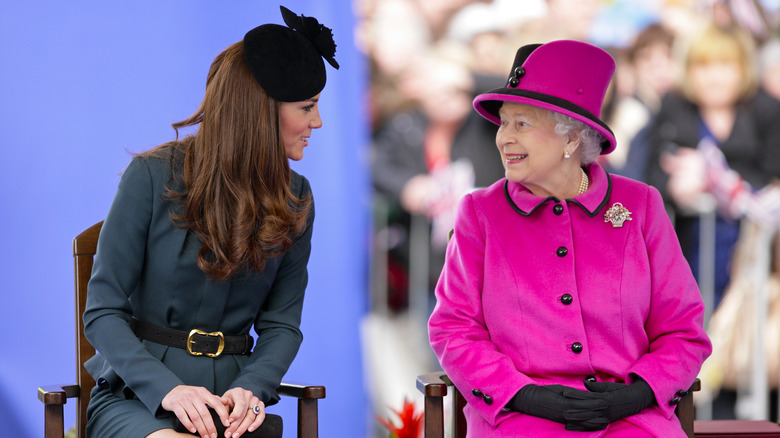 Max Mumby/indigo/Getty Images
Kate Middleton's bond with Queen Elizabeth II began long before you'd expect, as the Princess of Wales was first introduced to the monarch in 2008 (per The Telegraph). Since then, Kate has honored Her Majesty on numerous occasions, both through her subtle clothing choices and through her actions. The princess accompanied the queen on several outings over the years, including a 2012 appearance at the University of St. Andrews during Queen Elizabeth's tour for her Diamond Jubilee (via Us Weekly). The Princess of Wales was reportedly even praised by Her Majesty in 2020 for her steadfast dedication to the royal family and her consistent presence beside her husband, Prince William, Prince of Wales.
A source revealed that the queen saw William and Kate as "the future of the monarchy," and took comfort in knowing that the princess was completely committed to doing her best by the family and Britain (per Us Weekly). Kate's poised demeanor over the last week since Queen Elizabeth II's heartbreaking death serves as further evidence of the myriad ways in which she honors the queen, even still.