Catherine Middleton Discusses How Her And William's Children Are Handling Their Great-Grandmother's Loss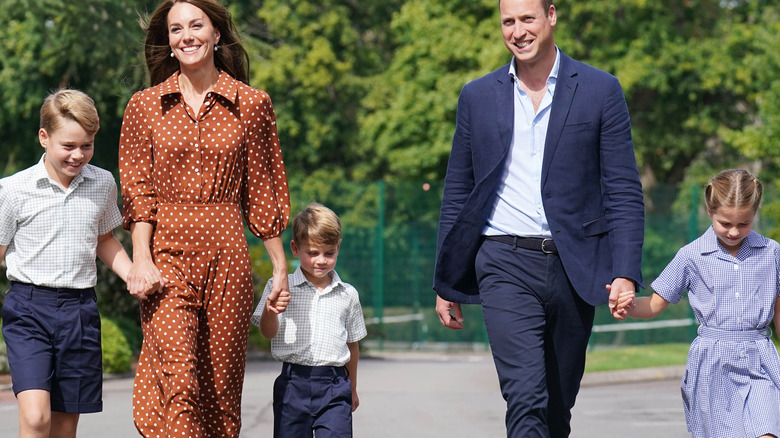 Pool/Getty Images
With the death of Queen Elizabeth II, the United Kingdom lost its longest-ruling monarch, and while she was beloved by many around the world, for her family, it wasn't just the loss of the monarch — it was the loss of a family member. William, Prince of Wales went to Balmoral Castle in Scotland upon news that the queen was ill, but his wife Catherine, Princess of Wales stayed in Windsor — it was the first day of school at a new school for their kids Prince George, Princess Charlotte, and Prince Louis (via the Mirror). Kate was the one who broke the news to their children that the queen had died.
As William, Prince of Wales and Catherine, Princess of Wales looked over the flowers left in memorial for Queen Elizabeth at Windsor Castle — accompanied by Prince Harry, Duke of Sussex and Meghan Markle, Duchess of Sussex — they spoke to some in the crowd of well-wishers/mourners. One overheard Kate tell some children at Windsor Castle that upon hearing of Queen Elizabeth's death, her youngest son Prince Louis had said "at least Grannie is with great grandpa now," according to the Independent.
The Princess of Wales said her children were doing well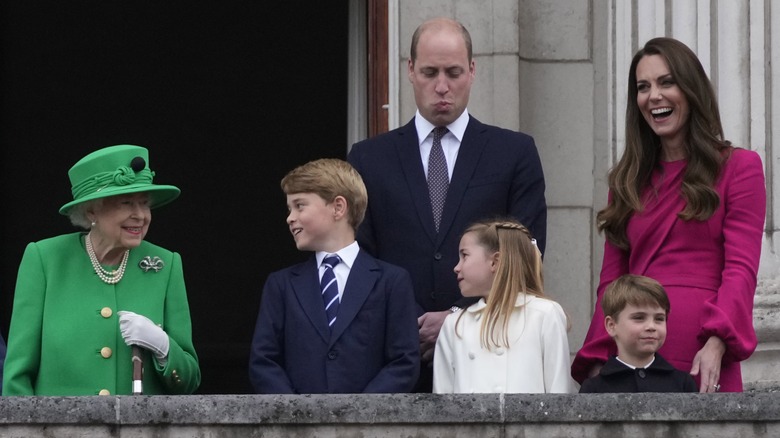 Wpa Pool/Getty Images
It's undoubtedly a challenge for the royal family to process the grief of a loved family member's passing while also making public appearances and doing their duty as royals. And the Duke and Duchess of Cornwall and Cambridge have three children to take care of and who have to process the loss of their great-grandmother. The Prince and Princess of Wales visited the crowd outside of Sandringham Palace, and someone asked Kate about how her children were doing after the queen's death. According to the Daily Mail, Kate said her kids "'were doing well and they were being looked after at school.'"
While both Prince William and Kate are confirmed guests at the funeral for Queen Elizabeth on Monday, it's not confirmed yet whether any or all three of their children will be in attendance, per the Mirror. Prince Louis and Princess Charlotte both attended the memorial service for Prince Philip, held over a year after his death due to COVID-19 restrictions, the Daily Mail reported. Prince Louis, who was three at the time, was apparently a potential guest, but he didn't attend. Time will tell if the kids will attend their great-grandmother's funeral, which will be held at Westminster Abbey.