The Surprising Reaction From The British Public As Harry And Meghan Greeted The Crowds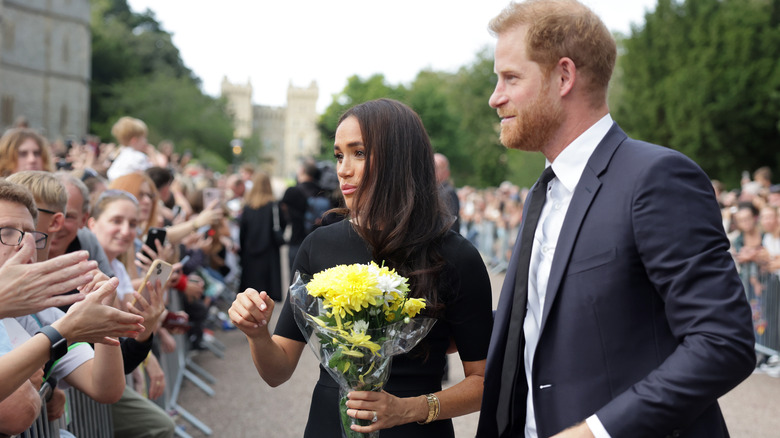 Chris Jackson/Getty Images
It's amazing how much can change in just a few short days. Of course, the royal family was sent into turmoil when the Queen died on Thursday, shuffling the line of succession. New titles were bestowed upon everyone from the top down, with King Charles III officially taking on the role as the sovereign of Britain and his son, Prince William, taking on the title of the Prince of Wales (via The New York Times). 
Meanwhile, even the youngest royals have new titles, including Meghan Markle and Prince Harry's kids, Archie and Lilibet, and Prince George, Princess Charlotte and Prince Louis.
How fans feel about the Duke and Duchess of Sussex seemingly changed overnight, too. Just five days ago, Meghan and Harry were booed on the first day of their European tour (via The U.S. Sun). The moment was eerily similar to when the Duke and Duchess of Sussex were heckled during their appearance at the Queen's Platinum Jubilee this past June.
But since Harry lost his beloved grandmother, the tides have turned, and it seems the British public are feeling more warmly toward the King's second-born son and his American wife — that is if we are to judge from the reception the controversial couple received in London today.
The four royals reunited and crowds loved it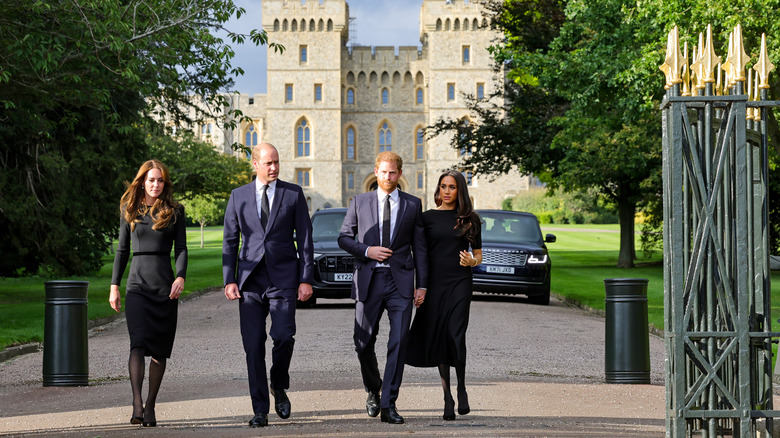 Chris Jackson/Getty Images
The world got an unusual sight today when the Duke and Duchess of Cornwall and Cambridge and the Duke and Duchess of Sussex stepped out as a foursome at Windsor Castle, where the Queen's fans left tributes for the late monarch (via HuffPost).
And it seemed the crowds gathered at the gates were beyond thrilled to see Meghan Markle in person, with one Twitter video showing the mom of two emotionally embracing a young girl who had come to pay her respects. The same social media user also posted a clip of Prince Harry helping his wife into a car and praised the duke for being "a gentleman."
Elsewhere on Twitter, fans commended Meghan as brave for stepping out in such a public way after previously being booed, not to mention roasted by tabloids, in the UK. And another clip posted on Twitter made it abundantly clear that royal fans were just as excited to see Harry, going as far to chant his name. Meanwhile, the grieving couple seemed touched and delighted by how many people had shown up to pay their respects to the former head of the monarchy.