Kyle Abrams Says He Was Disappointed In His Portrayal On Love Is Blind - Exclusive
If you're a fan of reality dating shows, then you've likely already binged Netflix's hit series "Love Is Blind." The show pushes participants to look beyond the physical in their search for love. While meeting each other, the singles don't see what their potential partners look like, and it's not until after proposing that they meet face to face. While some of the engaged couples got married, others realized they weren't as well matched as they thought. Kyle Abrams and Shaina Hurley got engaged before even seeing each other, but they ultimately called off the wedding fairly early in Season 2 of the series.
During an exclusive interview with The List, Abrams opened up about what it was like watching his own story when the series came out. "I'm disappointed, actually," he admitted. But Abrams got another chance to tell his story in Netflix's follow-up 3-part series, "Love Is Blind: After the Altar," which he hopes will give viewers a more detailed depiction of the cast and their journeys.
What Kyle feels like the show missed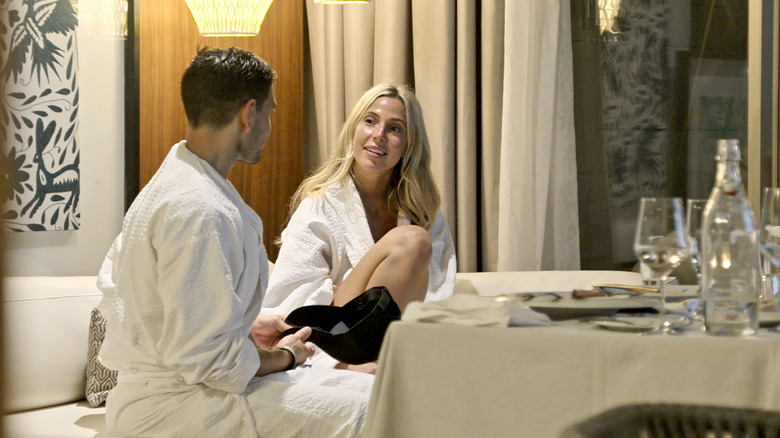 Netflix
Watching his season of "Love Is Blind" was a strange and somewhat disappointing experience for Kyle Abrams. As with most reality shows, a lot of footage was cut so it fit into the episodes. "The way that everyone was portrayed is not really how they are. There's not enough time to let the character or the person develop and show their personality," Abrams explained.
While he understands the reason a lot had to be cut out, it was still disappointing for Abrams to see what aspects of his story were focused on. "It showed one-fifth of my personality. It didn't even show me having great interactions with Shaina. It showed all the negative and awkward moments," he said.
Abrams also said the show cut out his interactions with Deepti Vempati. Many fans will remember that in the reunion episode, he said he regretted not proposing to Deepti, but because their relationship wasn't shown in the series, that was quite surprising to fans.
"Do you know ... how many hours I spent talking to Deepti, and we had amazing conversations that never got shown? And people are like, 'They're just fake friends. They're fake relationships.' Bulls*** — we talked for hours and almost might have gotten engaged. Not to mention, after the show, we hung out every single day just by ourselves for fun because we loved hanging out with each other," Abrams said.
He hopes After the Altar will be his redemption story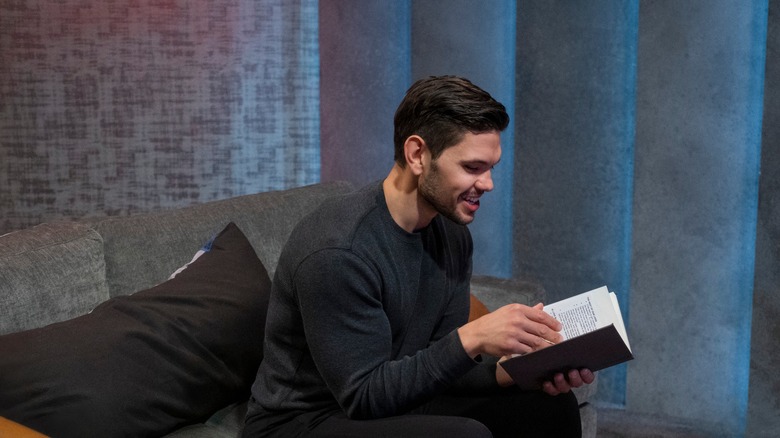 PATRICK WYMORE/NETFLIX
Although he was "disappointed" at first seeing the show, Kyle Abrams said they've all moved on, and he's looking forward to "Love Is Blind: After the Altar" telling more of their stories. "Hopefully [it will] show some of our redemptions. This is our redemption show," he said. "I'm excited. I think it's going to show our personalities a lot more, and you'll get to see the good side of everyone and the bad side of everyone, I hope."
Coming back to film "After the Altar" gave Abrams a chance to get to know his castmates better, and he's hoping it will be the same for everyone watching the series. "I didn't know any of the women that well because I never talked to Mallory or Natalie or Iyanna really in the pod, so it was cool to get to know them. They're awesome, for the most part. I get along with everybody," Abrams said.
As an extra incentive for viewers, he added that a lot of questions should be answered in the show. "People are still asking me on the street, and it's like, I don't want to give it away. I might as well just have you watch the show, so that's usually what I tell everybody," Abrams said.
Stream "Love Is Blind: After the Altar" Season 2 on Netflix starting September 16, 2022.