Kate Middleton And Sophie, Countess Of Wessex Wore Subtly Touching Tributes To The Queen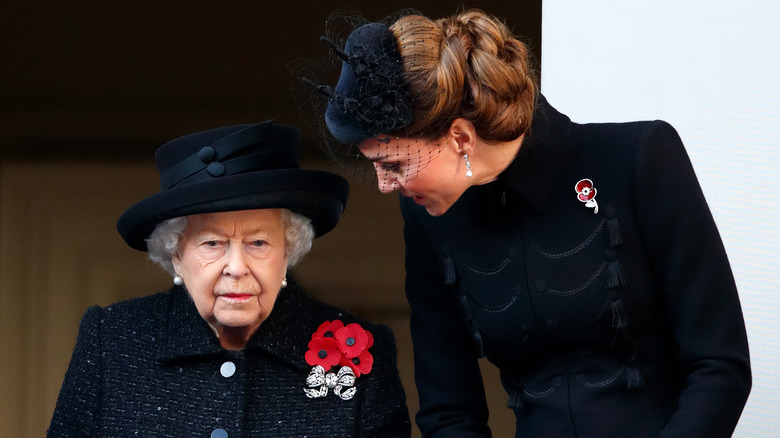 Max Mumby/indigo/Getty Images
Royal watchers knew to expect the worst when high-ranking members of the family rushed to the queen's summer home in Scotland, to be by her side, after doctors confirmed the long-reigning monarch's health had taken a serious turn (via Bustle). However, Kate Middleton didn't travel to Balmoral to see the queen because, per People, she had to stay behind with children Prince George, Princess Charlotte, and Prince Louis, who were starting school that same day.
The family just moved to Windsor, so the royal kids were also beginning the new term at a new school. Thankfully, Kate caught up with the queen just a few weeks prior, also at Balmoral, so she got to see her before the time came. Regardless, Kate's expressions during the queen's procession hinted at her level of grief. Dressed all in black, the Princess of Wales notably wore a large gold brooch that was gifted to her by the queen, as pointed out by Hello! magazine. 
People also notes that Kate regularly wore Her Majesty's jewels, as a mark of how close the two women were, not to mention their mutual respect. Naturally, when it comes to mourning the beloved monarch, Kate and indeed Sophie, Countess of Wessex too, chose an eye-catching piece of jewelry to honor her.
Both ladies chose crucifixes to honor Her Majesty's memory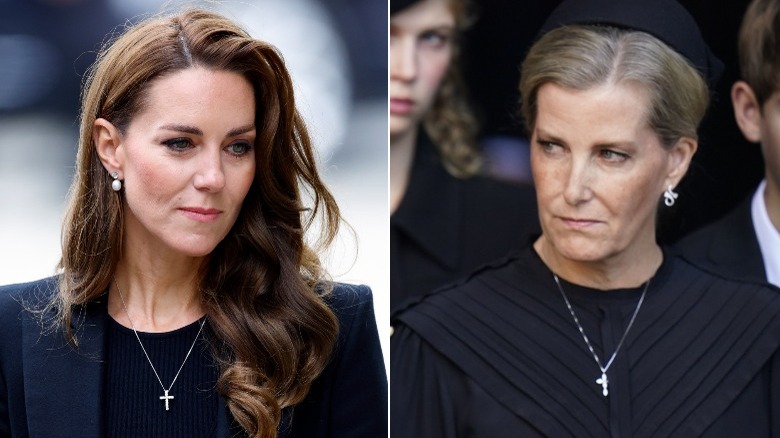 Max Mumby/indigo & Wpa Pool/Getty
As the Daily Mail reports, both Catherine, Princess of Wales, and Sophie, Countess of Wessex were spotted sporting crucifixes with their all-black outfits, suggesting the royal ladies are relying on their faith to deal with the hardship of losing the queen. Her Majesty's Christian beliefs were a cornerstone of her life, and she frequently spoke of how they helped her cope in difficult moments, describing her faith as "an inspiration and an anchor" throughout her reign. 
In fact, the Archbishop of Canterbury paid tribute to the queen as a "faithful Christian disciple" in a statement following her death. Kate Middleton chose a diamond cross to meet well-wishers in Sandringham, while Sophie Wessex donned a similarly sparkly accouterment for various events surrounding the queen's death, including an intimate service paying tribute to the beloved ruler. The countess hasn't taken hers off since the sad news was announced, even placing it over a turtleneck to give the necklace prominence. 
Both women have worn the religious symbol before, but neither does so on a regular basis, so the choice is significant. Likewise, both Kate and Sophie are known to be church-goers. They were likely inspired by the queen's dedication to her faith, which Archbishop Eamon Martin, the Catholic Primate of All Ireland, gushed gave Her Majesty strength to "serve the Lord at every moment of her life," while she also "wrote faith into everything that she thought, said and did," per BBC News.
Sophie Wessex and Queen Elizabeth found common ground early on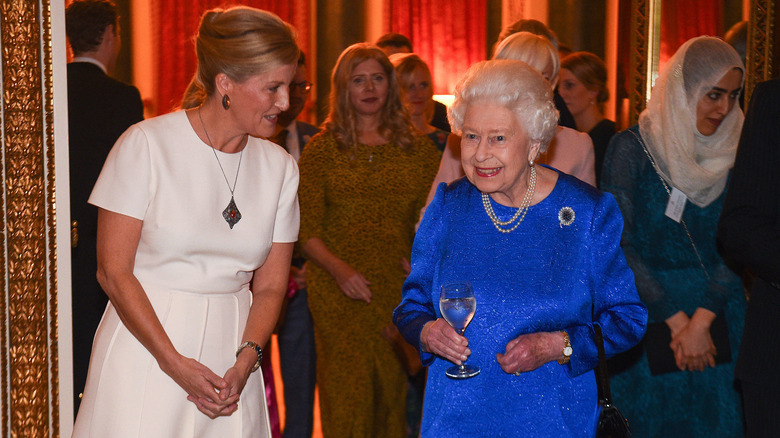 Wpa Pool/Getty Images
Queen Elizabeth's relationship with Sophie, Countess Of Wessex was incredibly close. And, according to body language expert Judi James, Prince Edward's wife is understandably taking the loss hard. Speaking to Express, James noted that, in the car on the way to the memorial service at St. Giles's Cathedral, the countess looked completely downtrodden. Then, during the event itself, Sophie "was the one showing the strongest emotion, albeit suppressed." Moreover, her facial expression "suggested a sense of exhaustion caused by grief." 
The body language expert explained how, despite keeping her composure, Sophie had puffy eyes, a red nose, and a drawn face — meaning she was probably quite tearful behind the scenes. The countess and her husband live just 10 miles from Windsor Castle, so they were regular visitors to Her Majesty's residence. An insider even told The Telegraph she and the queen were "like mother and daughter." Elsewhere, royal expert Jennie Bond informed Good Housekeeping that the two women genuinely enjoyed each other's company too, and indeed they grew closer as the years went by. 
Bond clarified, "It wasn't just about an adoration of the queen by Sophie, it was a mutual friendship." They bonded over being in successful, long-term marriages while Her Majesty notably broke with royal protocol to visit Sophie in hospital following a dangerous premature birth. Suffice to say, the countess's grief over the loss of her dear friend and confidante is keenly felt.