Shaina's Husband Christos Reveals Why He Really Went On After The Altar - Exclusive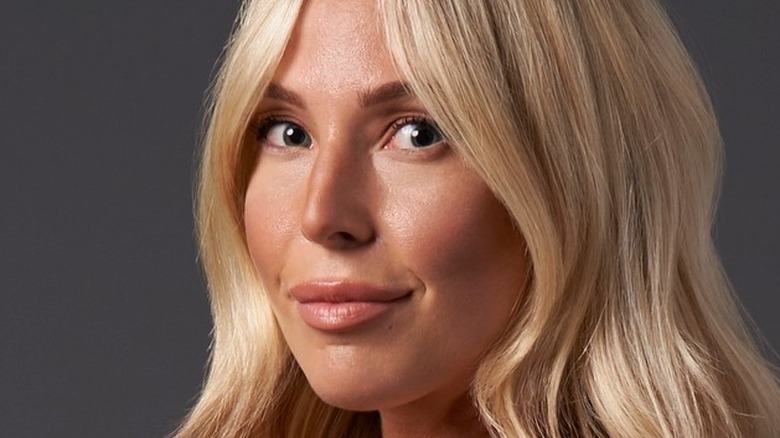 Ser Baffo/Netflix
Fans of "Love Is Blind" will remember Shaina Hurley from her time in Season 2 of the series. She was engaged to Kyle Abrams, but ultimately called it off before getting to the wedding day. She also had a complicated relationship with Shayne Jansen, although he proposed to Natalie Lee. However, after the series ended, Hurley did find real love outside of reality TV with her now-husband, Christos Lardakis. 
The pair were dating when Season 2 came out on Netflix, but Lardakis said seeing the show didn't affect their relationship at all. In his words, "I know who she is, so watching it didn't change any ideas in my head because I knew who she was. She's such a kind soul and always looks out for others."
Lardakis is making his own reality TV debut in "Love Is Blind After The Altar." During an exclusive interview with The List, the couple discussed their decision to go on the reunion show and their experience with the cast. Lardakis opened up about the real reason it was important for him to be on the show.
Christos' real motivation for going on After The Altar
Although Shaina Hurley had experience from her time on Season 2 of "Love Is Blind," going onto reality TV was entirely new for her partner Christos Lardakis. She told The List that she kept double checking he was sure he wanted to go on, "but he was excited to film." Lardakis said his motivation for going wasn't to be on TV but to support Hurley. "Honestly, my whole idea even going was to protect Shaina ... I was her bodyguard."
Explaining further, Lardakis said he'd just proposed to Hurley the day before filming, so he "wanted everyone to see just how happy we are and everything that we've gone through to [get there]." He also knew that going on the show might be a difficult experience for Shaina that she was nervous about. "It was hard more for Shaina, right, because of what happened on the show, and it was a way to almost redeem her," he said. Hurley agreed, saying, "He was my redeemer. I was excited for people to meet him."
Shaina's experience reuniting with the cast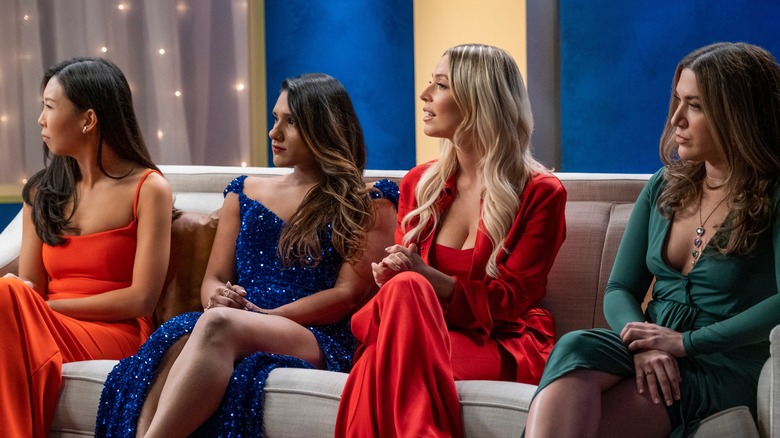 Adam Rose/Netflix
Although she had her partner, Christos Lardakis, there for moral support, Shaina Hurley said there were still some challenges going on "Love Is Blind After the Altar." Speaking about going back on the series, Hurley said, "I have a little ... Not PTSD, but it is a little nerve-wracking because you don't know [what to expect]." 
Although she'd kept in touch with some members of the cast, like Nick Thompson and Danielle Ruhl, others she hadn't spoken to since the show and didn't know what their interactions would be like. "I felt like it was going into the lion's den a little bit," Hurley said, adding later that there was some awkwardness between her and Natalie Lee. "When I had walked in, I didn't know it was Natalie's birthday. I thought it was just an '80s party, and so I was pretty caught off guard there, but it was definitely awkward because [we] don't talk, really ... So I didn't know what the big deal was or what was going on."
But, despite the nerves and awkwardness, Hurley did feel like she handled herself better than she had in the past. "I'm a little bit wiser this season. I was a little bit more careful not to be so reactive ... Nothing bad happened on our part," she said.
"Love Is Blind: After the Altar" Season 2 is now streaming on Netflix.