The Controversial Reason Harry And Meghan Were Seemingly Disinvited To A Funeral Event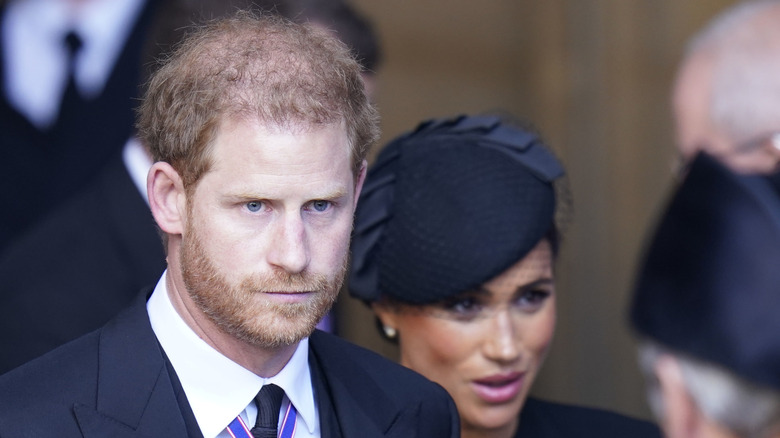 Wpa Pool/Getty Images
Despite hope for unification in the wake of Queen Elizabeth II's death, the royal family still appears to be as messy as ever. Transitions can be tumultuous, especially with the world looking for meaning in every move you make, but events and protocols surrounding the queen's funeral were aspects that the late monarch herself was involved with long before her death. So why is the royal family mess back in the headlines? 
In the days leading up to Queen Elizabeth's funeral scheduled for September 19, there's been an uptick in what look to be changes made by King Charles III. In some cases, these decisions have been benign, if not celebrated: how long the official mourning period would last after the queen's funeral, for instance, and asking Prince William, the Prince of Wales, and Prince Harry, the Duke of Sussex, to reconcile.
But for the final events before the queen's funeral, King Charles III has made decisions that have raised fresh controversies. In a piece published on September 15, Sky News reported Prince Andrew would be wearing his military uniform along with the rest of his siblings to one final vigil for his mother. Prince Harry, too, would be wearing his military uniform for a vigil he will perform with his cousins, royal sources told The Telegraph.
No special allowances will be made for the reception being held Sunday, September 18, however. In fact, a separate report from The Telegraph shows Prince Harry and Meghan Markle were uninvited from the event. 
This is why Prince Harry and Meghan Markle were uninvited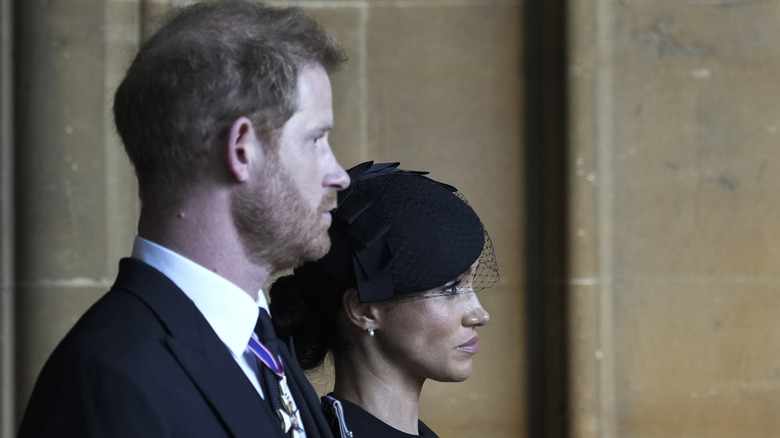 Wpa Pool/Getty Images
Tensions between the royal family and Prince Harry and Meghan Markle have been high ever since the couple stepped back from official royal duties. In the years that have followed, it's been difficult to tell whether the duke and duchess have been denied perks like security because of pre-set protocol or out of spite.
Similar rumors are swirling surrounding the recent invitation — and then the disinvitation – of Harry and Meghan to an event on Sunday, September 18. According to Metro News, the reception is for foreign royals and world leaders, with United States President Joe Biden, French President Emmanuel Macron, and Ukrainian First Lady Olena Zelenska expected to be in attendance. "It is thought to be one of the greatest gatherings of dignitaries and heads of state in the post-war era," Metro News adds.
Sources told Newsweek that the mixup was a "genuine error" and that only working members of the royal family were supposed to attend the reception. As iNews explains, "working royals" are extensions of the crown and represent the monarch at official engagements. They can also "perform duties on behalf of the monarch," including foreign tours, hosting state dinners, and "attending meetings with international dignitaries."
It would be the equivalent of getting invited to an event for the job you quit last year — only in this case, there's an overlap between business and family.
Were Harry and Meghan even invited in the first place?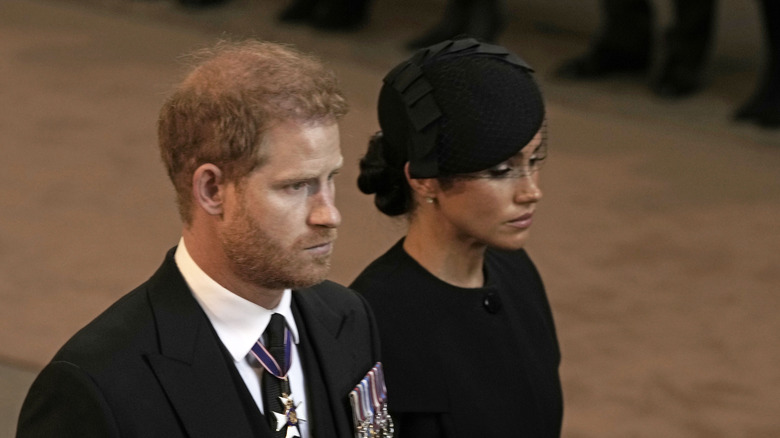 Wpa Pool/Getty Images
According to The Telegraph, sources close to Prince Harry and Meghan Markle, the Duke and Duchess of Sussex, are "baffled" by the whiplash of the events — despite palace aides "insisting that [the Duke and Duchess of Sussex] were not invited and were not expected to show up."
The original statement released by Buckingham Palace did not specify which members of the royal family would attend the high profile reception, though many assumed to expect the "working" members of the family given the diplomatic nature of the event, per Tatler.
"Why is there working versus non working [royals] during this time?" a royal watcher tweeted in response to the news, pointing out that not only are they all technically royal, this overcomplicates things and "just raises a lot of questions about these 'protocols" and their necessity."
Still, there are others that believe this is just another PR stunt. "The 'uninvited' misinformation was put out by [Prince Harry and Meghan] out of spite," one critic theorized, with many pointing fingers at royal biographer Omid Scobie starting the rumor to begin with. In an update on Saturday, September 17, Scobie tweeted, "A palace spokesperson has reiterated this morning that Sunday's state reception is 'for working royals only,'" adding that he believed this meant the Sussexes had been "seemingly uninvited."