Royal Watcher Offers Blunt Assessment Of Harry And Meghan's Reception Snub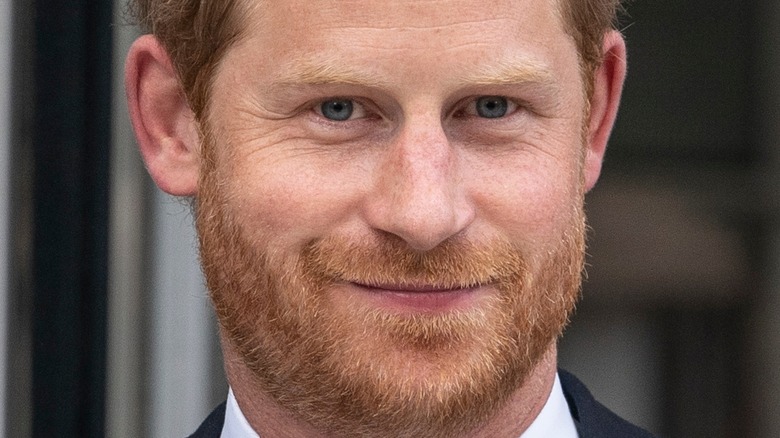 lev radin/Shutterstock
Ahead of the funeral for Queen Elizabeth II, Prince Harry and his wife, Meghan Markle, have been consistently making headlines for their level of involvement at royal events. Recently, news broke that the monarch's initials "ER" were taken off Prince Harry's military uniform that he wore at her vigil. According to Express, the queen's initials are "only worn by those 'in service' of the monarch." This explains why this detail was missing, as Prince Harry and Meghan famously took a step back from royal duties in 2020. 
Since Meghan stepped into her role as Duchess of Sussex, the couple's relationship with the royal family has been complicated. For instance, Meghan, who identifies as biracial, has been the subject of racist attacks, per Time. Apparently, someone from the royal family approached Prince Harry about their son Archie with "concerns and conversations about how dark his skin might be when he was born."
Following the recent death of Queen Elizabeth II, Prince Harry and Meghan have not been present at certain affairs, including King Charles III's lunch for the Governors General of the Realms, per Us Weekly. Now, the couple is sparking more flames for their lack of attendance at another event.
Prince Harry and Meghan Markle's reception invitation was revoked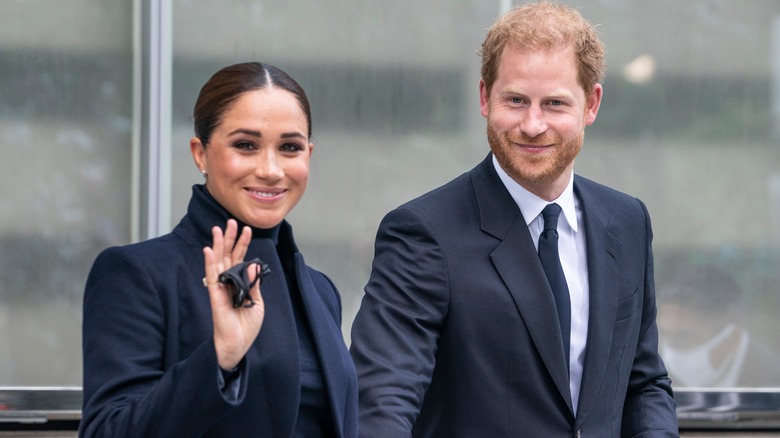 lev radin/Shutterstock
The list of expected attendees for a September 18 reception with world leaders includes Prince William, Princess Kate, and heads of state such as Prime Minister Jacinda Ardern of New Zealand, per Us Weekly. However, the list does not include Prince Harry and his wife, Meghan Markle, though they were initially invited by King Charles III. News reporter Omid Scobie tweeted, "UPDATE: A Palace spokesperson has reiterated this morning that Sunday's state reception is 'for working royals only.' No further comment or guidance on why the Sussexes were invited (and now seemingly uninvited)."
A friend of the couple told The Sunday Times (via Daily Mail), "It is beyond bonkers if they're not there. Everyone is coming in from around the world to pay their respects to the Queen." The insider shared that the military uniform controversy and reception snub "could make [Prince Harry] feel as if the majority of the operation is against [him]. It's hard — nobody likes to feel like they're being excluded."
In a surprising twist, numerous insiders told Page Six that Prince Harry and Meghan found out they were uninvited from the reception through the media. "Harry and Meghan actually got the invitation and no-one has actually told them they are uninvited," a royal insider revealed. Another source added, "I'm told they only found out they were uninvited by reading press reports." The drama regarding the couple's strained relationship with the royal family continues to unfold.