Body Language Expert Reveals Why We Haven't Seen Any William & Harry Drama Yet - Exclusive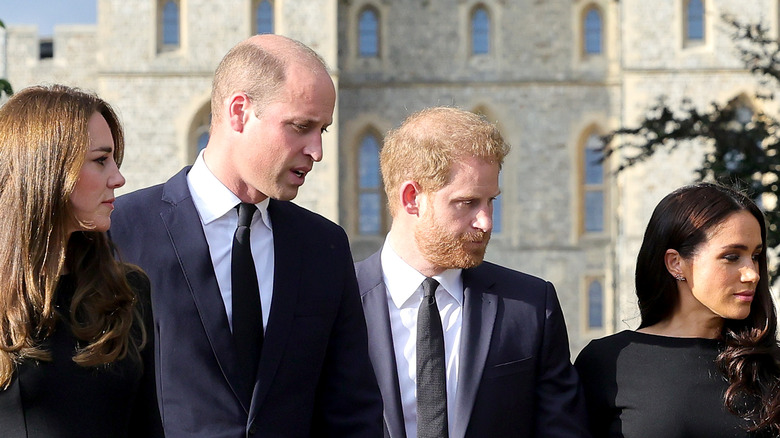 Chris Jackson/Getty Images
Queen Elizabeth II's heartbreaking death is a profoundly personal time for the royal family. While many royal watchers are hoping it will be the thing that reunites William, the Prince of Wales, with his brother, Harry, the Duke of Sussex, other sources believe it will ignite even more drama between the pair. 
According to Town & Country, tensions between the brothers have been higher than usual in the past few months, allegedly due to the upcoming release of Harry's memoir. But rumors of a rift between the brothers have been spreading since Harry and his wife, Meghan Markle, gave up their royal titles and moved to the United States, per Reuters.
In his first address to the nation on Friday (September 9), King Charles III signaled a new era for both his country and his family. He expressed his "love for Harry and Meghan as they continue to build their lives overseas" while naming Prince William and his wife, Kate Middleton, the new Prince and Princess of Wales (via YouTube).
In his first public statement as Prince of Wales, William mentioned how the queen once famously said that "grief was the price we pay for love" (via Instagram). He added: "All of the sadness we will feel in the coming weeks will be testament to the love we felt for our extraordinary Queen. I will honor her memory by supporting my father, The King, in every way I can." But will he also support his brother throughout this grief-ridden time? Or will this historic moment serve as another nail in the coffin of their relationship? So far, we aren't quite sure.
The reason there's been no sibling drama between William and Harry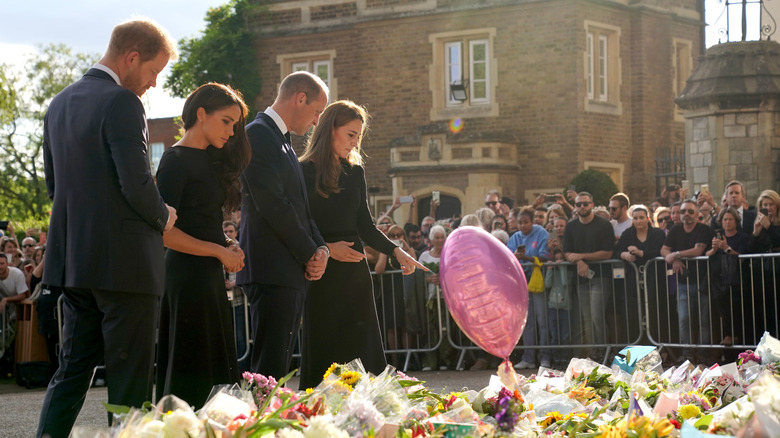 Wpa Pool/Getty Images
Cameras followed Prince William and Kate Middleton, the newly appointed Prince and Princess of Wales, as they walked with Harry and Meghan Markle, the Duke and Duchess of Sussex, through Windsor and along the Royal Mile, where tributes for the late queen have been placed. Speculation about what this could mean about the brothers' relationship has been building since the couples were seen exiting a car together.
One source told People that it was important to Prince William that the family present a united front in this incredibly difficult time. They added that it was William who extended the invitation in the first place; security had only been expecting the prince and princess.
Omid Scobie tweeted a video of the first public sighting of the couples together since Commonwealth Day in 2020, per the Evening Standard.
Dressed in all black in accordance with the rules of mourning, the couples spent about 40 minutes walking around Windsor, greeting mourners and looking at tributes (via Reuters). While there was plenty of interaction with the crowd, there was little said between the pairs.
To get more insight into what this could mean for William and Harry's relationship, we turned to Jess Ponce III, a body language expert, media coach, and the author of "A.W.E.S.O.M.E." It was clear to Ponce that the brothers — who are "certainly no strangers to the media" — were "aware that all eyes were on them." He added that "the passing of their grandmother is something that they have likely been prepared for a very long time." They know how they're expected to act. 
Jess Ponce III comments on the royal family's new roles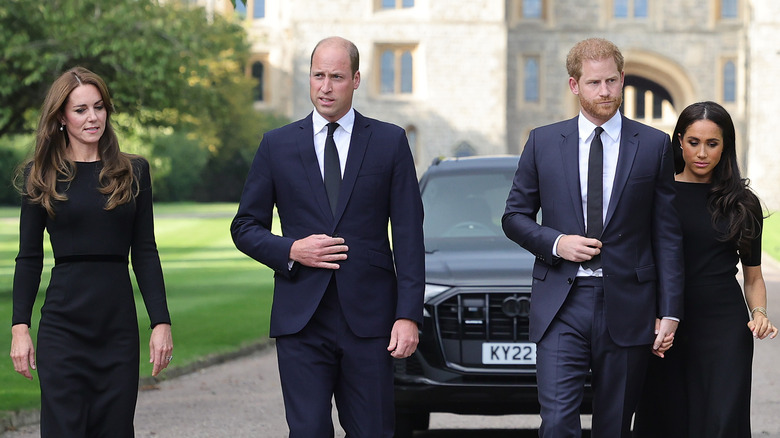 Chris Jackson/Getty Images
As practiced at being in front of the media as Prince William and Prince Harry are, there were still signs that gave insight into the new dynamics in the royal family.
Body language expert Jess Ponce III told The List that he observed Harry once again acting "sentimental and very attentive," but to both Ponce and Twitter, Meghan Markle's body language proved she's very much the "outsider." He believes that, despite Harry and Meghan renouncing their royal titles with the former no longer being second in line to the throne, he will continue to be the public's favorite prince — in Ponce's words, "the first in many people's hearts"– just as Princess Diana had been before him.
Meghan was seen waving and talking to children, Reuters reports, while Harry accepted flowers and talked to other mourners.
William and Kate Middleton, who now have the titles King Charles III and Princess Diana once held, may have not been physically affectionate to each other, but to Ponce, they very much presented as the future king and queen. According to the Evening Standard, the couple was seen taking to some of the thousands who had gathered at Windsor Castle. Reuters adds that William was overheard admitting the loss of Queen Elizabeth II was still "so surreal" and that everyone had thought the queen was "invincible."
After their walk, BBC reports the couples left together in the same car they arrived in to three cheers from the crowd.