Why Interior Designers Can't Wait To Ditch Open Shelving In 2022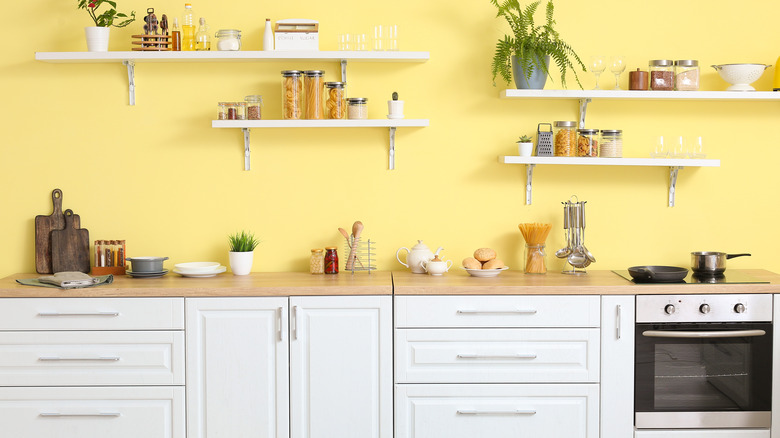 Pixel-Shot/Shutterstock
Interior design trends change rapidly. What is considered in style one minute can quickly become dated the next. This fluctuation is not limited to non-permanent elements of design, like furniture or non-functional decor.
Those who are planning a home renovation must be aware of current design trends, and which ones will be helpful in creating the space you're hoping to achieve. Kitchens are an area of the home that are very frequently the object of homeowner's renovation desires. According to Realtor Magazine, kitchens may account for up to 81% of home renovations.
The design elements of your kitchen are critically important as it's considered by most to be the heart of the home. With it being such a busy and lived-in space, functionality, as well as aesthetics, needs to be considered when choosing a renovation path. Choosing elements that will remain functional and stand the test of time is critical, according to Harris.
Open shelving can be cluttered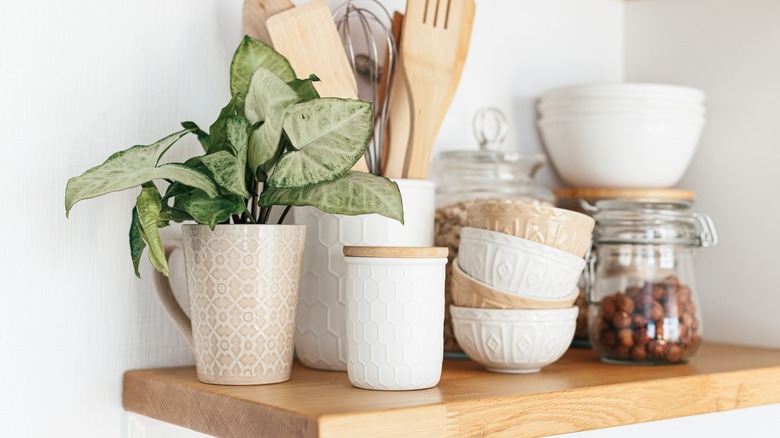 Switlana Sonyashna/Shutterstock
Kitchens are notoriously cluttered spaces. Pots, pans, dishes, oh my! Having a place to neatly organize all of your kitchen items is of the utmost importance. In recent times we have seen some trends rise in popularity that may be counterproductive to achieving an organized and functional space. One such element is open shelving.
Open shelving in theory is a great idea as it seemingly creates the perfect venue to display your grandmother's china or your adorable collection of coffee mugs, but in reality, it's not always practical. According to TruBuild Construction, open shelving in a kitchen can very quickly begin to look messy and disorganized, defeating its purpose entirely.
In addition to having a propensity for becoming chaotic, open shelving is also prime real estate for dust collection, and House Beautiful agrees. Open shelving may be an excellent design choice in theory, but its real-life implications may lead you further away from your design goals.
There are many alternatives to open shelving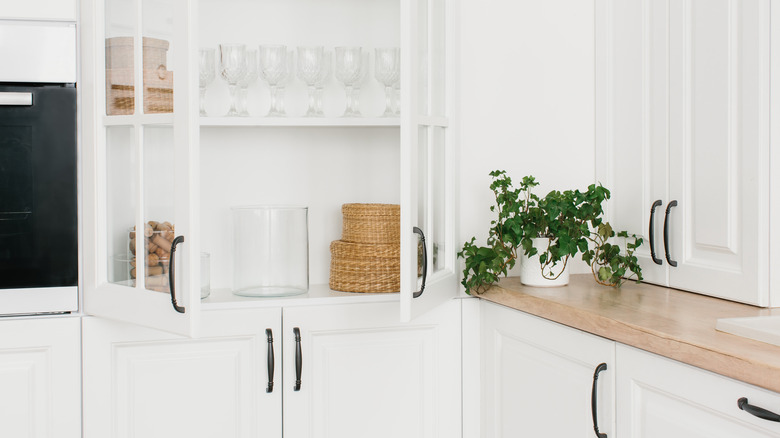 Ekaterina Bondaretc/Shutterstock
Depending on your particular aesthetic, there are many alternatives to open shelving that may fit your organizational and design needs. Bob Villa recommends swapping out the open shelving concept you were planning on installing with an antique hutch or a modern wall-mounted shelving unit and some bins for organization. These are great options as they are multipurpose, lending to both closed-off storage space and room to display items on an open shelf.
When designing a space in your home, it's far more important that you keep your own personal style in mind, rather than strictly adhere to a trend or concept. Spaces in your home feel best when they are personal and can be created in a number of different ways. Daily Designer notes that adding your own personal touch can help you feel at ease in your home. Try adding some art to the walls, or display some family photos.