Read This Before Deciding To Highlight Your Hair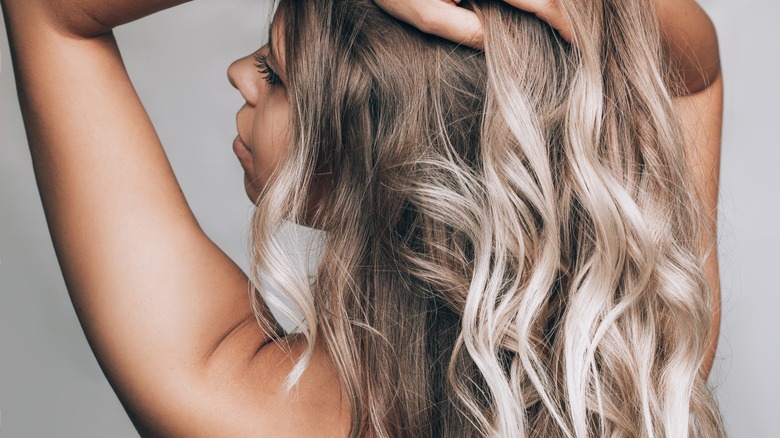 Marina Demeshko/Shutterstock
As summer turns into fall, it can be hard to say goodbye to that beachy glow in favor of knitted hats and sweaters. According to Healthline, the sun has a bleaching effect, meaning that you may notice your hair changing shades very slightly in the warmer months as you spend more time outdoors. According to board certified dermatologist Dr. Annie Gonzalez via Healthline, "Saltwater and chlorine are also culprits for lightening," and both "alter the natural keratin in your hair." Lemon juice, too, has noticeable bleaching effects, especially on hair with lighter undertones. "The sun will always affect the tone of the hair," colorist Guy Tang explains to Byrdie, "but it is magnified with lemon juice due to the high acidity level." For those with darker hair, lemon juice has the potential to give your strands a brassy orange glow.
While searching through your fridge for citrus or jumping in salt water may be an affordable alternative to salon highlights, results are never guaranteed. If you're looking for that sure-fire way to achieve a summer shine, it's best to take it to the salon chair rather than the poolside. As with any beauty treatment, however, it's helpful to read up on what your appointment will entail before taking the final step to book. 
Find a stylist who is experienced with your hair type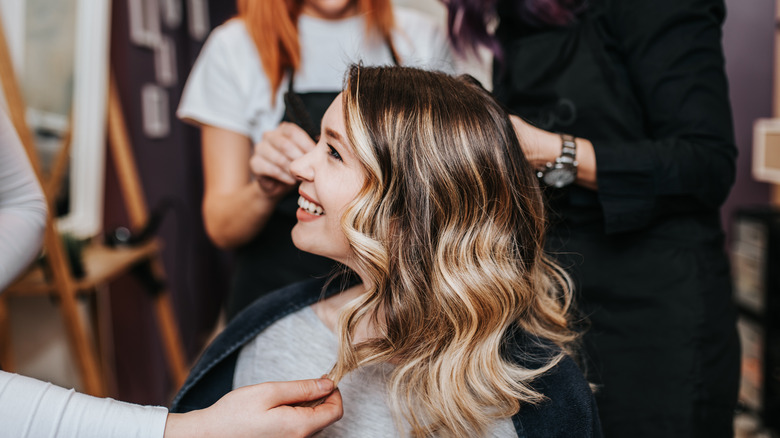 hedgehog94/Shutterstock
The most important step to take when scheduling your highlighting appointment is to find an experienced stylist, someone who is well-versed in your particular hair type and history. From here, they'll be able to help you weigh the difference between partial and full highlights and determine what specified-style might be best for you. According to Paul Cucinello, CEO of Cucinello Studio via Healthyway, "I always say that highlights should always accentuate and enhance the depth and dimension of a beautiful hair color." Before beginning the lightening process, it's wise to do a patch test at least 24 hours in advance. As cautioned by Healthyway, chemical dies can lead to rashes, swelling, and itching in some users.
Once safely in the salon chair, take note of your current shade. Highlights, according to Paul Cucinello, "shouldn't have to be more than a few shades lighter than your existing color. If that's the case, you might want to consider changing your overall color before you start adding highlights." Color should also complement your skin tone, according to colorist Kyle White (via SyleCaster). "You always want contrast between your skin color and your hair color," advises White. Though there are many different types of highlights you can ask for at the salon, don't go overboard. StyleCaster warns against adding more than three shades: "a base, a highlight, and a low light."
Properly care for your new highlights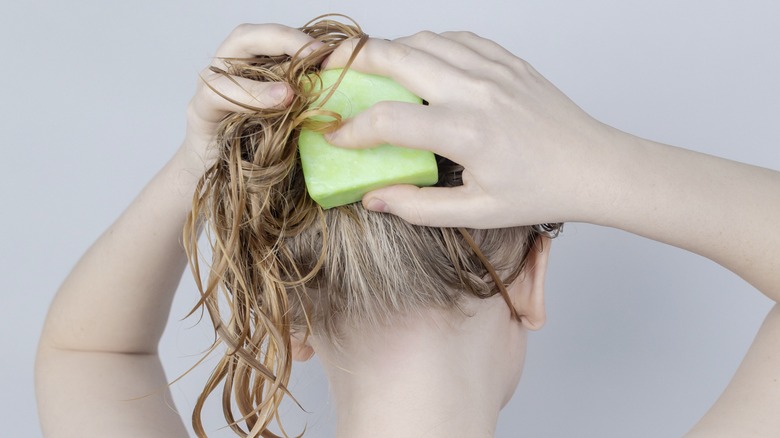 Alona Siniehina/Shutterstock
After you're satisfied with your new look, it's up to you to maintain the glow from home. As a general rule, Healthyway recommends waiting three days before washing your highlighted hair. Like any color treatment, highlights can cause damage, making strands more resistant to moisture (via eSalon). With this in mind, sulfate-free shampoos will keep your color fresh and your strands hydrated. Hair stylist Kat Savano explains that sulfate-rich shampoos contain salt, a component which can strip keratin treatments, per Byrdie. However, if you switch to sulfate-free, you just might have to say goodbye to one beloved bathing ritual: bubbles. Yes, sulfates create all those suds (via Allure). 
New York Colorist Kyle White recommends that clients wash their hair less often after getting highlights, instead opting for dry shampoo as a way to prevent greasiness, per SyleCaster. Finally, deep condition once a week. Natural ingredients like coconut oil can do the trick, but there are no shortage of nourishing deep conditioners helpful to have in stock. As noted by Healthyway, heat treatments and prolonged SPF exposure have the potential to damage your highlighted hair — wearing a hat or scarf can be great protective options when enjoying the sunshine.