Prince Edward's Emotional Outburst At The Queen's Funeral Will Move You To Tears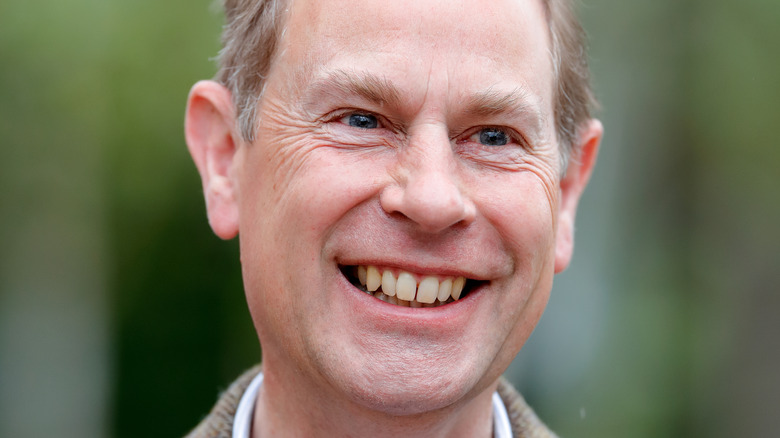 Max Mumby/indigo/Getty Images
The world continues to mourn the death of Queen Elizabeth II, but perhaps no one more than her own family. 
"I speak to you today with feelings of profound sorrow. Throughout her life, Her Majesty The Queen – my beloved Mother – was an inspiration and example to me and to all my family, and we owe her the most heartfelt debt any family can owe to their mother; for her love, affection, guidance, understanding, and example," King Charles III began in his very first address to the nation and commonwealth as monarch. "Alongside the personal grief that all my family are feeling, we also share with so many of you in the United Kingdom, in all the countries where The Queen was Head of State, in the Commonwealth, and across the world, a deep sense of gratitude for the more than seventy years in which my Mother, as Queen, served the people of so many nations," he recalled.
But while members of the royal family are notoriously known for exhibiting a stiff upper lip in public, it was Prince Edward's emotional outburst at the queen's funeral on September 19 that moved many to tears.
Prince Edward needed a handkerchief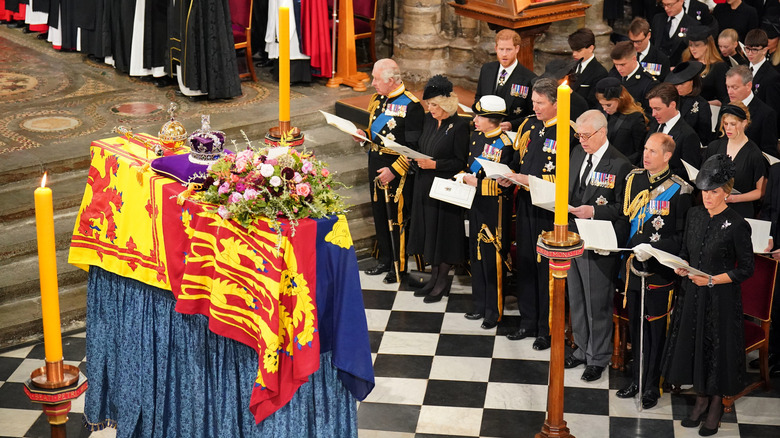 Wpa Pool/Getty Images
Royals — maybe they really are just like us.
On September 19, Prince Edward was spotted wiping his tears away while in attendance at the funeral of his late mother, Queen Elizabeth II. "Prince Edward crying is a reminder that this isn't a public spectacle, but a funeral of a mother. Good to see the period of royals not showing emotion breaking down," one Twitter user wrote. Meanwhile, another eagle-eyed user tweeted, "Prince Edward took out a handkerchief and was wiping his eyes at one point. Heartbreaking. My heart goes out to those who loved HMTQ. I pray for peace for all." Another user, however, pointed out the way his wife Sophie, Countess of Wessex offered her grieving husband a handkerchief. "Prince Edward can't control his emotions and bless poor Sophie helping him," the user wrote along with a video of the tender moment.
As you may recall, Prince Edward is the youngest of the queen's sons and currently holds the place of number 13 in line to the throne, per Town & Country magazine. Still, 13th place in line or not, it appears the queen was quite fond of her baby boy and his wife of more than twenty years. "Edward has molded into a quiet and efficient figure who does not seek attention or acquire headlines. He and Sophie are liked for being dutiful and uncomplaining," a source told Express in 2017. Alas, Prince Edward wasn't only in his outward display of grief at the queen's funeral...
Many members of the royal family broke down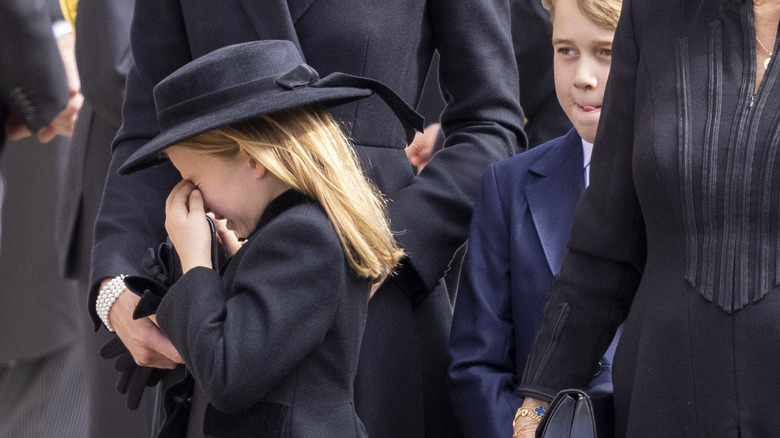 Wpa Pool/Getty Images
Not a dry eye in the house.
As it turns out, King Charles III, Prince Harry, and Princess Charlotte of Wales were also full of outward emotion during the funeral of Queen Elizabeth II. As reported by Us Weekly, the monarch himself was observed shedding tears while "God Save the King" played throughout Westminster Abbey. "The piper playing and King Charles crying during 'God Save the King' were the 2 things that's moved me this morning," one user tweeted about the rare moment. As for Prince Harry, The Mirror reported that Prince Harry looked "tearful" as well. Perhaps, however, it was little Charlotte who really broke the people's hearts. As reported by Page Six, Kate Middleton was spotted comforting the 7-year-old princess as the queen's coffin was moved to a hearse. "The image of Princess Charlotte crying struck a chord with me. She's just a young girl who lost her great-grandmother who loved horses just like she does," one user wrote. 
RIP Her Majesty Queen Elizabeth II.