Expert Draws Striking Comparison To Diana With Kate Middleton's Funeral Accessory - Exclusive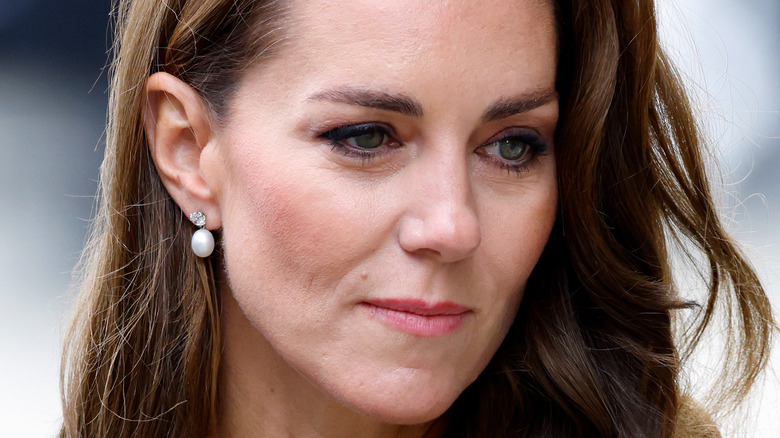 Max Mumby/indigo/Getty Images
All eyes were on Kate Middleton at Queen Elizabeth's funeral. Expectations were high that the Princess of Wales would step out in style even for the somber event. Not surprisingly, the royal's fashion did not disappoint fans — she donned a black Alexander McQueen coat dress and a hat designed by Philip Treacy that also featured a privacy veil.
But what we also noticed was that jaw-dropping pearl choker! It turns out the statement piece has quite a storied history, and Kristy Cullinane, Co-Founder of new DTC lab-grown diamond jewelry company, Plum Diamonds, and a diamond and fine jewelry expert, spoke exclusively to The List to tell us more.
Of course, our first question was how much the eye-catching necklace might be worth. As Cullinane told us, the stunner is actually priceless. "We estimate that this piece could be valued at $150 million strictly because of its provenance," she said, adding, "If a modern custom jeweler like us were to recreate it, with 16-inch cultured pearl strands, platinum and diamonds, it might be in the $60-70k range."
But what could possibly have happened for Kate's choker to take on such a mind-blowing value?
Kate's choker deserves a closer look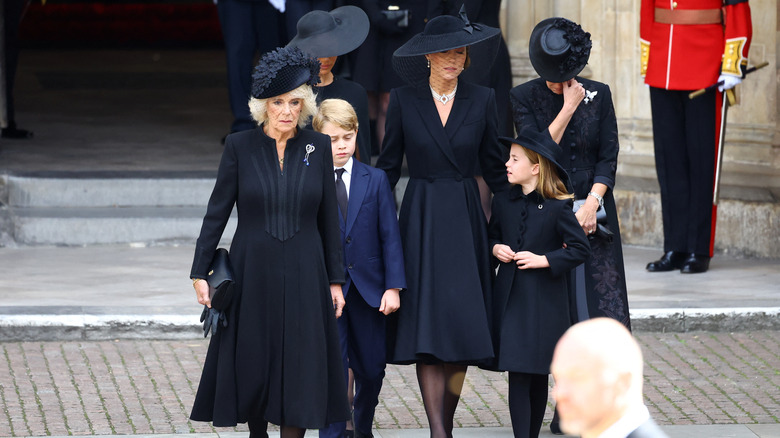 Wpa Pool/Getty Images
As Kristy Cullinane explained exclusively to The List, the pearl choker worn by the new Princess of Wales has a connection to the former Princess of Wales, Kate Middleton's late mother-in-law Princess Diana. The piece originally was owned by Queen Elizabeth II, with the monarch having been gifted the gorgeous necklace by a non-commonwealth head of state.
"The late Princess Diana wore it, and Kate has also worn it before," Cullinane shared, adding this interesting tidbit: "I understand that Princess Diana wore the choker in public before the queen did, and that the design was commissioned around the time when Diana helped make chokers popular."
While the headline-making statement necklace is gorgeous at a glance, there's an exquisite detail worth zeroing in on. A closer look reveals that the centerpiece of the choker features a very unique shape. "The shape of the center is reminiscent of a marquise-shaped diamond, which was also popular during that era," Cullinane explained. "It's a beautiful and classic, soft, yet slightly geometric shape. I'm sure it's platinum."
But did such a photo-worthy and storied piece of jewelry really belong at such a formal, somber occasion?
Kate's choker choice stayed within royal rules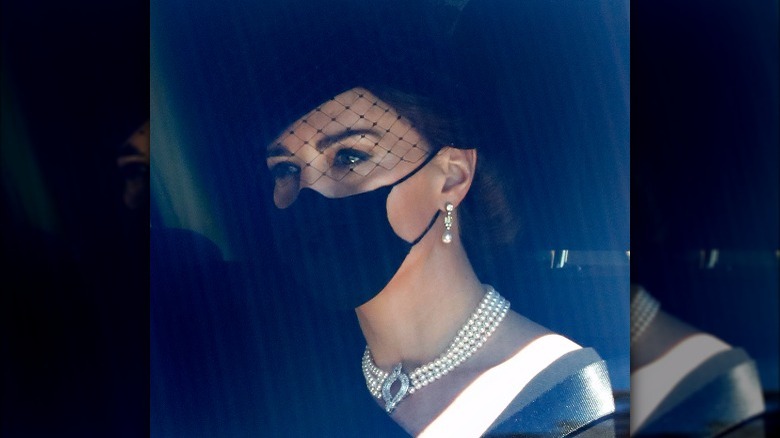 Max Mumby/indigo
According to Kristy Cullinane, the Princess of Wales chose the perfect accessory for her all-black mourning attire for Queen Elizabeth's funeral. Incidentally, she also chose the same piece for Prince Philip's funeral last year.
"Kate looks beautiful as always, and she did a great job dressing appropriately for a funeral," the diamond expert opined about today's choice. "The short choker reiterates a sense of modesty, because it draws the eyes up and away from her bodice. And we know the queen loved her pearls, so what an appropriate tribute."
Meanwhile, royal fans will remember seeing the piece before, as well as noticing pearls on the princess previously. "This isn't the first time Kate has worn this necklace, and I love how it looks on her," Cullinane said. "She also wore the late Queen's three-strand pearl necklace on Saturday, and recently wore one of her pearl brooches, so it wasn't a surprise to see her in another pearl piece."