Beatrice And Eugenie's Behavior At The Queen's Funeral Has Everyone Confused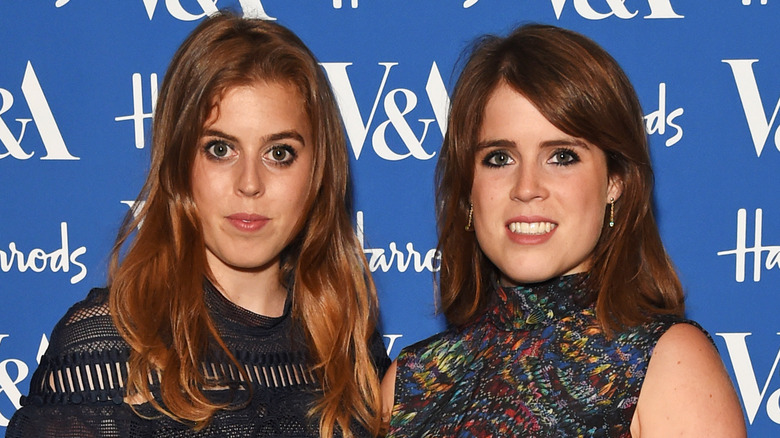 David M. Benett/Getty Images
Queen Elizabeth II's funeral occurred at Westminster Abbey in Britain on Monday, September 19 (via Insider). The service was held at the beautiful and historic 750-year-old royal church, which has served as the final resting place for many iconic British citizens, like Sir Isaac Newton, Stephen Hawking, and William Shakespeare. While the queen will not rest here, as she will be buried alongside her husband, Prince Phillip, at Windsor Castle, her memorial service unfolded at the historic abbey.
All eyes were on the royal family as they arrived at Westminster for the funeral (per CNBC). King Charles III and Queen Consort Camilla Parker Bowles were front and center, followed by other senior members of the British royal family, such as William, Prince of Wales, and Catherine, Princess of Wales. Princess Beatrice and Princess Eugenie aren't often at the forefront of media coverage surrounding the royal family, but they caught the public's attention with their strange behavior at their grandmother's funeral amid all the stunning star power.
Their strange behavior got viewers talking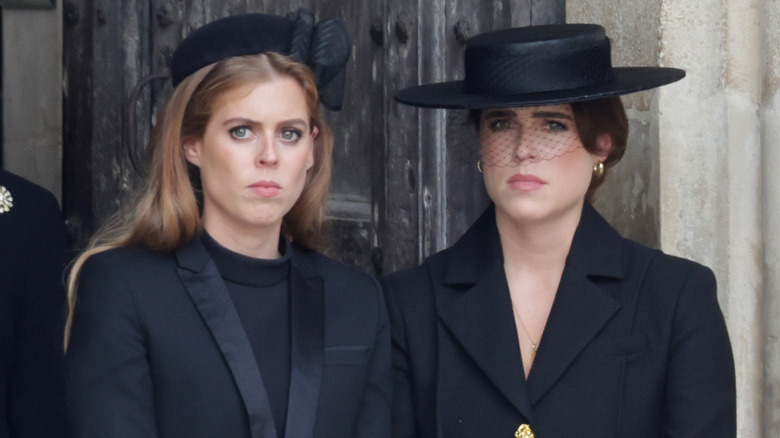 Chris Jackson/Getty Images
Princess Beatrice and Princess Eugenie caught the eyes of the public during the funeral of their grandmother, Queen Elizabeth II. The women — who have reportedly struggled with living their lives in the public sphere — once again found their names in the headlines following some strange behavior during the service (via The Telegraph).
Beatrice and Eugenie were seen getting up before the service for Queen Elizabeth had come to a close, the Daily Mail reports. Even their mother, Sarah Ferguson, was seen ready to exit with them. This strange behavior had fans scratching their heads. Why did the pair leave so early? Some royal fans speculated that they wanted to curtsey for the queen's coffin as it was leaving the building. However, their choice behind the exit has not been officially confirmed as of writing.
Anyone know why Eugenie and Beatrice left mid ceremony? Sarah Ferguson almost left with them but seems to have been told not to? 🤔 pic.twitter.com/LFSbzUDz1F

— Anna (@Anna__with_an_A) September 19, 2022
Fans on Twitter took to the platform to ask questions about the odd behavior. One user speculated, "They wanted a headstart and possibly go to the ladies room also. Who knows." The whole ordeal had viewers talking. The choice to exit the funeral early was especially surprising as both Princess Beatrice and Princess Eugenie had an incredibly close relationship with their grandmother.
It was especially odd as they were so close with their grandmother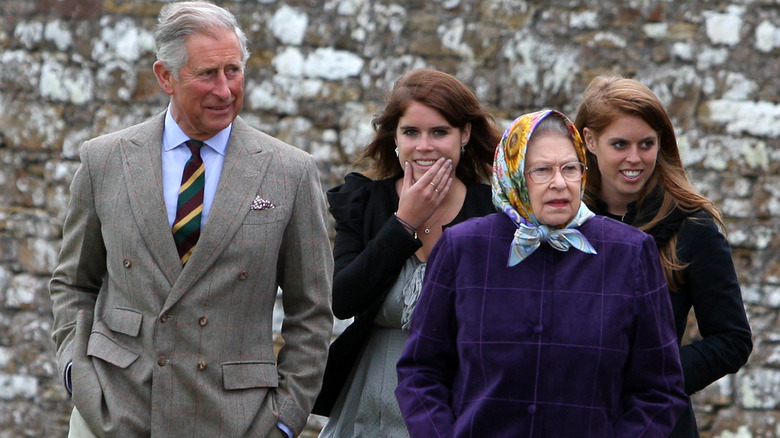 Wpa Pool/Getty Images
There's no denying the special bond Princess Beatrice and Princess Eugenie shared with their grandmother, Queen Elizabeth II. It was the queen who reportedly suggested the name Beatrice after finding out that she was to be named Annabel, which Her Majesty allegedly found to be "too yuppie," (via Marie Claire).
According to the Daily Express, Her Majesty felt especially maternal to Beatrice and Eugenie following the divorce of their parents, Prince Andrew and Sarah Ferguson. The queen absolutely adored them both, as sources close to the family have shared. Princess Beatrice and Princess Eugenie have, reportedly, been taking the queen's death hard. The pair released a letter on Instagram, which shared how painful the loss of their beloved "grannie" has been.
"We've not been able to put much into words since you left us all. There have been tears and laughter, silences and chatter, hugs and loneliness, and a collective loss for you, our beloved Queen, and our beloved Grannie," the pair wrote. "For now dear Grannie, all we want to say is thank you. Thank you for making us laugh, for including us, for picking heather and raspberries, for marching soldiers, for our teas, for comfort, for joy. You, being you, will never know the impact you have had on our family and so many people around the world."
Since the duo was so close with the queen, there likely was a good reason for their strange behavior at Her Majesty's funeral.