Expert Rejects Criticism About George & Charlotte's Role In Queen's Funeral - Exclusive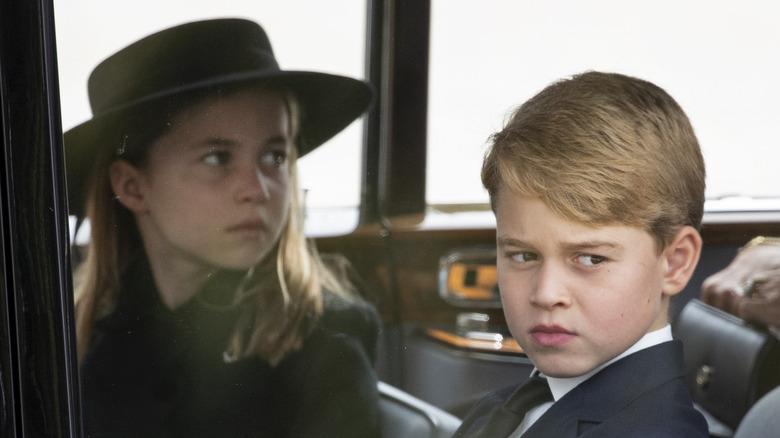 Wpa Pool/Getty Images
We may receive a commission on purchases made from links.
The comparisons between Princess Diana's 1997 funeral and Queen Elizabeth's funeral on September 19 have been inescapable. A grown Prince William and Prince Harry — now Prince of Wales and Duke of Sussex, respectively — walked behind a casket drawn in a gun carriage as crowds lined the streets between Buckingham Palace and Westminster Abbey.
But it's the images of the boys walking behind Princess Diana's casket during her 1997 funeral that haunted some of the record-breaking number of viewers of Queen Elizabeth's funeral. In a last minute decision, Prince George, 9, and Princess Charlotte, 7 — second and third in line to the throne respectively — were not only given permission to attend the funeral, but they walked behind their great-grandmother's coffin as it was pulled to Windsor Castle.
In the immediate aftermath of the funeral, some users on social media were quick to point out George and Charlotte's impeccable manners as the event unfolded. "Such well behaved kids. They did their Granny proud," one Twitter commenter wrote. But still, others highlighted the potentially scarring experience of walking behind the great-grandmother's coffin with so many eyes on them. 
Some were quick to point out the devastating experience William and Harry endured as children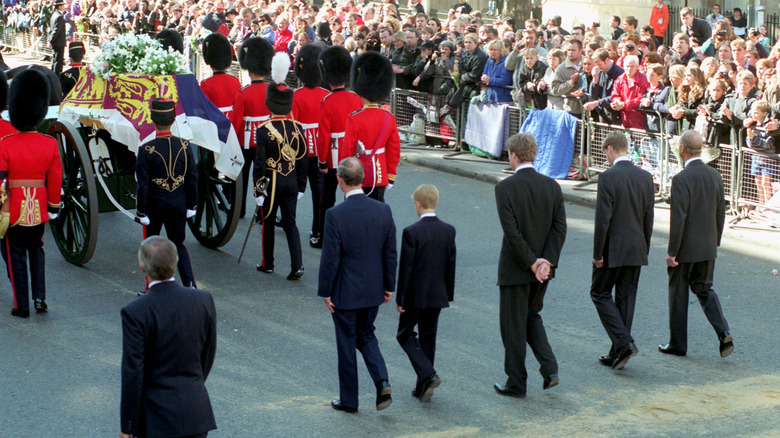 Dave Benett/Getty Images
Part of the controversy currently surrounding Prince George and Princess Charlotte's attendance at Queen Elizabeth's funeral — and their participation in walking behind her coffin — is the fact that Prince William and Prince Harry have both spoken publicly about how difficult it was to participate in their mother's funeral. In the 2017 documentary, "Diana, 7 Days," Prince William — who was 15 when his mother died — described walking behind his mother's coffin as, "One of the hardest things I've ever done." Meanwhile, Prince Harry — whose children were absent from the funeral — told Newsweek he didn't "think any child should be asked to do that, under any circumstances."
To sort through the facts and the noise, we turned to Dr. Deena Manion, PsyD, LCSW, the executive director and chief clinical officer at Westwind Recovery. 
Not only did she give us insight into William and Harry's singularly unique experience at Diana Spencer's funeral, but she shared how George and Charlotte's participation at Queen Elizabeth's event may not have negatively impacted them. 
Expert says there was nothing wrong with George and Charlotte's participation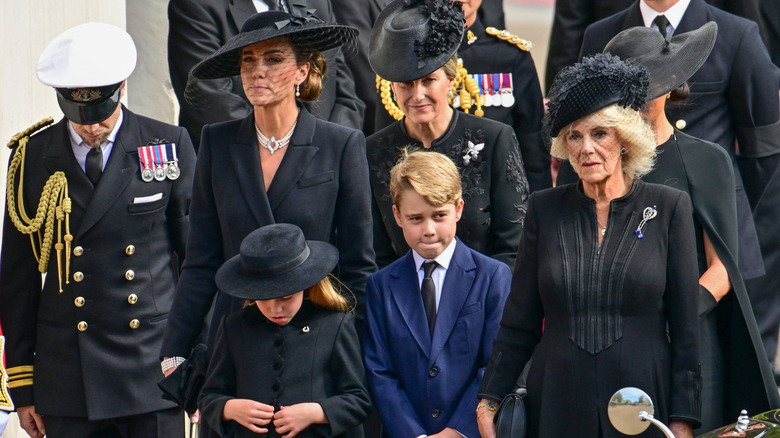 Wpa Pool/Getty Images
According to Dr. Deena Manion, PsyD, LCSW, of Westwind Recovery, Prince George and Princess Charlotte walking with the rest of the royal family behind Queen Elizabeth's coffin wasn't any more traumatic than "it would be for anyone to lose a grandparent or great-grandparent."
"I do not see anything wrong with them participating in the funeral," Dr. Manion wrote to us in an email. She added that how children "process and respond" to death and grieving is "largely [dependent] upon their parents" and how they interact with their children about "death and dying in general." She adds: "One's ideology about death, their religious beliefs, and their personal relationship with the loved one should be taken into account when determining their response."
Dr. Manion isn't the only mental health professional who feels this way, either; experts from Verywell Health, The Washington Post, and Psychology Today have all said similar things, everyone adamant the decision is a personal one.
For Prince George and Princess Charlotte, the fact that there is the removal of a few generations should also soften the blow. For Prince William and Prince Harry, "Losing their mother at such a young age (them and her), abruptly, unexpectedly and in such a traumatic accident creates tremendous confusion, grief and loss," Dr. Manion told us. The loss of George and Charlotte's great-grandmother is still a big one, but shouldn't be as hard of a grieving process as the loss of a parent.