Is The Public Allowed To Visit The Royal Vault?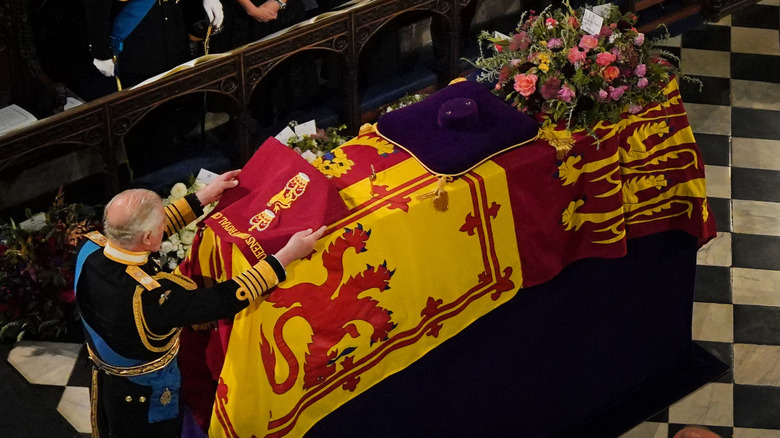 Wpa Pool/Getty Images
After the heartbreaking death of Queen Elizabeth II on September 8, Her Majesty has now been laid to rest at Windsor. Her arrival at Windsor followed a 10-day mourning period, including a period of lying in state, where the public could visit the queen's coffin. Hundreds of thousands of people reportedly visited, including famous faces like David Beckham and President Joe Biden, according to People. Fans and admirers from around the world also had the opportunity to witness the late monarch's state funeral. The funeral took place on September 19 in London but was televised all over the world, drawing in a record-breaking 4 billion viewers (via Express).
Many people are still reckoning with the loss of the queen, who reigned for the last 70 years. As The Washington Post points out, at least 90% of people alive today have never seen a world where Queen Elizabeth II wasn't the monarch. And to pay their respects to such a prominent, long-standing figure, thousands have gathered outside of Buckingham Palace, Windsor, and other locations that were significant to the queen (per Reuters).
Now that Her Majesty will rest permanently at Windsor Castle, some members of the public may be wondering if they can visit the site to bid their farewells up close.
Visitors can soon visit the queen's final resting place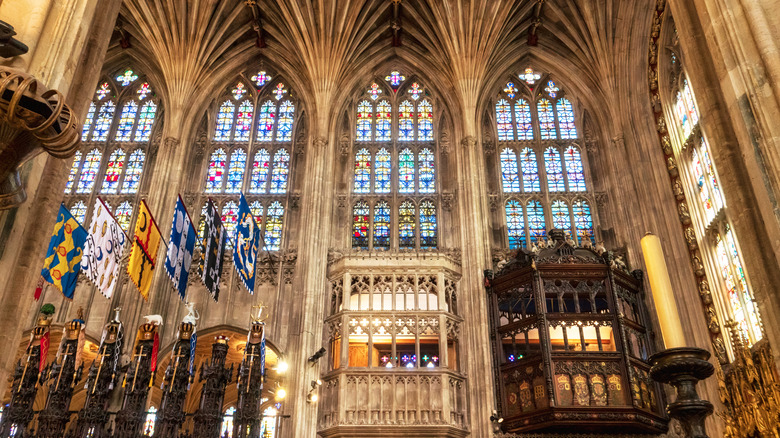 David Herraez Calzada/Shutterstock
St. George's Chapel is the resting place of the late King George VI, Queen Elizabeth The Queen Mother, Princess Margaret, and over 20 other members of the royal family, Time reports. Following Queen Elizabeth II's funeral, she, too, entered the chapel's Royal Vault, alongside Prince Philip, Duke of Edinburgh in a televised ceremony. However, the queen's final resting place isn't the royal vault. On the evening of her public farewell, the queen and her husband were relocated, privately, to King George VI Memorial Chapel, a separate part of St. George's Chapel (via Express).
Still, for a symbolic and somber moment, the Royal Vault became the queen's resting place. Members of the public looking to get close to the site will soon be given access to St. George's Chapel, according to The Mirror. However, Express notes that the public can't access the Royal Vault, and it's also unclear exactly how close visitors can get to the queen's grave located in the King George VI Memorial Chapel.
Once the period of mourning has concluded (the royal family will continue to honor a period of mourning for seven days following the funeral, meaning it's expected to last until September 26), visitors will be able to enter St. George's Chapel on Mondays, Thursdays, Fridays, and Saturdays after purchasing tickets at the Windsor Castle ticket office. Worshippers are also generally welcome to attend Sunday services for free.