Prince George Has A Mischievous Moment On His Way Back From The Queen's Funeral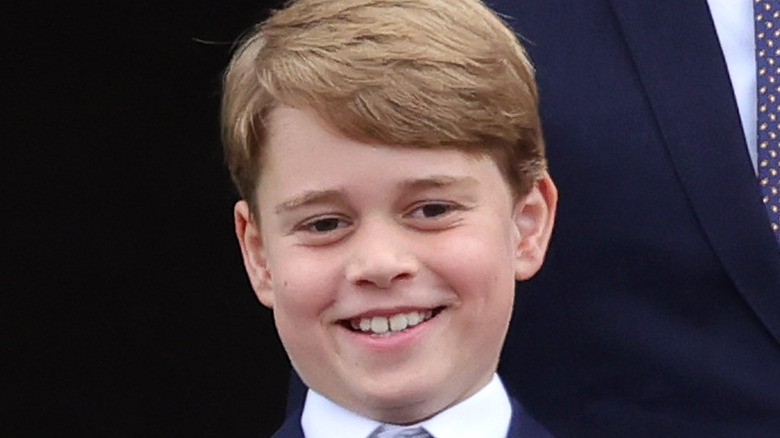 Chris Jackson/Getty Images
Possibly the most significant historical moment of 2022 was Queen Elizabeth II's funeral. Held on September 19, the funeral was attended by thousands of public mourners and more than 100 global public figures — including U.S. President Joe Biden. The funeral was as grand as it was traditional, having been planned years in advance. Also in attendance, of course, were the queen's royal family.
According to the BBC, members of the royal family at the funeral included King Charles III, his wife Camilla, Queen Consort, William, Prince of Wales, as well as his brother Prince Harry, Duke of Sussex, and both of their families, among many others. The outlet reports that even some of the youngest members of the late queen's family were present among the 2,000 funeral guests, including Prince George of Wales. The 9-year-old Prince George of Wales is the eldest son of William, Prince of Wales, and Catherine, Princess of Wales. Placed next to his sister, Princess Charlotte of Wales, during the funeral procession (via People), Prince George of Wales seemed to have behaved well during the day's events — according to Marie Claire – but one particular moment of mischief was caught that proved even royal children can only be serious for so long.
Prince George of Wales snuck a silly moment into a somber day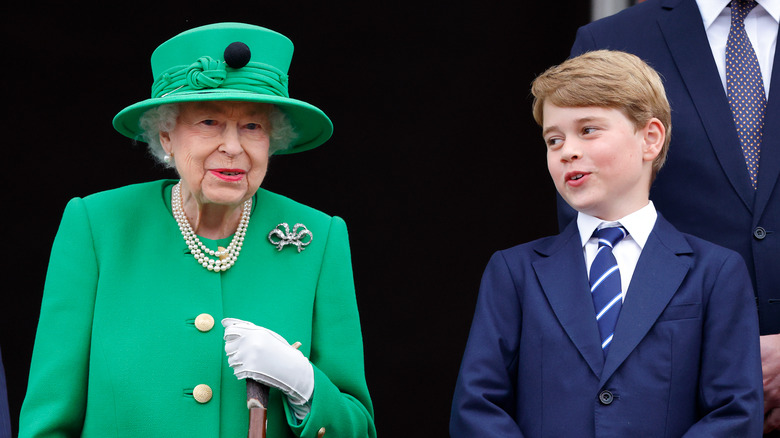 Max Mumby/indigo/Getty Images
On a day that was otherwise heavy and even heart-wrenching for millions of spectators around the world, per The New York Times, the children in the royal family seemed to provide quick moments of levity — and one specific instance happened to be caught on-camera. The Daily Mail shared a photo of Prince George of Wales sitting in a car with his family while traveling to Windsor after the funeral, in which he was making a silly face by sticking out his tongue.
The outlet reports that the person who took the photograph, Matt White, was initially just using a borrowed camera to get better pictures during the funeral proceedings, but that he later realized what he had snapped. Speaking to the outlet, White said, "It was quite a funny thing to get a photo of — especially as [Prince George of Wales is] now second in line for the throne and his brother did the same thing at the jubilee." The cheeky young prince flashed the silly face quickly and out of sight of his elder family members, in a lighthearted moment that is sure to be cherished and remembered fondly among memories of such a somber time.