What The Bold And The Beautiful Fans Really Think Of Steffy's 'Parent Trap' Tricks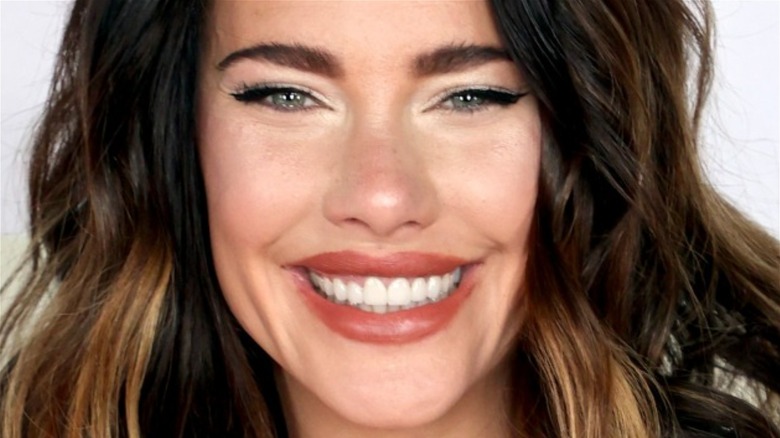 Kevin Winter/Getty Images
Being subtle is not Steffy Forrester's (Jacqueline MacInnes Wood) strong-suit on "The Bold and the Beautiful." After her long-awaited reunion with her husband Finn (Tanner Novlan), Steffy spent the summer finding ways to give her parents Ridge Forrester (Thorsten Kaye) and Dr. Taylor Hayes (Krista Allen) the push they needed to rekindle their connection. Taylor and Ridge's passionate kiss in Monaco was the catalyst for Steffy's scheming to get them together, per Soaps.com.
While this is sweet in theory, Ridge is still married to Brooke Logan (Katherine Kelly Lang) even though he apparently hasn't recommitted to her, yet that hasn't stopped Steffy from being her mother's biggest cheerleader and encouraging her to go for it. Ridge has yo-yoed between the women for decades, and has even married them both on multiple occasions, according to Soaps in Depth. There might not be a definite answer to the great Taylor versus Brooke debate any time soon, but that won't stop Steffy from pulling out every trick in the book to "parent trap" Taylor and Ridge. "B&B" fans have a lot of opinions on this.
Steffy takes one step forward and two steps back
Steffy's penchant for playing cupid isn't sitting well with fans. In a September 2022 poll on Soap Hub, 47% of viewers wished that she would stay out of her parent's affairs. Over on Twitter, many "The Bold and the Beautiful" fans expressed their disappointment in this current storyline, and Steffy's actions overall.  
In one tweet, a fan called Steffy's meddling immature and thought it cheapened any growth she experienced after reuniting with Finn, writing, "It's actually pathetic. Steffy is a grown woman acting like a brat. You think after everything she's been through she would be a better person and focus on her own life but yet she continues to bully Brooke. Steffy is too old to be scheming like this."
In response to this, another fan commented that Steffy's interference mirrors Brooke's iconic rivalry with Macy Alexander over Thorne Forrester, Ridge's brother (via Soaps in Depth), writing, "It's the same things Brooke use to do to Macy, tryna make her leave her husband (Thorne) so she can be with Throne even tho his brother Ridge was her destiny." 
Another viewer lamented Steffy's cattiness, writing, "I love our girl but hate this for her there's ways to bring back her catty side without making her this pathetic parent trapping adult. I could tolerate it in her younger years it was at least a little understandable now it's nonsense I feel embarrassed for her and I hate that." No matter who Ridge ends up with, this is bound to get messy.