Steffy And Finn's Swoon-Worthy Reunion Has The Bold And The Beautiful Fans Celebrating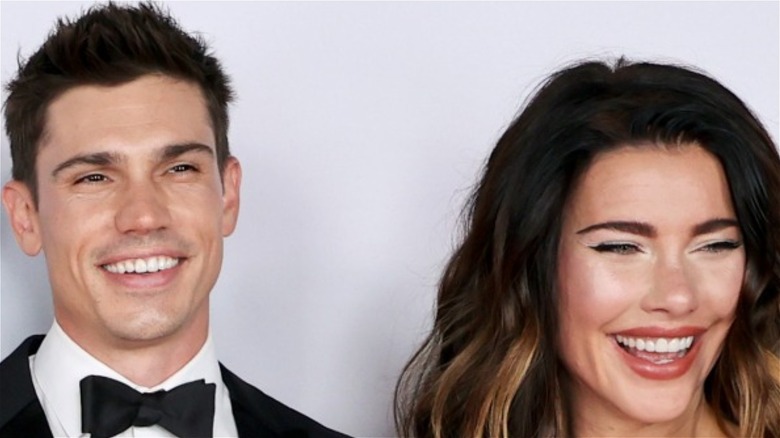 Kevin Winter/Getty Images
After being torn apart for months and going through every challenge imaginable, the fireworks are back on for "The Bold and the Beautiful" couple Steffy and Finn. Their sweet reunion left fans grabbing for the tissues and singlehandedly reignited everyone's belief in true love. When Finn (Tanner Novlan) locked eyes with Steffy (Jacqueline MacInnes Wood) in romantic Monte Carlo, it's as if everything clicked into place, per Daytime Confidential. 
Viewers truly hit the soap jackpot with Steffy's relationship with Finn. Nothing could separate SINN (the loving moniker given to them by fans), not even a presumed death and coma all at the hands of a demented villainous turned "monster in law," per Soaps in Depth. It doesn't take an experienced soap fan to know that Sheila's reign of terror is far from over, but "The Bold and the Beautiful's" next level writing makes it easier to put everything else on the back burner to celebrate SINN's return.
Finn didn't only come home to his wife, he was also reunited with his beautiful family. There was no sweeter moment than the one shared between Finn, his son Hayes, and his stepdaughter Kelly, as reported by Soap Central. Cue the happy tears.
SINN nation has finally come out on top
"The Bold and the Beautiful" super fans, get ready for a summer of SINN. Steffy and Finn have finally reconnected, and now their love story gets to unfold. Since their faithful reunion on August 1, fans have taken over Twitter to share their happiness at Finn's death storyline officially being resolved — for now. The jury is still out on what Sheila (Kimberlin Brown) will do next, but her violent track record — coupled with the tension between Sheila and Steffy – doesn't spark much confidence that she will go quietly.
But the SINN-ful celebrations are back on. In one tweet, a viewer commended the show for bringing them together, writing, "#Sinn has gone through a challenging obstacle course. Finding their way back together is everything."
In another tweet, one user gave "B&B" props for focusing on Steffy and Finn and slipped in their hope for a reunion between OG supercouple Taylor Hayes (Krista Allen) and Ridge Forrester (Thorsten Kaye), writing, "Putting these two front and center really is the best choice the show has made in a long time!! (Putting Tridge together would be the second, but I digress..." It seems as if the soap opera is granting wishes left and right, as Steffy's proud parents Taylor and Ridge shared a steamy kiss amidst a huge misunderstanding back in Los Angeles, per She Knows Soaps.