Jessa Duggar Seewald's New Family Video Has Clean-Freaks Concerned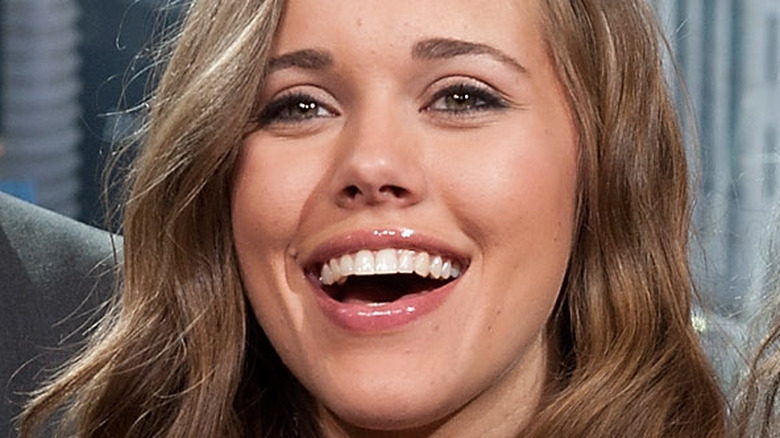 D Dipasupil/Getty Images
While their show may be off the air, many of the "19 Kids & Counting" Duggar family have gained a following as they raise their own families and pursue their own projects. Jinger Duggar Vuolo has authored two books, while sister Jill Duggar Dillard has gained fame for breaking from her father's controlling ways (per TV Shows Ace). Another sister, Jessa Duggar Seewald, hasn't fared as well in the public eye. Mom-shamers often come after Jessa for some perceived flaw. She once gave a video house tour meant to illustrate what real life is like with four young children, and critics were horrified to see toys strewn on the floor and laundry hung over chairs to dry, according to the U.S. Sun. 
Jessa's latest Instagram post is no exception. The Seewalds recently moved to a new and bigger house to accommodate their growing family and got some new furniture while they were at it. Their latest pride and joy is a long wooden dining room table, and Jessa posted a video of her children around it. Oldest son Spurgeon is shown reading, while sibs Henry and Ivy paint watercolor pictures, and toddler Ivy munches on goldfish crackers.
 "Some of the best memories are made around the family table," Jessa captioned the video. "We knew we wanted a big table for family meals, homeschooling, hospitality. ...a place to do crafts and get messy." But some fans are worried that things might get a little too messy.
Fans worried that Jessa's new table might get ruined
To most fans, the sight of Jessa Duggar Seewald's children at the long dining table was both delightful and impressive. She got lots of praise on her Instagram post from fellow moms who raved, "Love that table," "So precious," and "Beautiful family." Jill Duggar Dillard, who maintains a good relationship with her siblings despite her estrangement from her father, also wrote, "So sweet! Love your whole new place!"
However, some followers clucked tongues over Jessa's apparent lack of concern over neatness. Noting that Henry and Ivy were painting with watercolors, some respondents worried about what this might do to the new wood table. One follower urged, "Beautiful table! Makes me twitchy you don't use a messy mat under that painting." Another offered similar advice, writing, "Here is a tip as we have a similar table. When doing any type of writing or crafts, use a tablecloth. Pencils can leave an indentation, and paints stain."
However, some fans defended the "Counting On" star. "Maybe they are not concerned with keeping the table looking perfect," one user wrote. "Life happens in messy and unplanned moments," added a second. "It's watercolor paint. Virtually wiped off without much effort. Even if it was acrylic paint, it would still scrape up." 
Jessa quickly assured the worrywarts, "We only do super washable paints! Comes right off with a wet washcloth."