The Cheeky Story Behind Queen Elizabeth's Last Portrait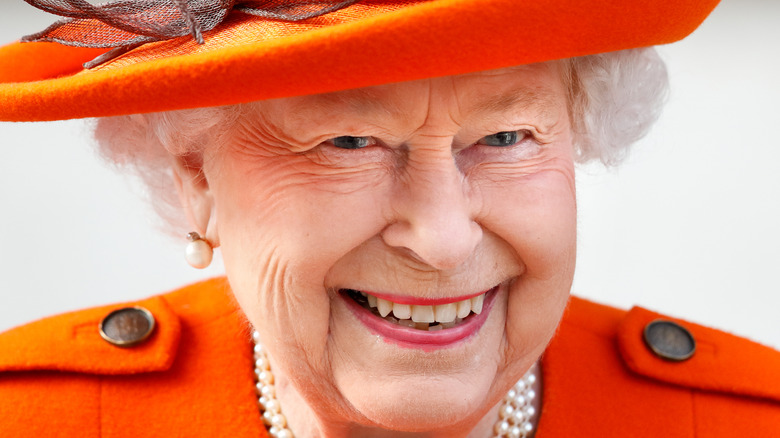 Max Mumby/indigo/Getty Images
Queen Elizabeth II will be missed dearly by her family and fans alike, for a variety of reasons. In addition to her skill as a stateswoman, she was also a devoted mother, grandmother, and great-grandmother, and by all accounts admired by her closest staff members. According to a clergyman who spent time with her shortly before her death at age 96, the queen spoke of her legacy and of her pride in her faith. But despite all the stress and tragedy she endured during her seven decades on the throne, she kept her sense of humor to the end.
Just hours before the queen was laid to her final rest, the official Royal Family Instagram page shared a never-before-seen photo. "Ahead of Her Majesty The Queen's Funeral, a new photograph has been released," the caption began. "It was taken this year to mark Her Majesty's Platinum Jubilee, as she became the first British Monarch to reach this milestone. Tomorrow, millions will come together to commemorate her remarkable life."
The photo prompted nearly 1.5 million likes and a flood of approving responses. Nearly everyone agreed that the queen's final official photograph is beautiful and a fitting tribute to a life well lived. It shows the queen in a pale blue dress, accessorized by her pearl necklace, matching earrings, and a large brooch. Her broad, unforced smile shows just the smallest hint of mischievousness, and the photographer who took the portrait has explained why.
The queen's last portrait perfectly captured her humor
In her final photograph, taken just four months before her death, Queen Elizabeth looks both healthy and radiant. Noted for always wearing bright colors in public so she could be seen by curious crowds, the queen opted to wear a pale blue dress with classic accessories. According to the Daily Mail, blue happens to have been the monarch's favorite color, so it's only fitting that she would be wearing it for her last camera appearance.
The cameraman who took the picture also offered proof that the queen has a surprising sense of humor. Speaking to the British talk show "Lorraine," royal photographer Ranald Mackechnie recalled the day he came to Windsor Castle to get some new shots of Her Majesty that would be released for her spectacular Platinum Jubilee weekend. He recalled (via People), "She arrived and walked in and we said hello, then she just looks at me and she goes, 'What do you want?' I said, 'Well, I want you to smile and look happy.' She looked back at me and she goes, 'Well, you can't make me.'"
Mackechnie retorted that she could "try," to which the queen simply "giggled."  With both photographer and subject at ease, it was a simple matter to take a photo that captured the queen's warm smile. She looked like a woman who truly enjoyed her life — and millions of people worldwide feel lucky to have experienced her reign.