Expert Predicts Which Royal Will Likely Get First Pick Of The Queen's Jewelry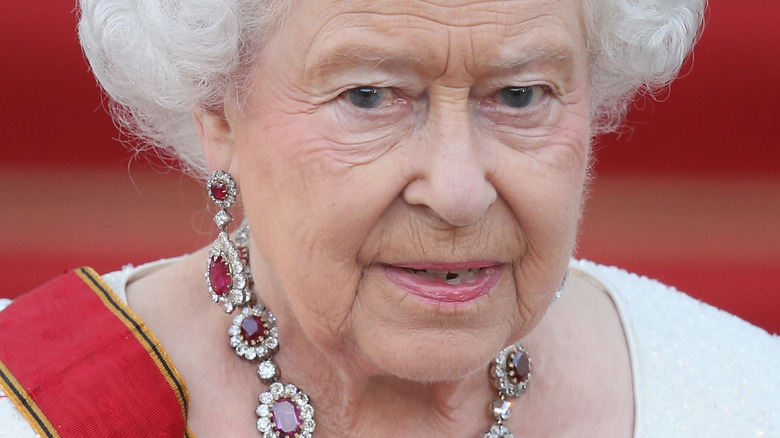 Sean Gallup/Getty Images
With an estimated worth of $4 billion, the Crown Jewels are a collection many of us would love to get our hands on. Of course, now that the Queen has passed away, her vast jewelry collection is going to stay in the family — but just who will have first dibs? Is Camilla the new queen consort set to inherit many of the priceless pieces once worn by the long-serving monarch? Or will the Princess of Wales or Duchess of Sussex benefit more from what they are not counting among their current personal collections?
Indeed, Kate Middleton and Meghan Markle already wear many pieces of jewelry that were gifted from the Queen, including two much buzzed-about baubles the royals accessorized with for the funeral. As for the Duchess of Cambridge and Cornwall, all eyes were glued to the exquisite pearl-and-diamond choker around her neck. A diamond expert exclusively told The List that this statement necklace holds a fascinating connection to the former Princess of Wales, Diana. For her part, Meghan donned a dainty pair of pearl earrings for the somber service, which she received from the monarch back in 2018.
The royal who is likely to add the most storied gems that once belonged to HRH to her jewelry box may surprise you.
The senior royal women will be dripping in jewels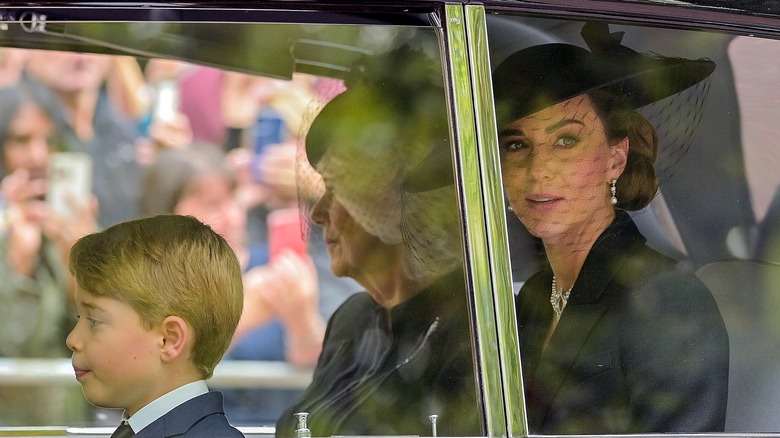 Sean Aidan Calderbank/Shutterstock
As heir to the throne, the new Prince of Wales, Prince William, gets the best of the best. He and his family had front-row seats at his grandmother's funeral, after all, while Prince Harry was relegated to the second row. It's worth noting that this seat, behind King Charles III, actually extended the Duke of Sussex an unexpected honor.
Concerning the drool-worthy collection of jewelry now up for grabs following the Queen's death, it's the Princess of Wales and another senior royal who stand to inherit most of it. As Editor-in-chief of Majesty Magazine Ingrid Seward told the Daily Mail, the Queen likely designated who should get which piece long before her passing at the age of 96. "I imagine Her late Majesty's personal jewelry will be given to various members of her family," she said, adding that Kate Middleton and Camilla Parker Bowles will receive "the lion's share."
Indeed, the woman who was once an outcast in Britain now stands to inherit many millions of dollars worth of gems (via Vanity Fair). Seward explained, "There are pieces which will remain for use of the reigning monarch's wife — in this case Camilla. She will need a large collection to support her constitutional role."
What about Meghan Markle?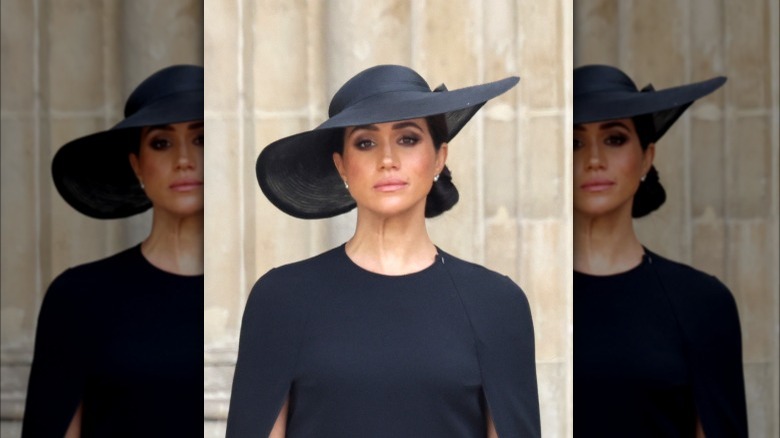 Chris Jackson/Getty Images
Other pieces of the Queen's collection, such as her crown and scepter, will reportedly be placed on an altar until King Charles III's coronation (via The Telegraph). Incidentally, we do not yet know when this ceremony will take place, but some Brits have wondered if the King may choose June 2, 2023, which would mark the 70th anniversary of his mother's coronation (via Hello!).
As for the California branch of the royal family, an insider told RadarOnline that the Duchess of Sussex's decision to step away from her duties within "The Firm" cemented the Queen's decision not to bequeath her or her daughter Lilibet anything to call home about. "There's a very good chance the Queen won't leave either of them any jewels of value," the source claimed, adding even if Meghan is not a working royal, that Kate is set to get so much might feel like yet another slight.
Interestingly, the source who talked to RadarOnline also claimed that the Princess of Wales would come out on top over Camilla when all is divided up from Queen Elizabeth's world-class collection.