34% Of People Think This Is The Worst Fall Fashion Trend - The List Survey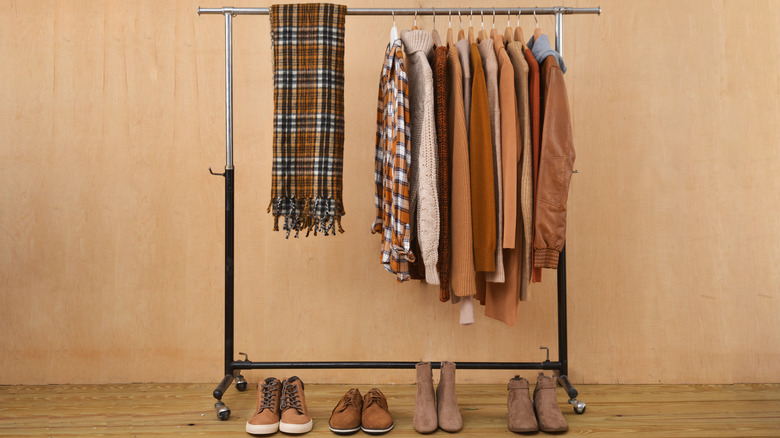 East/Shutterstock
Wave goodbye to sunny summer days — fall has arrived! From apple picking to haunted hay rides, there is something fun and festive to do all season long. Fall might be our favorite season for the goodies alone: Whether you're craving Halloween candy, Thanksgiving dinner, or pumpkin spice flavored everything, there is something especially delicious about this chilly season.
The start of fall also signals a much-needed break from the heat of the summer, which means it's time to break out your cold weather clothes. When you're not trick-or-treating in your clever Halloween costume this spooky season, you might be showing off the latest fall fashion trends. Every year, there are certain fall trends we look forward to the most, but which ones are people dreading as the leaves change? To find out which trends are hot and which are not this season, The List conducted a survey asking 600 people, "Which fall fashion trend will you be skipping this year?"
Sorry leather, we're just not that into you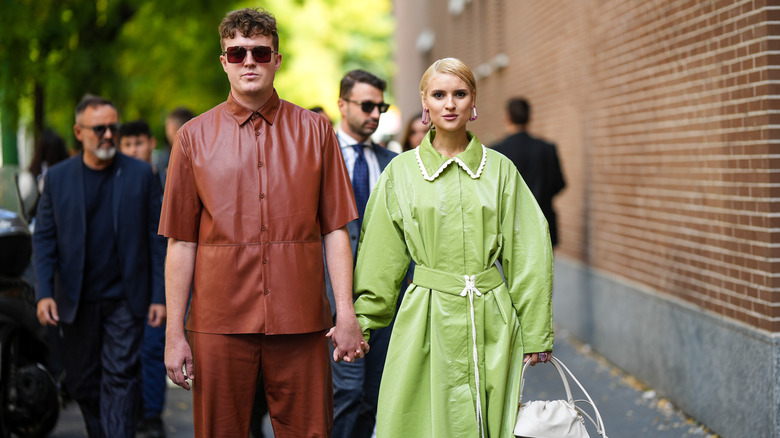 Edward Berthelot/Getty Images
Not every fashion statement can be a hit, and the top voted worst fashion trend is definitely a miss. According to The List's survey, 34.17% are not loving head-to-toe leather this fall. Per WWD, head-to-toe leather looks were everywhere on runways this year, but the trend may be a little too high fashion for everyday wear. Leather can be uncomfortable, expensive, or unflattering depending on the style. While we certainly appreciate the aesthetic of all-leather ensembles, they might have to stay on our Pinterest page.
In second place with 22.83% of the vote was another bold fall trend: hot pink. The bright color was everywhere at this year's New York Fashion Week; designer Valentino presented 40 silhouettes in different shades of hot pink, claiming the vibrant hue as one of the hottest colors this season (via Vogue). We can probably blame the popularity of hot pink on the emergence of the "Barbiecore" trend: People reports that the trend is all about embracing vibrant neon colors and shiny plastic accessories. It seems like everyone was adding Barbiecore essentials to their wardrobe this summer, but as the clouds roll in, voters are be ready to trade in the hot pink hues for more muted tones.
More fashion trends that we'll probably skip this season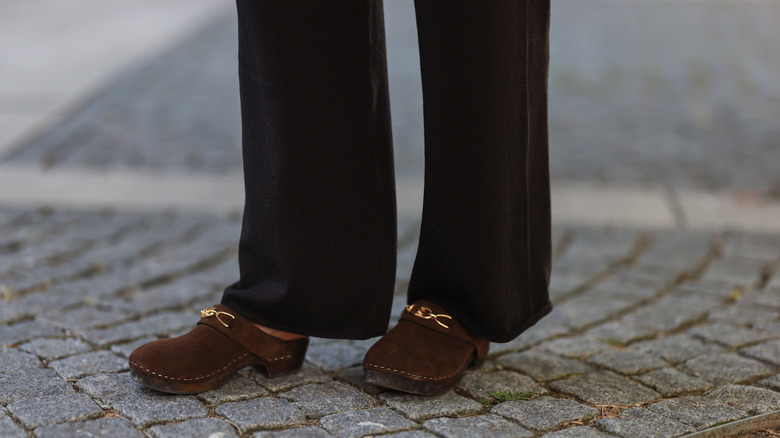 Jeremy Moeller/Getty Images
Paris Fashion Week brought equestrian chic back into the forefront of fashion, but 13.33% of survey voters aren't interested. According to Hello Magazine, knee-high boots, cropped jackets, polos, and gilets are making a comeback: thanks in part to Chanel, who debuted one of their horse rider-inspired looks while the model was riding an actual horse on the runway.
Another trend that people are ditching this fall are the ever comfortable clogs. With 12.83% of the vote, the '70s-inspired shoe trend may be falling out of fashion again. Does this mean we can't wear our Crocs anymore?
Jackets are also essential to fall fashion, but you may not see many bomber jackets (6.17%) and blazers (10.67%) as the weather changes. While both styles have been very popular in recent years, they might be getting switched out for oversized coats and denim jackets (via Marie Claire).
At the end of the day, fashion is all about self-expression, so this season, wear what makes you feel confident and happy, no matter what's trending.