Luke Macfarlane Hints At Being The Next Star To Leave Hallmark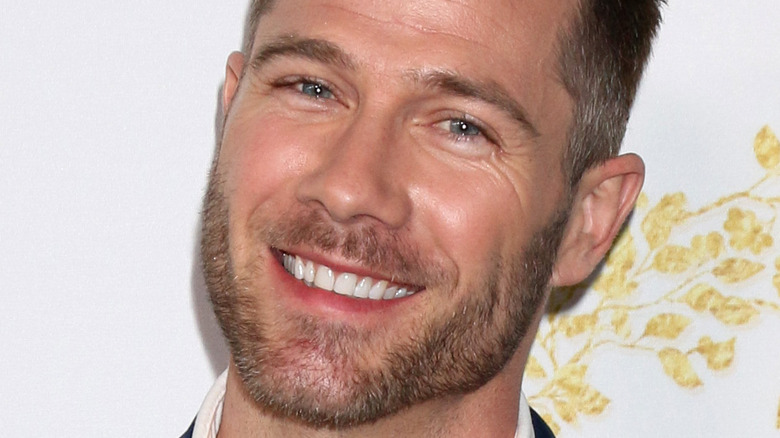 Kathy Hutchins/Shutterstock
The Hallmark Channel is endlessly popular for its wholesome, feel-good content. One of the many things the network has become known for is how it casts its core actors over and over again. One of the all-time favorite leading men on the beloved channel is Luke Macfarlane. 
You may have heard that many of the Hallmark Channel's regulars are jumping ship and heading to a new competitor network, GAC. While there's plenty of drama between the rival networks behind the scenes, it seems that not every star that's moving on is heading to the competition. Luke Macfarlane has more or less admitted that he's finished his love affair with playing the romantic lead for Hallmark (via Vanity Fair). By the looks of it, though, it seems his romance with rom-coms, in general, is just beginning. Fans are understandably ready for the details about Macfarlane's apparent split with Hallmark and where he's heading next.
Luke Macfarlane's status with Hallmark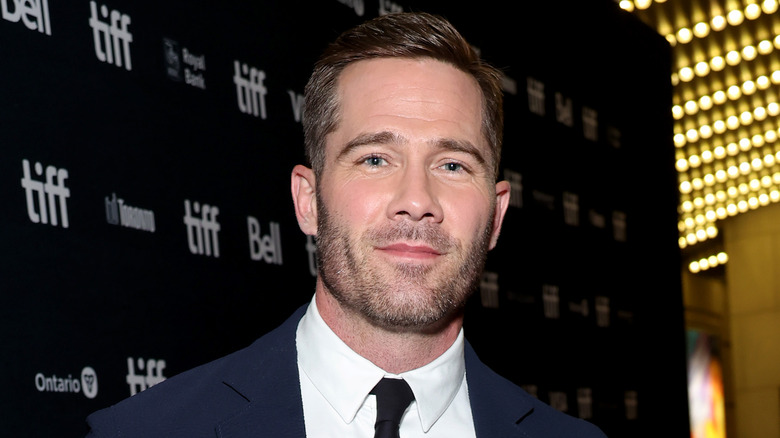 Amy Sussman/Getty Images
While some of the network's leading men have been moving to GAC, other Hallmark stars like Andrew Walker and Ryan Paevey have signed multi-movie deals, proving they're not going anywhere. Luke Macfarlane also signed a multi-picture deal this past year (via Vanity Fair). After that deal wraps up, however, he's taking a break from his regularly scheduled rom-coms. He told the Los Angeles Times that Hallmark has "been very good to me, but I think I've told my story for now with those folks. I mean, how many firefighters can I play?" He makes a valid point. Macfarlane's fourteenth Hallmark movie will be premiering this winter, which means he's experienced enough meet-cutes for even the biggest hopeless romantic.
While it seems Macfarlane is leaving the network with anything but hard feelings, it's time for him to try something new. As a gay actor, he's played many straight characters during his time with Hallmark. He told Vanity Fair, "If you go to my IMDb page, there's a lot of me holding hands with some nice Christian white lady. I'm totally freaked out by that." Michael Urie, Macfarlane's costar in Netflix's rom-com "Single All the Way," believes that Macfarlane's work has helped Hallmark embark on its push for more LGBTQ+ storylines. According to Urie, "Being able to be a leading man, as both playing straight and still being out and proud — Hallmark sort of evolved with Luke, and maybe even because of Luke."
Where Luke Macfarlane is heading after Hallmark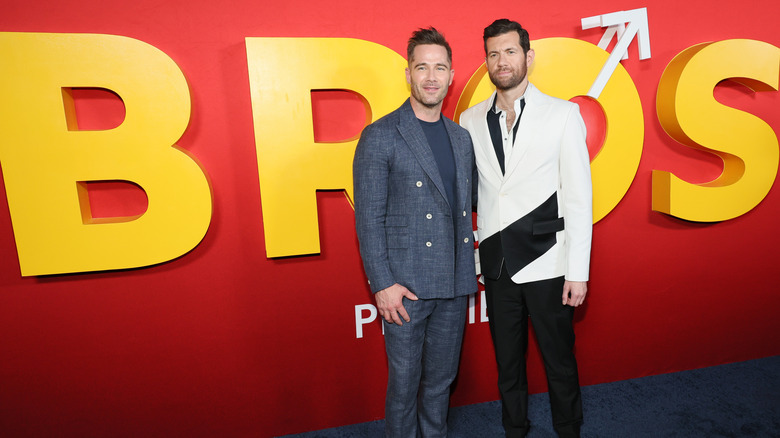 Dia Dipasupil/Getty Images
Macfarlane isn't just leaving the Hallmark Channel to escape an endless cycle of cishet mistletoe kisses. He's got the next part of his career in the works. According to Vanity Fair, from his start on ABC's "Brothers & Sisters" to his time at Hallmark, Luke Macfarlane has always wanted to play the lead role in a major motion picture. His dream is coming true in Billy Eichner's highly-anticipated rom-com "Bros." The film, which premieres in theaters on September 30, 2022, is the first-ever gay romantic comedy produced by a major movie studio (via NBC News). When casting the romantic lead in a history-making gay-romcom, is there a call anyone would make before dialing up Luke Macfarlane? If so, they'd be wrong. Luckily, the team behind "Bros" was not, which makes this the start of a major career shift for Macfarlane.
Of course, Macfarlane's work on the Hallmark Channel came in handy when making "Bros." The star told the Los Angeles Times, "One thing that I really enjoyed about making Hallmark movies is it's really fun to flirt. It's fun to play that energy on camera, where relationships are at their best in those early times. I guess Hallmark has given me a lot of flirting lessons." We're sure to see Macfarlane put those carefully-honed flirting skills to use in the next phase in his career and, of course, to watch them at work in his past Hallmark movies when the holidays roll around.