Days Of Our Lives Fans Have Strong Feelings About The Abigail Murder Mystery Reveal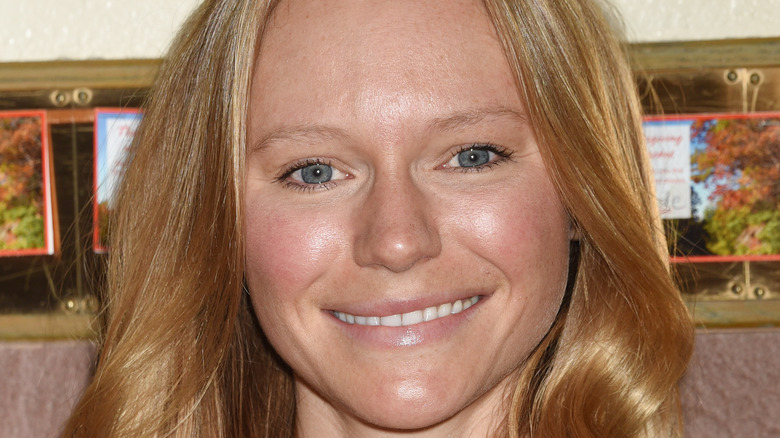 Ga Fullner/Shutterstock
"Days of Our Lives" shocked fans in June when they killed off the beloved legacy character of Abigail Deveraux DiMera (Marci Miller). The soap opera created a murder mystery plot that spanned the entire summer when Chad DiMera (Billy Flynn) came home to find his wife stabbed in their bedroom (via The U.S. Sun). Sadly, Abigail died from her injuries and in the months that followed, Chad has done everything in his power to figure out who killed his wife.
There were plenty of suspects to choose from when it came to Abigail's murder, per Soap Opera Spy. The most obvious suspect was Leo Stark (Greg Rikaart), who had a vendetta against Chad and Abby and was also hiding out in the DiMera mansion during the time of Abigail's death. Abby's sister Gwen Rizczech (Emily O'Brien) also became a prime suspect, as well as Lucas Horton (Bryan Dattilo), and Sarah Horton (Linsey Godfrey).
However, as the summer ended and fall began, "Days of Our Lives" seemingly offered viewers an answer to the murder mystery, revealing that Clyde Weston (James Read) appeared to be the man behind Sonny Kiriakis' (Zach Tinker) attack, and likely Abigail's murder as well. Now, fans are speaking out about the big reveal.
Fans are confused about Clyde Weston's motives
This week, "Days of Our Lives" fans watched Chad DiMera put together the pieces of Sonny Kiriakis' attack and the murder of his wife Abigail Deveraux DiMera. After learning some new information from both Sonny and Nancy Wesley (Patrika Darbo), Chad was convinced that Clyde Weston was to blame for his wife's death, per Soaps. A flashback even revealed Clyde standing behind Sonny with a knife on the night that he was stabbed. Now, fans of the soap opera are speaking out about the big reveal.
"Abby [sic] killer should have been Gwen. It was disappointing that it wasn't. It would have helped build up their feud because I really would have liked to see it again if Abby ever rises from the dead," one fan tweeted. "WHY CLYDE, WHY?? ALEX NEEDS TO EXIT SO BEN CAN HELP HIS DAD!" another commented. "Clyde, Clyde, make it make sense. It just makes no sense, not at all," a third person wrote. "I just keep thinking there's a twist to whodunnit. I really want it to be Clyde to end the story already and get him off my screen, but it feels too out of left field and random," another viewer stated.
It appears that many fans are a bit confused about why Clyde would kill Abigail and attack Sonny. Hopefully, the sudser will explain everything in the upcoming episodes.