How To Expand Your Fall Wardrobe On A Budget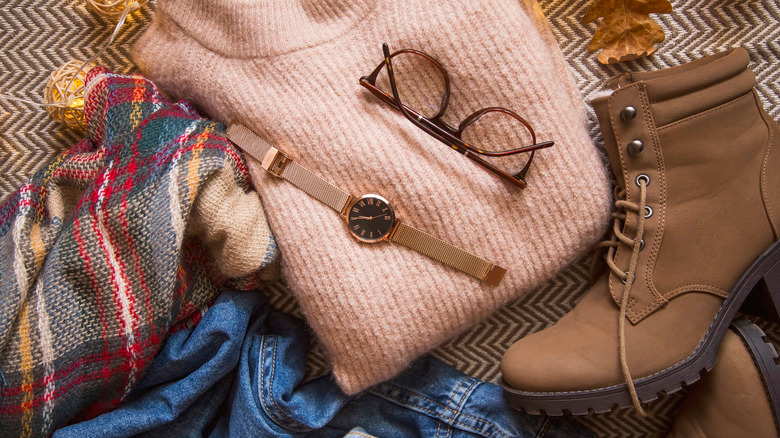 catalina.m/Shutterstock
If you're a lover of fall, then you've probably been looking forward to cooler weather, cozy evenings, and, of course, a chance to break out your fall-inspired clothing items. From warm sweaters to trusty boots, there's just something about fall and winter clothing that delights the autumn lover's soul.
While dusting off classic fall pieces is always fun, the desire to purchase new clothing items throughout the season can sometimes put undue stress on your wallet. Shopping at thrift stores will always be a sustainable and economic clothing move, but there are other methods for building your fall wardrobe on a budget that is worth checking out. For instance, this fall is a perfect time to try out a capsule wardrobe.
If you're unfamiliar, the concept of capsule wardrobes has existed in Western culture since the 1940s, when curating a small amount of mix-and-matchable items became a magazine-advertised way to build outfits (per Bust). During this time, these clothing combinations were often referred to as "campus wardrobes" and described as perfect for on-campus living.
As mentioned on Sustainably Chic, capsule wardrobes were again popularized by Susie Faux, a London boutique owner, in the 1970s and the trend eventually made its way over to the United States. With the recent resurgence of minimalism and a consumer emphasis on sustainability, capsule wardrobes have once again entered mainstream consciousness.
So, what is a capsule wardrobe and how will it save you money this fall?
Capsule wardrobes are a great way to expand your closet on a budget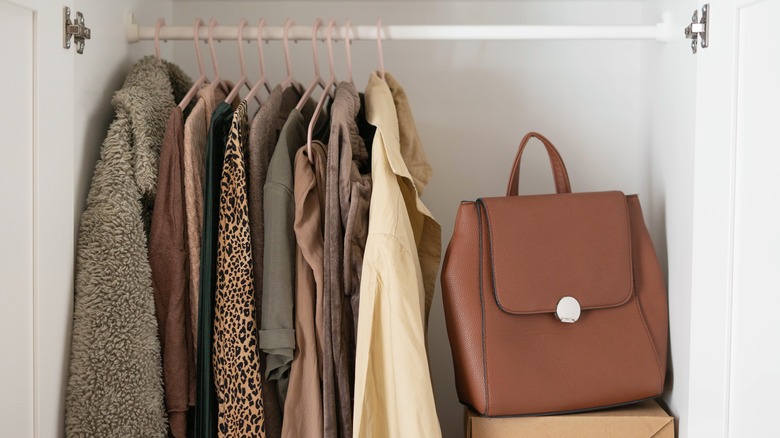 July Ko/Shutterstock
At its core, a capsule wardrobe is a small collection of clothing items that are versatile enough to be paired together in different ways (per Sustainably Chic). At the start of each season, you bring out your set number of clothing pieces and complete any necessary shopping to round out the collection, as mentioned by Who What Wear.
Using clothing items that you own and already love paired with a once-a-season shopping trip helps you curb season-long buying. Plus, this form of closet building emphasizes the wearability and longevity of clothing pieces over trendiness, so you're much more likely to end up with pieces that you wear and keep for a long time than in-style impulse buys that last for a single season. In this way, capsule wardrobes are both affordable and sustainable.
To start a capsule wardrobe, Sustainably Chic recommends beginning with a closet audit to sort through which items should be purged or kept as part of your capsule. This audit should also help you identify what clothes you actually like to wear, in terms of style, cut, fabric, color, etc., which will guide you in deciding what pieces to add.
The planning process is when you decide how many pieces you want in your wardrobe and what they should be. Individually, this will be influenced by season, lifestyle, budget, and career, so consider your day-to-day life and what you most need.
What clothing to choose for your fall capsule wardrobe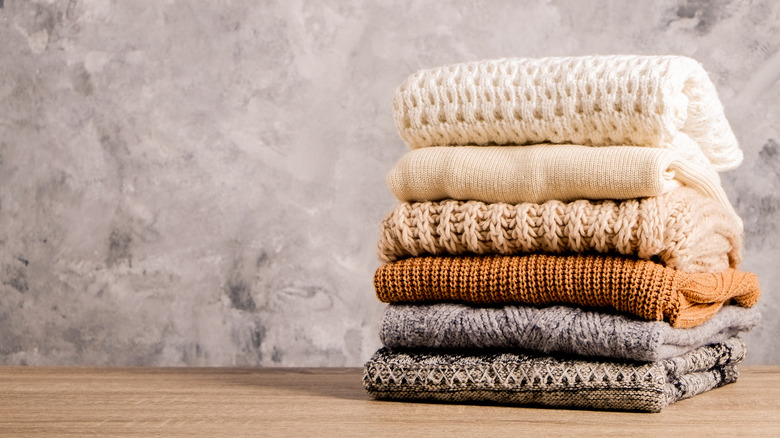 evrymmnt/Shutterstock
Now that you know what it is and what goes into building one, it's time to start planning your fall capsule wardrobe. Remember, the capsule wardrobe's goal is to curate timeless and adaptable pieces to be used in multiple outfits — they should be true to your style, but we have a few suggestions to start you off.
Setting a color palette for your seasonal wardrobe is a great way to maintain cohesiveness throughout your various looks. Warm neutrals, autumnal reds and oranges, and earthy greens are all great color scheme options for fall (per Homes and Gardens).
As mentioned by Classy Yet Trendy, selecting basic tops is a great way to establish a closet foundation. Simple tees and knitted sweaters can be paired with outerwear pieces to create several warm and cozy looks. These are probably the easier items to find at affordable prices, especially if you're looking in thrift stores.
Jeans and faux leather leggings are mentioned by Fashion Jackson as fall season staples, but you might also consider a pair of versatile trousers or pants. Trench coats and blazers are great outerwear options, as they are timeless pieces that fit into many fall color palettes (per Who What Wear). However, nothing beats the coziness of cardigans and boyfriend sweaters.
When planning your fall capsule wardrobe, choose well-made, well-priced, and well-loved pieces. This will help make your affordable fall closet something long-lasting and true to you.