What Selena Gomez Really Looks Like Under All That Makeup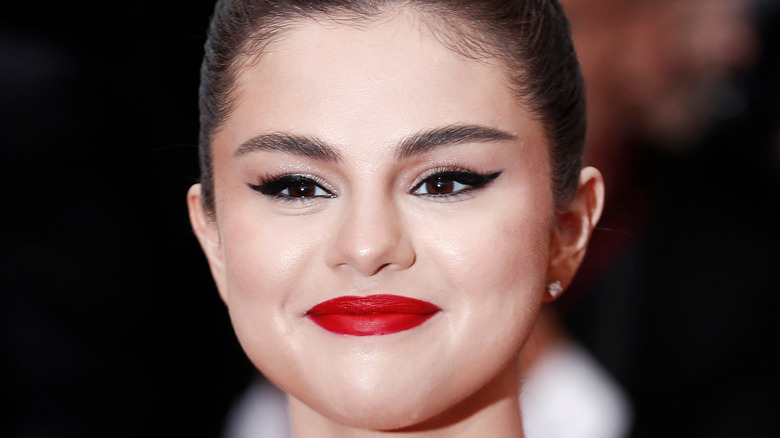 Andrea Raffin/Shutterstock
Selena Gomez has grown up in front of the world's ever-watching eyes, having initially broken out as the star of beloved Disney sitcom "The Wizards of Waverly Place," after finding fame even earlier on "Barney & Friends," when Gomez was still just a tot (via IMDb). These days, she's known more for her singing career, but the former child star still occasionally takes on movie roles, in the likes of "Spring Breakers" and "The Dead Don't Die." She even made her triumphant return to TV in 2021's "Only Murders in the Building." 
Given that the Disney breakout has been famous since she could walk, it'd make sense if Gomez had a complex about her looks. However, the "Come & Get It" hitmaker has been open about her struggles with acne, for instance, confirming she puts as much work in behind the scenes as anybody else. "When you are taking care of your skin, you're taking care of your body and your mind and soul, just because I think it's all connected," she told Vogue. 
Naturally, Gomez isn't shy about sharing her makeup-free face.
Selena Gomez isn't afraid to go barefaced
While sharing her impressively quick, 10-minute beauty routine with Allure, actress and singer Selena Gomez proudly revealed her stunning, makeup-free face for the world to see. The former Disney star has had a babyface ever since she first burst onto the scene, but it's worth noting just how young Gomez looks without any product on. Still, the pop star is a makeup fan just like everyone else, albeit only if it's being used in the correct way. 
While working on her own line, Rare Beauty, she told Vogue, "I was heavily involved in the entire process because I also care so much about mental health, and I believe it's a part of your self esteem. It's a part of how you see yourself and you shouldn't have to have makeup for you to see yourself that way, but makeup isn't a joke. It's actually beautiful and it's wonderful." 
However, Gomez noted in an interview with Into The Gloss that both her mother and grandmother always lived by the adage "less is more," acknowledging that "you never want to look like you're caked in anything." When it comes to tackling pesky breakouts before major events, though, the former child star told Elle that she just goes with the flow since "life is life." Considering how good she looks barefaced, a few pimples shouldn't ruin Gomez's day.