How General Hospital Fans Really Feel About All The Murder And Misery Plaguing Port Charles
Several denizens in the city of Port Charles on "General Hospital" have had a rough time the past couple of years. The marriage of mob boss Sonny Corinthos (Maurice Benard) to Carly Corinthos (Laura Wright) fell apart, per Celebrating the Soaps. According to Soaps She Knows, Carly's bad luck continued when she gambled away her half of the Metro Court hotel. Carly and Sonny's best friend, Jason Morgan (Steve Burton), was killed while saving the lives of several people (via Soaps in Depth).
Sasha Gilmore (Sofia Mattsson), had been struggling with drug addiction and the loss of her infant child. Recently her husband, Brando Corbin (Johnny Wactor), was killed when he fell victim to a serial killer who uses a hook to attack their targets (per Celeb Dirty Laundry). Ava Jerome (Maura West) was the first victim of 'The Hook,' but she survived. Elizabeth Webber (Rebecca Herbst) has been dealing with periods of blacking out — a situation that may relate to childhood trauma — putting her on the list of suspects since she blacked out when Ava was attacked (via Celebrating the Soaps). Fans have theorized that the evil Esme Prince (Avery Pohl) may be back from the dead and seeking revenge as the hook killer.
With other characters including Diane Miller (Carolyn Hennesy) possibly being targeted by "The Hook," fans reacted to the latest gloom and doom in Port Charles on social media. 
Fans respond to the latest horrific events on General Hospital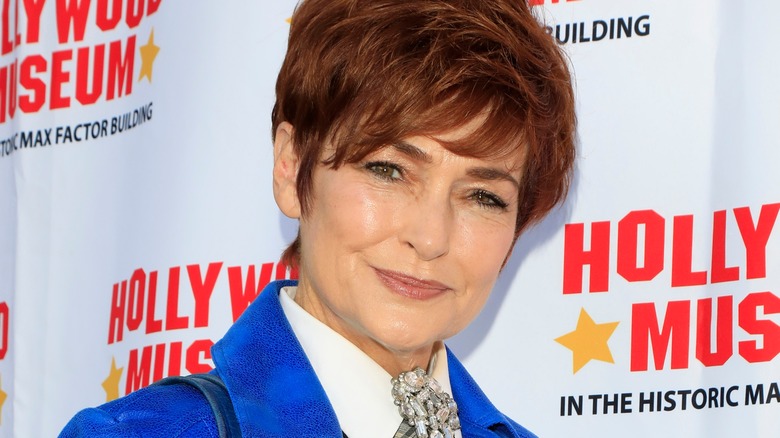 Kathy Hutchins/Shutterstock
"General Hospital" executive producer Frank Valentini posted on Twitter, "Who does Sasha discover in the garage and why's Lucy ignoring Anna's warnings?" Fans reacted immediately with one responding, "Killing off the only good guy character [Brando] -GH has such a thing about characters being decent..."
The viewers have been getting especially tired of Sasha's torment, with one fan writing, "Please take care of Sasha, she deserve[s] peace now," while another posted, "Brando and Sasha were a good couple. There are so many others who should have been given the hook instead!!!" A similar response stated, "Back off Sasha and bring the hook killer to an end Frank...#GH fans deserve better."
A fan expressed a strong opinion saying, "Soo is GH just cleaning house by killing off these great characters?!...I love this show and have watched since Frisco and Felicia days, but this story is a head scratcher right along with the Nixon Falls debacle." Considering that Diane Miller (Carolyn Hennesy) may fall victim to 'The Hook,' fans shared their outrage with responses like, "You kill off Diane and I am DONE. Been watching since black and white days!" A blunt reaction stated, "Killing Diane will be an ENORMOUS mistake and will alienate even more fans than you already have!"
As the mystery of who the latest serial killer could be on "GH" continues, fans will likely continue to be vocal in their reactions.