The Country's Least Favorite Home Improvement Store Is Now Beyond Clear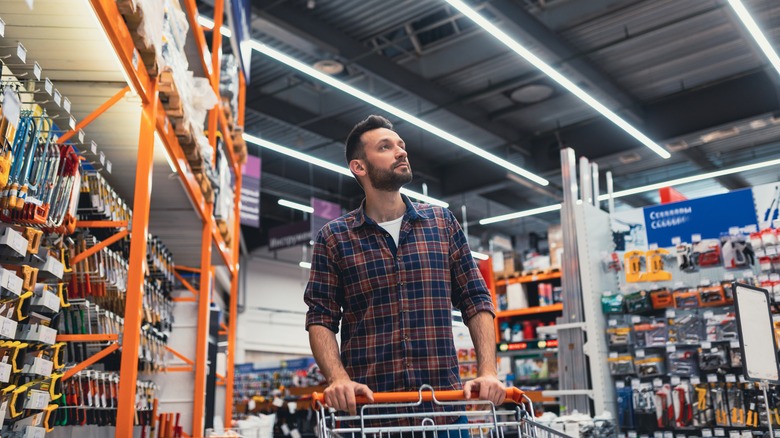 Jasen Wright/Shutterstock
The pandemic taught us many things, including the importance of making your home a sanctuary. Home decor trends can be fun and functional, but they can also impact your state of mind. According to VerywellMind, your environment is one of the biggest factors that can positively or negatively affect your mental health. Creating a space that you can decompress in after a long day is essential to a healthy lifestyle: if you find yourself feeling stressed or uncomfortable in your own home, it might be time for a revamp.
Whether you find your decor inspiration from home improvement shows or the DIY home design side of TikTok, you might soon find yourself wandering into a home improvement store stocking up on materials for your next project. When inspiration strikes and you're ready to redo your space, which store is the best for reliable home improvement products?
To find out where all the crafty queens are getting their supplies, The List created a graph via Data Herald that tracked different home improvement stores' monthly foot traffic data for the past two years. The results show which retailer is America's favorite, and which you should probably avoid.
Foot traffic data reveals just how much Americans love home improvement stores
Home improvement retailers Lowe's and Home Depot are neck and neck when it comes to foot traffic, but Home Depot wins out by just a fraction. According to The List's graph, the competitors both see millions of shoppers each month: during the pandemic, foot traffic for both stores actually rose to almost 2.8 million as shoppers were looking to revamp their homes while in quarantine. According to NPR, the demand for home improvement materials and projects skyrocketed to an all-time high. Even Menards, while less favored amongst shoppers, saw a spike in foot traffic to almost 400,000 monthly visitors.
The drastic difference in visitors is most likely due to shopper accessibility. The amount of store locations Menards has does not compare to home improvement giants like Home Depot and Lowe's. Menards only has 300 stores in 15 states, per Bloomberg. Compared to Home Depot, who has 2,300 locations in North America, and Lowe's who has 1,728 locations, it's understandable that the foot traffic data is vastly different (via ScrapeHero).
While Home Depot definitely wins when it comes to quantity, they also value quality. Per StarTribune, shoppers who visited both Menards and Home Depot noticed that Menards prices were slightly cheaper, but Home Depot's products were of significantly higher quality. When choosing between quality and price, many shoppers will favor reliable products over saving a few dollars, especially when it comes to home improvement purchases.