TikTok's Favorite DIY Home Design Trends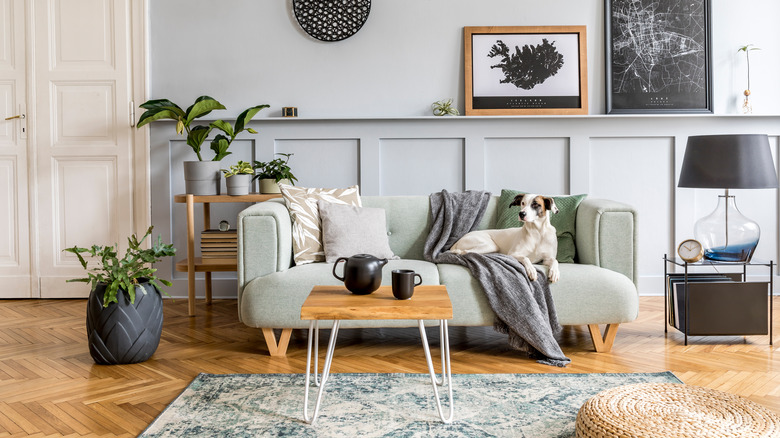 Shutterstock
Over the past year or so, as COVID-19 kept much of the world's population in some form of lockdown, people have spent more time in their homes than ever. This has inspired a wave of home decor updates and renovations, many done in a do-it-yourself fashion. As a result, people have taken to popular social media platform TikTok in order to find inspiration and instructions for updating the home and making it a beautiful and relaxing place to spend time. 
Expanding far beyond the dance videos and makeup hacks you're used to, TikTok has been a go-to for decor enthusiasts. From rich pops of color to shiny and eye-catching accents to ultra-modern furniture and shapes, the TikTok community has created a range of inspiration posts akin to Pinterest that can easily guide a home makeover to perfection. Upon taking a look at the top trending home updates, it's easy to see why so many people have fallen in love with these decor styles and tips. So, what's been trending?
Here are some TikTok inspired design styles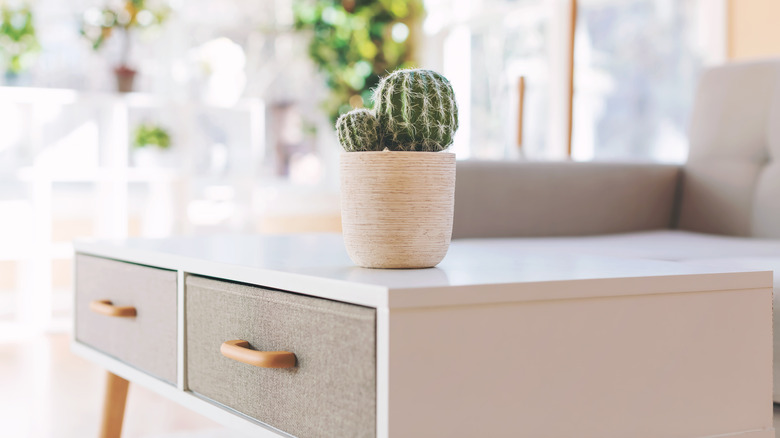 Shutterstock
Much of the time, people seek interior design updates to give themselves something nice to look at. According to Architectural Digest, a few styles of decor in particular have stood out among TikTok users. It's no surprise that longtime favorite mid-century modern has been dominating the platform. Developed largely in the years following World War II, according to The Spruce, the mid-century modern trend has resurfaced and made your grandmother's furniture chic again. Defined by functionality, minimalism, clean lines, and mixed materials, mid-century modern aesthetic in the home is the perfect way to prepare your space for shifting from working from home to relaxing.
Following closely behind mid-century modern decor styles, Bauhaus, cottagecore, and japandi home styles have seen major momentum across the platform. Sharing some characteristic with mid-century modern design, Bauhaus decor is highly minimalist and defined by clean lines, geometric shapes, minimalist pieces, and some pops of color, as noted by Cate St Hill. Japandi style takes a page out of the minimalism book with influence from simple and functional Scandinavian style as well as the timeless beauty of Japanese aesthetics, notes the Architectural digest article aforementioned.
Cottagecore has been a trending aesthetic for clothing for some time, and Architectural Digest noted that it has made its way into the home decor realm with 5.3 billion views. The romantic and soft style breathes a hint of the idyllic countryside lifestyle into the modern home.
Here are some accents and updates inspired by TikTok trends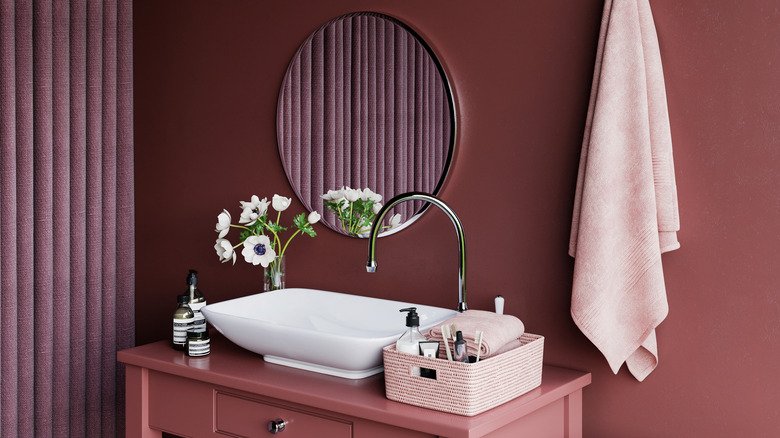 Shutterstock
In addition to general aesthetics, many specific accents and statements have been trending across TikTok. New colors and textures have made their way into the homes of millions, inspired by those who have taken to TikTok to show the world their updated homes. Among those trends have been things like pink kitchens and bathrooms, green accent walls, dried flowers, and geometric accents, as noted by The Everygirl.
Pink bathrooms and kitchens should come as no surprise, as millennial pink keeps a stronghold on its position as favorite color of people both young and old. "Millennial pink will never lose its luster," notes Apartment Therapy writer Marlen Komar. In the same article, Komar dives into the history of the hue and how the classic trend has resurfaced and created a delightful scene in bathrooms around the world.
Green walls have taken the form of both a painted accent and a wall filled with lush plant life, allowing for some of the outdoors to come inside as people spent less and less time outside the home, as noted by The Everygirl. For a more muted approach, dried flowers are the way to go. Completing the space with unexpected shapes adds an interesting twist to common areas, as they are sure to spark a conversation when people enter your home.
Although COVID-19 may be coming to an end (hopefully) soon, it's never too late to adopt some of these trends into your home. So, what will your home decor statement be?