The Bold And The Beautiful Fans Are Split On Who Makes That Mysterious Phone Call 'Reporting' Thomas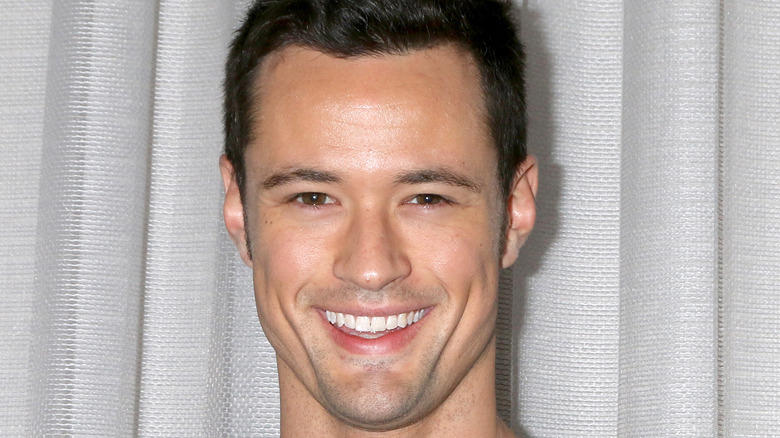 Kathy Hutchins/Shutterstock
"The Bold and the Beautiful" featured legacy families are gearing up for a huge blowout. Over the past few months, tension between the Forresters and the Logans has skyrocketed with Brooke (Katherine Kelly Lang) and her daughter Hope (Annika Noelle) at the center of the drama. Brooke's marriage to Ridge (Thorsten Kaye) is slowly unraveling, with Ridge spending more time away from home as he reconnects with his ex wife Taylor and their children. 
As Ridge seems to drift farther away, without opening up to either woman about the current state of his feelings, Brooke has made multiple attempts to win him back with little success so far. Steffy has happily inserted herself into the drama by campaigning for her parents to get back together, and intercepting Brooke's phone call to drive the wedge further, per Soap Central. Now, the flames between Steffy and Hope have been reignited as they take sides. For some time now, the two leading ladies set aside their feud for the sake of their blended family. But that truce has gone straight out of the window as Hope grapples with Thomas's decision to raise their son Douglas full-time and move him into the Forrester mansion, Soaps reported.
Fans clashed over Thomas and Hope's custody battle and are at a loss on what the best environment for Douglas would be. Now, the tug of war between the Forresters and Logans has reached new heights.
Fans discuss the likelihood of Brooke being the mysterious caller
Despite her fears, Hope has been trying to keep the peace for Douglas's sake, and is working with Thomas to figure out a solution without her son's address changing. While her concerns about, and reaction to, Thomas's proposal on living arrangements have viewers divided, she also has people in her corner, per Soaps. 
Brooke has not made her dislike of Douglas's temporary arrangements (or "extended sleepover" as she calls it) a secret. Over on Twitter, "The Bold and the Beautiful" dropped a teaser hinting that the latest drama would involve Child Protective Services showing up to Thomas's doorstep after Brooke voiced her concerns about Thomas wielding a knife.
Now, fans are in full detective mode trying to figure out who reported Thomas to CPS. In one tweet, a fan speculated that the call has Brooke's name all over it and that it would destroy her marriage, writing, "REALLY BROOKE!! YOU HAVE LOST RIDGE FOREVER!!" It doesn't help Brooke's case that she previously told Ridge that she would call CPS if it meant protecting her grandson. 
If it turns out that Brooke did in fact report Thomas, she has some allies online. Another fan tweeted in support of Brooke, writing, "Good for Brooke! The voice of reason and commonsense on this show. Love it. Teaching a child that it's okay to do dangerous things with a kitchen tool and then using it to threaten the kid's grandmother... call CPS."
The rest of Twitter is convinced that all signs point to either Hope or Thomas
Another fan pointed the finger at Hope since her mother openly shared her fear over Douglas's safety after the knife incident, writing, "I hope it was Hope who called CPS, because of what Brooke told her, then Thomas & Ridge could be rid of both of them for manipulating the situation again to take Thomas' son."
In a shocking twist, other fans are convinced that Thomas was actually behind the call for nefarious reasons. One fan tweeted that he could have used a voice app to disguise his voice, writing, "I think the voice app that Douglas was playing with is part of this. Thomas is so shady, I could see him using it." Another viewer agreed, writing, "Yep the way he seemed to know CPS was coming he knows something or suspects maybe Steffy ,or Douglas may have used that voice app thing."
If this theory tracks, then Thomas could be playing innocent and blaming Brooke most likely in an attempt to permanently sever his father's ties with her.