Sophie, Countess Of Wessex Reportedly Tried To Make Peace With Meghan And Harry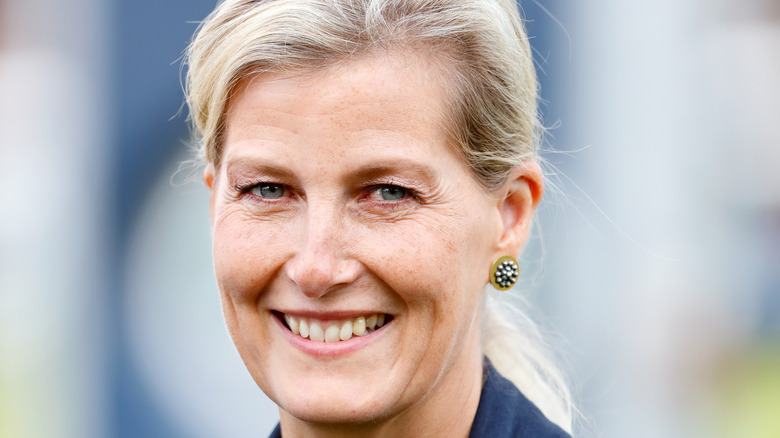 Max Mumby/indigo/Getty Images
Queen Elizabeth's relationship with Sophie, Countess of Wessex, was very close. Sophie is Prince Edward's wife, and he is the youngest son of Elizabeth and Philip. According to The Sun, a royal insider claimed the countess was "trusted and relied on by the queen." Royal expert Jennie Bond further told Good Housekeeping that Sophie was a "second daughter" to the late British monarch. "They genuinely liked one another, and they spent a lot of time together," Bond told Good Housekeeping. "They seemed to very much enjoy one another's company. I think it was very much a two-way relationship. It wasn't just about an adoration of the queen by Sophie; it was a mutual friendship."
The iconic queen and her daughter-in-law were so close that Sophie called the queen mama. "I think, perhaps, the queen was closer to Sophie and Edward's children than she was to the older grandchildren," Bond explained. "She was young enough to be able to get down on the floor with them, but it's possible she had a little more time than when the others were small children." But the royal expert told Good Housekeeping that Sophie's personality was a big reason the countess and the queen were so compatible. Bond said Sophie was a "very calm, kind, relaxed individual, and the queen really appreciated those qualities."
But the Countess of Wessex reportedly tried to make peace with Meghan and Harry after they announced they wanted to leave their jobs as working royals.
New book claims Sophie played peacemaker after Megxit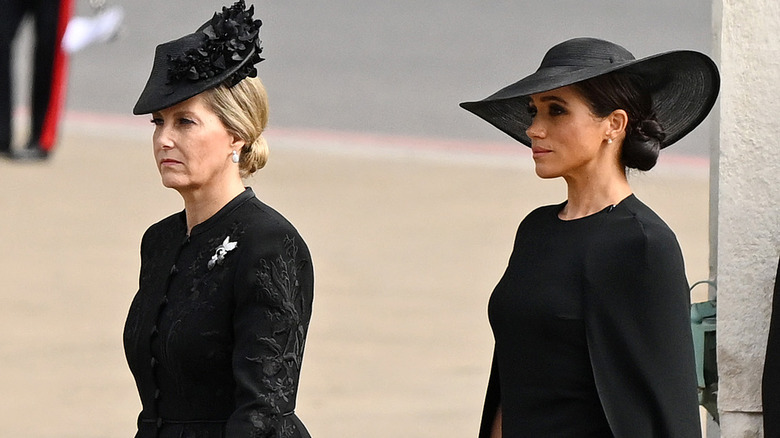 David Ramos/Getty Images
Royal expert Katie Nicholl's book "The New Royals" claims Sophie, Countess of Wessex, tried to play peacemaker during "Megxit" in January 2020. According to excerpts from the book published in The Mirror, the wife of Prince Edward and Camilla, the then-Duchess of Cornwall, both stepped in to try to take down the temperature during the crisis after the Duke and Duchess of Sussex announced they were leaving their roles as senior working royals. Nicholls wrote, "Behind closed doors, family members including Camilla and Sophie reached out on a number of occasions to Harry and Meghan, while Kate attempted to ease relations between Harry and William who were barely speaking." According to Nicholl, Sophie and Camilla thought they might be able to connect with Meghan as they joined "The Firm" as outsiders.
Us Weekly reported that Meghan and Sophie rode together in a car following the procession as the queen's coffin went from Buckingham Palace to Westminster Hall on September 14. While the Countess of Wessex has been known for being one of the friendliest members of the royal family, she was part of a viral Twitter meme after Queen Elizabeth's funeral. Fans of the Sussexes shared a meme of the "Witches of Windsor" showing a photo of the countess, Camilla, Queen Consort, and Catherine, Princess of Wales, excluding Meghan after the funeral. One royal watcher tweeted: "A picture of Princess Meghan with The Witches of Windsor."